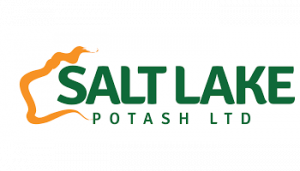 Salt Lake Potash (SLP) is pleased to announce that the Company has entered a Memorandum of Understanding (MOU) with Blackham Resources Limited (Blackham) to investigate the potential development of a Sulphate of Potash (SOP) operation based at Lake Way, near Wiluna.
SLP holds approximately 290km2 of tenure over the Lake Way Paleochannel, as part of the Goldfields Salt Lakes Project (GSLP). Blackham is the owner of the Matilda-Wiluna Gold Operation and holds approximately 64km2 at the Northern End of the Lake. This surrounds the former Williamson Pit, last mined in 2006 and now filled with brine at an exceptional grade of 25kg/m3 of SOP.
Under the MOU, SLP will acquire Blackham's brine rights and Blackham will acquire gold rights to SLP's Lake Way holdings, with each company retaining a royalty on their respective holdings. The parties will also co-operate to exchange data and facilitate activities on each other properties.
SLP will investigate the development of an SOP operation at Lake Way, including initially a 40-50,000tpa Demonstration Plant. SLP will sole fund the evaluation and development of any SOP operation at Lake Way. Lake Way has some compelling advantages which make it potentially an ideal site for an SOP operation, including:
Substantial capital and operating savings from sharing overheads and infrastructure with the Wiluna Gold Mine, benefits which both Companies would capture. This includes potentially the accommodation camp, flights, power, maintenance, infrastructure and other costs.

The site has an excellent freight solution, located 2km from Goldfields Highway, which is permitted for heavy haulage 4 trailer road trains to the railhead at Leonora. It is also adjacent to the Goldfields Gas Pipeline.
A Demonstration Plant would likely be built on Blackham's existing Mining Licences, already subject of a Native Title Agreement.
SLP would dewater the existing Williamson Pit, prior to Blackham mining, planned for early 2019. The pit contains an estimated 1.2GL of brine at the exceptional grade of 25kg/m3 of SOP (Refer Appendix 1 for Williamson Pit brine samples details). This brine is potentially the ideal starter feed for evaporation ponds, having already evaporated from the normal Lake Way brine grade, which averages around 14kg/m3.
The high grade brines at Lake Way will result in lower capital and operating costs due to lower extraction and evaporation requirements.
There would be substantial savings to both parties from co-operating on activities on each other's ground.
Historical exploration and initial sampling indicate the presence of clays in the upper levels of the lake which should be amenable to low cost, on-lake evaporation pond construction.
SLP will complete a Scoping Study for a potential SOP operation at Lake Way, including a Demonstration Plant, by mid-2018, in time to allow a decision on dewatering the Williamson Pit. There is substantial historical data available for Lake Way and the companies have already undertaken preliminary sampling in the Blackham area. Along with the extensive, high quality technical work undertaken at SLP's other lakes, which has substantial application at Lake Way, a Scoping Study can be reliably undertaken in a much shorter timeframe than would normally be the case.
SLP CEO Matt Syme said "We are pleased to reach this agreement with Blackham which could potentially bring very substantial benefit to both companies, and adds significant value from mineral rights to which neither company ascribed value as a standalone. Lake Way appears to be an ideal site for our SOP Demonstration Plant and subsequent expansions. We expect it would result in material time and cost savings for us and also bring significant benefits to the Wiluna Community. It appears to have the best combination in Australia of scale, brine chemistry, permitting and infrastructure access and justifies the effort to prove its potential. Work will continue in parallel at Lake Wells, where our Mining Lease Application is in progress."
LAKE WAY
Lake Way is located in the Goldfields region of Western Australia, less than 15km south of Wiluna. The surface area of the Lake is over 200km2.
Lake Way was identified due to its strategic location and significant infrastructure advantages. The Wiluna region is an historic mining precinct dating back to the late 19th century. It has been a prolific nickel and gold mining region and therefore has well developed, high quality infrastructure in place.
The Goldfields Highway is a high quality sealed road permitted to carry quad road trains and passes 2km from the Lake. The Goldfields Gas Pipeline is adjacent to SLP's tenements, running past the eastern side of the Lake.
As described in SLP's ASX Announcement dated 12 December 2017, Lake Way has been extensively explored and mined previously. A paleochannel has been well defined along the Eastern edge of the lake, including brine sampling at depth and test pumping of the basal aquifer.
Competent Persons Statement
The information in this report that relates to Exploration Results for Lake Way is based on information compiled by Mr Ben Jeuken, who is a member Australian Institute of Mining and Metallurgy. Mr Jeuken is employed by Groundwater Science Pty Ltd, an independent consulting company. Mr Jeuken has sufficient experience, which is relevant to the style of  mineralisation and type of deposit under consideration and to the activity, which he is undertaking to qualify as a Competent Person as defined in the 2012 Edition of the 'Australasian Code for Reporting of Exploration Results, Mineral Resources and Ore Reserves'. Mr Jeuken consents to the inclusion in the report of the matters based on his information in the form and context in which it appears.
Forward Looking Statements
This announcement may include forward-looking statements. These forward-looking statements are based on Salt Lake's expectations and beliefs concerning future events. Forward looking statements are necessarily subject to risks, uncertainties and other factors, many of which are outside the control of Salt Lake, which could cause actual results to differ materially from such statements. Salt Lake makes no undertaking to subsequently update or revise the forward-looking statements made in this announcement, to reflect the circumstances or events after the date of that announcement.
APPENDIX 1 – BRINE CHEMISTRY ANALYSIS
PIT SAMPLE

East

North

Depth (m)

K

(mg/L)

Cl

(mg/L)

Na

(mg/L)

Ca

(mg/L)

Mg

(mg/L)

SO4

(mg/L)

TDS

(g/L)

Y800006

233338

7035669

1

11,400

180,250

106,000

173

14,400

47,700

371

Y800008

233338

7035669

20

11,400

181,300

106,000

175

14,400

48,000

371

Y800010

233338

7035669

35

11,300

180,800

107,000

174

14,700

48,300

373

Y800012

233334

7035874

1

11,100

179,050

106,000

171

14,200

47,100

368

Y800014

233334

7035874

20

11,400

171,150

107,000

180

14,400

47,100

378

Y800016

233334

7035874

35

11,500

182,000

111,000

179

14,700

49,200

373

Y800018

233335

7036022

1

11,300

179,400

106,000

177

14,300

47,400

367

Y800020

233335

7036022

20

11,400

181,150

107,000

177

14,500

48,300

375

Y800022

233335

7036022

35

11,400

181,150

107,000

179

14,800

48,900

376
APPENDIX 2 – JORC TABLE ONE
Section 1: Sampling Techniques and Data
Criteria

JORC Code explanation

Commentary

Sampling techniques

Nature and quality of sampling (eg cut channels, random chips, or specific specialised industry standard measurement tools appropriate to the minerals under investigation, such as down hole gamma sondes, or handheld XRF instruments, etc). These examples should not be taken as limiting the broad meaning of sampling.

Include reference to measures taken to ensure sample representivity and the appropriate calibration of any measurement tools or systems used.

Aspects of the determination of mineralisation that are Material to the Public Report.

In cases where 'industry standard' work has been done this would be relatively simple (eg 'reverse circulation drilling was used to obtain 1 m samples from which 3 kg was pulverised to produce a 30 g charge for fire assay'). In other cases more explanation may be required, such as where there is coarse gold that has inherent sampling problems. Unusual commodities or mineralisation types (eg submarine nodules) may warrant disclosure of detailed information.

Brine samples were collected from Williamson Pit at various depths.

Drilling techniques

Drill type (eg core, reverse circulation, open-hole hammer, rotary air blast, auger, Bangka, sonic, etc) and details (eg core diameter, triple or standard tube, depth of diamond tails, face-sampling bit or other type, whether core is oriented and if so, by what method, etc).

Not applicable

 

Drill sample recovery

Method of recording and assessing core and chip sample recoveries and results assessed.

Measures taken to maximise sample recovery and ensure representative nature of the samples. Whether a relationship exists between sample recovery and grade and whether sample bias may have occurred due to preferential loss/gain of fine/coarse material.

Not applicable

 

Logging

Whether core and chip samples have been geologically and geotechnically logged to a level of detail to support appropriate Mineral Resource estimation, mining studies and metallurgical studies.

Whether logging is qualitative or quantitative in nature. Core (or costean, channel, etc) photography.

The total length and percentage of the relevant intersections logged.

Not applicable

 

 

 

 

 

 

 

 

 

Sub-sampling techniques and sample preparation

If core, whether cut or sawn and whether quarter, half or all core taken.

If non-core, whether riffled, tube sampled, rotary split, etc and whether sampled wet or dry.

For all sample types, the nature, quality and appropriateness of the sample preparation technique.

Quality control procedures adopted for all sub-sampling stages to maximise representivity of samples.

Measures taken to ensure that the sampling is representative of the in situ material collected, including for instance results for field duplicate/second-half sampling.

Whether sample sizes are appropriate to the grain size of the material being sampled.

Sample bottles are rinsed with brine which is discarded prior to sampling.

All brine samples taken in the field are split into two sub-samples: primary and duplicate.  Reference samples were analysed at a separate laboratory for QA/QC.

 

Quality of assay data and laboratory tests

The nature, quality and appropriateness of the assaying and laboratory procedures used and whether the technique is considered partial or total.

For geophysical tools, spectrometers, handheld XRF instruments, etc, the parameters used in determining the analysis including instrument make and model, reading times, calibrations factors applied and their derivation, etc.

Nature of quality control procedures adopted (eg standards, blanks, duplicates, external laboratory checks) and whether acceptable levels of accuracy (ie lack of bias) and precision have been established.

Primary samples were sent to Bureau Veritas Minerals Laboratory, Perth. 

Brine samples were analysed using ICP-AES for K, Na, Mg, Ca, with chloride determined by Mohr titration and alkalinity determined volumetrically. Sulphate was calculated from the ICP-AES sulphur analysis.

 

Verification of sampling and assaying

The verification of significant intersections by either independent or alternative company personnel.

The use of twinned holes.

Documentation of primary data, data entry procedures, data verification, data storage (physical and electronic) protocols.

Discuss any adjustment to assay data.

Data entry is done in the field to minimise transposition errors.

Brine assay results are received from the laboratory in digital format, these data sets are subject to the quality control described above.  All laboratory results are entered in to the company's database and validation completed.

Independent verification of significant intercepts was not considered warranted given the relatively consistent nature of the brine.

Location of data points

Accuracy and quality of surveys used to locate drill holes (collar and down-hole surveys), trenches, mine workings and other locations used in Mineral Resource estimation.

Specification of the grid system used.

Quality and adequacy of topographic control.

Sample co-ordinates were captured using hand held GPS.

Coordinates were provided in GDA 94_MGA Zone 51.

product.

 

Data spacing and distribution

Data spacing for reporting of Exploration Results.

Whether the data spacing and distribution is sufficient to establish the degree of geological and grade continuity appropriate for the Mineral Resource and Ore Reserve estimation procedure(s) and classifications applied.

Whether sample compositing has been applied.

Data spacing reported in Appendix 1

 

Orientation of data in relation to geological structure

Whether the orientation of sampling achieves unbiased sampling of possible structures and the extent to which this is known, considering the deposit type.

If the relationship between the drilling orientation and the orientation of key mineralised structures is considered to have introduced a sampling bias, this should be assessed and reported if material.

Not Applicable

 

Sample security

The measures taken to ensure sample security.

All brine samples were marked and kept onsite before transport to the laboratory.

All remaining sample and duplicates are stored in the Perth office in climate-controlled conditions.

Chain of Custody system is maintained.

Audits or reviews

The results of any audits or reviews of sampling techniques and data.

Data review is summarised in Quality of assay data, laboratory tests and Verification of sampling and assaying. No audits were undertaken.
Section 2: Reporting of Exploration Results
Criteria

JORC Code explanation

Commentary

Mineral tenement and land tenure status

Type, reference name/number, location and ownership including agreements or material issues with third parties such as joint ventures, partnerships, overriding royalties, native title interests, historical sites, wilderness or national park and environmental settings.

The security of the tenure held at the time of reporting along with any known impediments to obtaining a licence to operate in the area.

 

Pit samples were taken from M53/253 owned by Blackham Resources Limited (held by Nova Energy Ltd) under the permission of Blackham Resources Limited.

Exploration done by other parties

Acknowledgment and appraisal of exploration by other parties.

Addressed in the announcement dated 12 December 2017.

Geology

Deposit type, geological setting and style of mineralisation.

Salt Lake Brine Deposit

Drill hole Information

A summary of all information material to the understanding of the exploration results including a tabulation of the following information for all Material drill holes:

o   easting and northing of the drill hole collar

o   elevation or RL (Reduced Level – elevation above sea level in metres) of the drill hole collar

o   dip and azimuth of the hole

o   down hole length and interception depth

o   hole length.

If the exclusion of this information is justified on the basis that the information is not Material and this exclusion does not detract from the understanding of the report, the Competent Person should clearly explain why this is the case.

Not Applicable

 

Data aggregation methods

In reporting Exploration Results, weighting averaging techniques, maximum and/or minimum grade truncations (eg cutting of high grades) and cut-off grades are usually Material and should be stated.

Where aggregate intercepts incorporate short lengths of high grade results and longer lengths of low grade results, the procedure used for such aggregation should be stated and some typical examples of such aggregations should be shown in detail.

The assumptions used for any reporting of metal equivalent values should be clearly stated.

No low grade cut-off or high grade capping has been implemented.

 

Relationship between mineralisation widths and intercept lengths

These relationships are particularly important in the reporting of Exploration Results.

If the geometry of the mineralisation with respect to the drill hole angle is known, its nature should be reported.

If it is not known and only the down hole lengths are reported, there should be a clear statement to this effect (eg 'down hole length, true width not known').

Not applicable

Diagrams

Appropriate maps and sections (with scales) and tabulations of intercepts should be included for any significant discovery being reported These should include, but not be limited to a plan view of drill hole collar locations and appropriate sectional views.

Not Applicable

Balanced reporting

Where comprehensive reporting of all Exploration Results is not practicable, representative reporting of both low and high grades and/or widths should be practiced to avoid misleading reporting of Exploration Results.

All results have been included.

Other substantive exploration data

Other exploration data, if meaningful and material, should be reported including (but not limited to): geological observations; geophysical survey results; geochemical survey results; bulk samples – size and method of treatment; metallurgical test results; bulk density, groundwater, geotechnical and rock characteristics; potential deleterious or contaminating substances.

Addressed in the announcement.

 

 

 

 

 

 

Further work

The nature and scale of planned further work (eg tests for lateral extensions or depth extensions or large-scale step-out drilling).

Diagrams clearly highlighting the areas of possible extensions, including the main geological interpretations and future drilling areas, provided this information is not commercially sensitive.

Addressed in the announcement.

 
For further information please visit www.saltlakepotash.com.au or contact:
Matt Syme/Sam Cordin

Salt Lake Potash Limited

Tel: +61 8 9322 6322

Jo Battershill

Salt Lake Potash Limited

Tel: +44 (0) 20 7478 3900

Colin Aaronson/Richard Tonthat

Grant Thornton UK LLP (Nominated Adviser)

Tel: +44 (0) 20 7383 5100

Derrick Lee/Beth McKiernan

Cenkos Securities plc (Joint Broker)

Tel: +44 (0) 131 220 6939

Jerry Keen/Toby Gibbs

 

Shore Capital (Joint broker)

Tel: +44 (0) 20 7468 7967

 
The information contained within this announcement is deemed to constitute inside information as stipulated under the Market Abuse Regulations (EU) No. 596/2014. Upon the publication of this announcement, this inside information is now considered to be in the public domain.