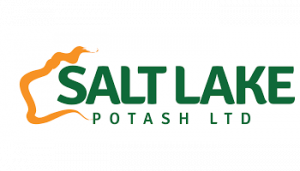 Salt Lake Potash Limited (the Company or Salt Lake) is pleased to announce that it has completed the first tranche of its placement to institutional and sophisticated investors of 31.0 million shares at an issue price of $0.42 per share, to raise gross proceeds of $13.0 million (Placement), announced 9 November 2018. The placement saw strong demand from institutional and sophisticated investors, an endorsement of the recent appointment of Tony Swiericzuk as CEO to lead the development of the Company's world class Goldfields Salt Lakes Sulphate of Potash project.
The Company recently received approval from the Department of Mines, Industry Regulation and Safety for a pond system to dewater the Williamson Pit at Lake Way. With the placement complete the Company is now in a strong position to commence these on-lake activities at Lake Way in the coming weeks.
Proceeds from the Placement will be used to fund construction of the Williamson Ponds and dewatering of the Williamson Pit, as well as ongoing development of on-lake infrastructure, exploration and feasibility studies, and general working capital.
The first tranche of the Placement, comprising 29.3 million shares to Institutional and Sophisticated investors to raise gross proceeds of A$12.3 million, was completed today.
The second tranche of the Placement, comprising 1.7 million shares intended to be subscribed for by Directors, including 950,000 shares by the CEO, Mr Tony Swiericzuk, and 750,000 shares by the Company's Chairman, Mr Ian Middlemas, will be issued subject to shareholder approval.
An Appendix 3B and Section 708A Notice is attached as required under the listing rules of the ASX.
As announced on 16 November 2018, application has been made for the admission to trading on AIM of the balance of the first tranche of the Placement, being 214,286 Salt Lake Potash Limited ordinary shares, with admission expected to take place on or around 22 November 2018
Shareholder Meeting
A General Meeting of the Company will be held at the Conference Room, Ground Floor, BGC Centre, 28 The Esplanade, Perth, Western Australia on Thursday 20 December 2018 at 10:00am (WST). The Meeting will consider the second tranche of the Placement as well as ratifying the first tranche of Placement shares and prior issue of options in order to refresh the Company's placement capacity under ASX LR7.1 and LR7.1A.
The Notice of General Meeting was sent to shareholders today and is available for download on the Company's website: www.saltlakepotash.com.au
For further information please visit www.saltlakepotash.com.au or contact:
Clint McGhie

Salt Lake Potash Limited

Tel: +61 8 9322 6322

Colin Aaronson/Richard Tonthat/Ben Roberts

Grant Thornton UK LLP (Nominated Adviser)