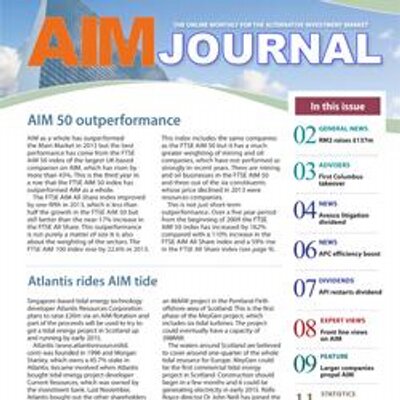 NEX EXCHANGE
Mechan Controls (MECP) is selling its main subsidiary to its technical director and intends to sell its other business and return cash to shareholders. The core business is being sold for up to £2m, with a minimum of £1.64m, including £1.24m initially, payable. The final £360,000 is dependent on the buyers selling the 142,300 shares they own in Mechan Controls. This leaves the group with Nirvana Engineering, which made a pre-tax profit of £352,000 last year. The company is changing its name to Mandicon.
Wine maker Chapel Down Group (CDGP) is putting a brave face on the frosts at the end of April. These were the worst frosts in April for two decades. There was a patchy impact with some vineyards impacted and some not. The company says that it mitigates risk by sourcing fruit from a wider area. The potential crop will become clearer in June. A further 129 acres of vineyard will be planted in the rest of this year.
Bulgaria property investment company Black Sea Property (BSP) is still negotiating a loan from UniCredit Bulbank to finance the acquisition of the UniCredit Building. Black Sea Property is paying €10.52m for the building – a deposit of €1.04m has been paid – and €7.6m of this will come from a loan. Once this loan is secured then a share issue can be undertaken. It appears that the deal may not be completed in May as originally envisaged. Unicredit can remain in the building for six months after completion and does not have to pay rent. The deposit will be forfeited if the deal does not go ahead. Black Sea Property has extended the repayment date of £100,000 of the unsecured loan facility from Phoenix Capital to the end of July. Discussions continue about the assignment to Phoenix of the investment advisory agreement from AG Asset Management. Anthony Gardner-Hillman is stepping down from the board and a replacement should be appointed in the near future.
Ace Liberty and Stone (ALSP) has acquired the Grosvenor Casino site in George Street, Manchester for £4m. The annual rental is £300,000. Ace has also bought the company that owns Willow House in Aldershot for £1.05m.
Angelfish Investments (ANGP) says that the loan of £497,500 has been repaid with interest by 4 Navitas. The talks about a joint venture have ended and Angelfish is trying to recover professional fees and expenses. This means that Angelfish has £1.1m in the bank and a loan to One Media Enterprises of $425,500 and it is seeking pre-IPO investments. It should be remembered that Angelfish has £2.3m of preference shares in issue.
Early stage investor Primorus Investments (PRIM) says that cloud-based food service business Fresho has announced that annualised revenues through its platform is nearly A$100m. The platform connects wholesalers and suppliers to restaurants, hotels, independent supermarkets, hospitals, pubs and other retailers. Additional automation will help to boost margins. Primorus, which is also quoted on AIM, invested £175,000 in Fresho in September 2016. Another round of funding is expected early next year. That will provide an opportunity to revalue the existing investment.
Etaireia Investments (ETIP) is buying two office buildings at Whitehouse Office Park in Peterlee, County Durham, with 113 out of the 125 year lease left unexpired. The purchase price of £1.125m will be paid through a combination of 600 million shares at 0.1p a share, giving Taxspecialefx (Peterlee) LLP a 24.3% stake, and cash payment of £525,000 deferred for 12 months. Completion is expected within three months. The annual rental income is £99,500. The seller is entitled to 75% of rental income until the deferred payment is made.
Adnams (ADB) non-executive director Guy Heald has sold 310 B shares at £114 each, raising £35,340. He retains 15.9% of the B shares.
All Star Minerals (ASMO) has raised £40,500 at 0.075p a share. Equatorial Mining & Exploration (EM.P) has raised £14,000 via the exercising of warrants at 0.01p each and it has also issued 110 million irredeemable 0.01p convertible loan notes.
AIM
The new management team has spent 2016 restructuring Quantum Pharma (QP.). One part of the business has been closed and another may be divested. The focus is niche pharmaceuticals and specials. In the year to January 2017, pre-tax profit dropped from £10.1m £6.2m. There will be a recovery in profit this year but it will take another year for profit to get back to £10m.
Podcasts supplier Audioboom (BOOM) has increased its revenues from £192,000 to £1.31m although it continues to lose money. There is already more than £3m of recognised or pre-booked advertising for 2017. Audioboom has built up its user base and it has started to generate revenues on the back of that. The acquisition of advertising technology firm SONR should help to further target advertising. Audioboom will make a further loss this year and, even after raising around £5m, the net cash is expected to be less than £1m at the end of 2017.
Management spent a significant amount of time last year sorting out the operations that Inspiration Healthcare (IHC) inherited when it reversed into the AIM-quoted business. This meant that underlying profit was flat at £1.1m. Demand for pre-natal care equipment and services is rising. There is scope for further organic growth and for acquisitions.
Pennant International Group (PEN) says that Lockheed Martin has increased the size of a contract from £200,000 to £2.2m, with potential for me. The total order book is worth more than £35m.
A concept study for the CS pozzolan-perlite project has persuaded Sunrise Resources (SRES) to focus on the project. It is thought that the 100%-owned project should have low caped and operating expenses thanks to surface mining and simple production processes. The pozzolan mined can be used as a greener alternative to Portland cement. There are no defined resources yet.
Onshore oil and gas explorer Egdon Resources (EDR) has submitted a new planning application for the Wressle field development. This follows the rejection of the previous planning application by North Lincolnshire Council. Egdon is also appealing the original decision.
Verona Pharma (VRP) raised $80m at the time of its flotation on Nasdaq. The shares were issued at 132p each and the ADSs issued in the US at $13.50 each – one ADS represents eight shares. The ADSs are trading on the Nasdaq Global Market. Last month, respiratory disease treatment developer has received authorisation from the FDA to proceed with a clinical trial for RPL554.
Manufacturer of professional audio equipment Focusrite (TUNE) produced good interim figures thanks to strong sales in North America. Interim revenues were 24% higher at £32m with pre-tax profit 89% ahead at £4.6m. Net cash is £9.4m and the interim dividend was raised by 15% to 0.75p a share. . Edison has upgraded its 2016-17 pre-tax profit forecast from £8m to £8.5m.
The Article 6 Marital Trust has become the largest shareholder in FIH Group (FIH), with 28.9%, following the sale of shares by Blackfish Capital Alpha Fund and former bidder Staunton Holdings at 300p each. Edmund Rowland has stepped down as chairman.
PowerHouse Energy (PHE) has moved its ultra high temperature gasification waste to energy G3-UHt unit to the Thornton Science Park, operated by the University of Cheshire. This will enable further development and opportunities for demonstrating the technology.
LED lighting products developer Photonstar LED (PSL) has taken advantage of a sharp share price recovery to raise £465,000 at 1.25p. The cash will be used to roll-out new product ranges.
Sanderson Group (SND) says that interim figures are in line with expectations. The retail and manufacturing software provider increased interim revenues from £9.86m to £10.9m – just under 50% is recurring revenues. Digital retail revenues were one-fifth higher. Net cash was £4.51m at the end of March 2017. Full year pre-tax profit is expected to rise from £3.44m to £3.72m. The interims will be published on 24 May.
Strategic Minerals (SML) is acquiring its joint venture partner's stake in Central Australia Rare Earths for £522,500. Larger amounts of funding will be required to explore the resource than originally thought. Cash generated from Cobre in New Mexico will be used to finance this investment.
Digital audio technology developer Frontier Smart Technologies (FST) says that its first half revenues is significantly ahead of last year and full year EBITDA is set to be well ahead of expectations with margins higher than anticipated. Analogue radio has been switched off in Norway and there is strong demand for digital radio across Europe. Smart audio contracts have been won and there will be a better indication of progress in the second half.
Gas producer Ascent Resources (AST) has re-entered the second well at the Petisovci gas field in Slovenia. The well is being prepared for production, which should take four weeks. There has been a further objection to the Integrated Pollution Prevention and Control permit, which it requires to build a gas processing plant so more gas can be produced.
DP Poland (DPP) says that system sales grew by 21% in the first quarter of 2017. There have been eight stores added this year and a new commissary is under construction.
Accident prone Redcentric (RCN) appears to be sorting itself out but it is not out of the woods yet. Net debt is estimated at £39.5m at the end of March 2017 and the bank appears to support the company. Waivers have been received for covenant breaches and there were large exceptional charges. The underlying pre-tax profit is forecast to rise from £6.3m to £9.1m.
MAIN MARKET
Personal care products supplier InnovaDerma (IDP) has acquired the owner of the IP for Prolong, the only FDA-approved medical device for the treatment of premature ejaculation, a market valued at more than $1bn a year. This is part of a strategy to build up a life sciences division. Prolong is a non-prescription, vibrating medical device that is used in training in order to increase time between arousal and ejaculation. The device could cost between £250 and £300. InnovaDerma is paying £1m in shares, issued at a 25% discount to the market price minus the settlement of current liabilities at the current share price – estimated at £323,600. On top of this, a royalty of £11 per unit sold will be paid until the patent runs out in 2031 and if Prolong generates an operating margin of 20% in any year a bonus of £150,000 is payable. Prolong will be launched in North America in the second half of 2017 and Europe and Australia next year. InnovaDerma also announced that its self-tanning Skinny Tan products will be available on the ASOS website.
Opera Investments (OPRA) is going ahead with its acquisition of Kibo Gold from AIM-quoted Kibo Mining (KIBO) for £3.66m in shares at 6p each and moving from the standard list to AIM. The acquisition has the Imweru and Lubando gold projects in Tanzania. Opera is also raising £1.5m at 6p a share – it already had £486,000 in the bank. The Imweru project could be producing 50,000 ounces of gold a year within two years. Opera is changing its name to Katoro Gold.
Andrew Hore