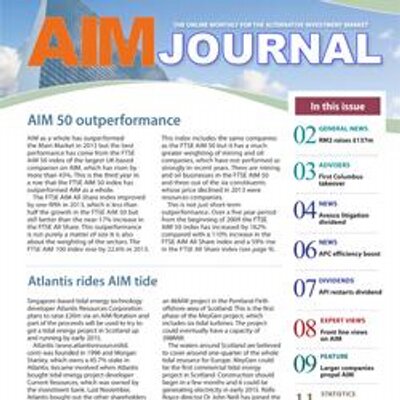 NEX EXCHANGE
Chapel Down Group (CDGP) says that the 2017 harvest was second best in the company's history. There was a 10% volume increase on the previous year. The quality was also good. There had been fears for the harvest because of the frost in April but Chapel Down sources from a wide range of vineyards. Chapel Down has completed the acquisition of the 1.6 acre site in Ashford where the Curious Brewery will be developed.
Capital for Colleagues (CFCP) is setting up a joint venture to focus on consultancy and advisory operations so that the core business is purely involved in investment in employee owned businesses. Capital for Colleagues will own 34% of Castlefield Corporate Advisory Partners, with 51% owned by Castlefield Partners and the rest by executives of the joint venture.
Supported housing developer Walls and Futures REIT (WAFR) has delivered its first project and has a pipeline of other projects. The NAV is 94p a share. In the six months to September 2017, there was a £203,000 uplift in property values and that is why there was an interim profit of £127,000. There is £237,000 in the bank.
Mechanical and engineering installation work provider Field Systems Designs Holdings (FSD) reported a 19% increase in full year revenues to £17.2m. The main growth came from the water and sewerage operations and the AMP6 regulatory period is just getting going. Pre-tax profit more than doubled from £308,000 to £672,000.
South Africa-focused investment company Inqo Investments Ltd (INQO) still has R756,000 in the bank following further investments. Kuzuko Lodge continues to lose money but its occupancy and room rates are improving. Investee company Bee Sweet Honey harvest 133 metric tonnes of honey in May and this has generated revenues for Inqo.
Ganapati (GANP) reported a reduced interim loss of £4.54m, down from £8.75m. The online casino software and apps supplier increased revenues from £1.34m to £2.19m. A mobile operating system update has held back revenue generation from the company's apps.
IMC Exploration (IMCP) has raised £75,000 at 1p a share and issued warrants that could raise a further £150,000 at 2p each. The cash will finance a feasibility study on the licence in Avoca in County Wicklow.
MiLOC Group Ltd (ML.P) has raised £540,000 at 28.5p a share and issued further shares as payments to consultants at 30p a share.
AIM
Sanderson Group (SND) expects its full year revenues to be slightly higher at £21.5m but underlying operating profit is anticipated to rise from £3.69m to £3.9m. That excludes £500,000 of reorganisation and acquisition costs. The digital retail software divisions continues to be the main growth area. The order book of £5.8m at the end of September is much higher than the same time one year earlier. It does include a large order that will be delivered over two financial years. There is more than £6m in the bank.
At last week's general meeting of Stratex International (STI) the requisitioners were successful with their first and fifth resolutions but not the second. The third and fourth resolutions were conditional on the passing of the first two so they did not go to a vote. Marcus Engelbrecht has left the board and the acquisition of Crusader Resources appears unlikely to go ahead. The requisitioners want to inject joint venture Thani Stratex into the quoted company.
Diversified Gas and Oil (DGOC) completed the acquisition of the Titan oil and gas assets at the end of September. Operating costs have been reduced by 8% to $7.14/barrel of oil equivalent since the first half of 2017, which has helped margins to improve. Trading is in line with expectations.
Billing and charging software provider Cerillion (CER) says that its full year revenues increased 8% to £16.2m. Mobile telecoms operators continue to dominate the business but the customer base is set to broaden.
Sapphire producer Richland Resources (RLD) produced 1.06 million carats from its Capricorn mine in the third quarter of 2017 but this was lower than the 1.2 million carats that was expected because of mine disruption and rehabilitation. Production and operating costs were $0.75/carat. The next sapphire sales are this month. Illegally mined sapphires are holding back prices so only $245,000 was generated from sales in the third quarter as Richland held on to sapphires in order to sell them in the fourth quarter.
Redx Pharma (REDX) has come out of administration. The board will be writing to shareholders laying out its strategy and the suspension of trading in Redx shares could be lifted later this year.
Versarien (VRS) is trying to raise £1.2m via institutions and PrimaryBid.com at 18p a share. Back in March, £1.5m was raised at 15p a share in the same way. The advanced materials company will use the cash to buy capital equipment in order to fulfil the requirements for graphene-related collaborations. There are negotiations with two of the largest consumer goods companies in the world. An order is expected shortly and there are many other discussions ongoing. The Total Carbide business is winning aerospace work to offset the shortfall in demand from the oil and gas sector.
Proxama (PROX) has sold its loss-making digital payments division in order to concentrate on its location sciences technology business. The deal will raise £1m with potential deferred consideration of up to £1m over 18 months. The company will change its name to Location Sciences.
Starcom (STAR) has raised £475,000 at 1.3p a share. The cash will provide working capital for recently announced large orders and to repay $100,000 owed to YA II and $115,000 owed to other creditors.
INEOS has acquired an interest in shale gas licences where Egdon Resources (EDR) is also involved. Egdon plans to increase its onshore UK production this year. INEOS has taken on the obligations of Total to carry Egdon in the PEDL 139 and 140 areas. Egdon owns 14.5% of each of these licences. Egdon also has a £4.85m carry on PEDL209, where Egdon has a 36% interest.
Pakistan-focused coal mine developer Oracle Power (ORCP) says a memorandum of understanding should be signed this month. Oracle will retain a 12.1% stake in the block VI project. Sichuan Provincial Investment Group will take a 78% interest in the project and the other 9.9% will be owned by PowerChina International Group. The gross cost of the project is estimated to be $1.6bn and the debt/equity ratio will be 75/25.
Gordon Dadds (GOR) has made its first acquisition since reversing into Work Group. The lawyer will pay £4m over a five year period for CW Energy. There could be additional payments dependent on performance. CWE is a corporate tax adviser and prior to distributions to partners it made EBITDA of £1.3m last year.
MAIN MARKET
WideCells Group (WDC) has signed a five–year agreement with White Apex General Trading, which will provide the companies stem cell services. WideCells immediately receives £255,000. The agreement covers the stem cell insurance product, stem cell storage and the educational platform Wideacademy. A further £1.5m could be payable if the Wideacademy platform is adapted for Middle East, North Africa and Asia. There could be £250,000 of this paid by the end of this year.
OTHER MARKETS / UNQUOTED
Fashion On Screen continues to progress towards a floatation on Nasdaq First North in the first quarter of next year. It is also raising money for its first film, Will, which is based on the life of William Shakespeare, via the SyndicateRoom crowdfunding platform. There are at least two other films in development.
Andrew Hore