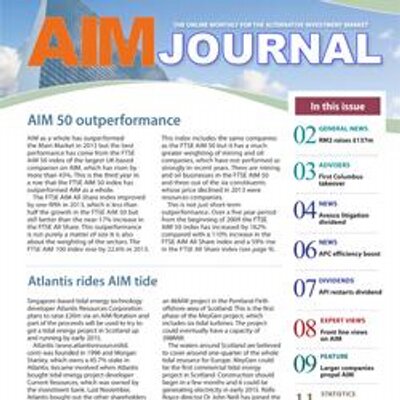 NEX EXCHANGE
Kent-based brewer Shepherd Neame (SHEP) reported a 7% increase in first half revenues to £79.2m. The main growth was in the managed pubs and hotels division. Pre-tax profit fell from £8.7m to £6.7m because of the lack of property disposals, although underlying profit did improve. The dividend has been raised from 5.45p a share to 5.62p a share. There has been heavy investment in pub acquisitions, which has increased net debt to £84.1m.
Field Systems Designs Holdings (FSD) grew its interim revenues from £8.31m to £8.47m, while pre-tax profit has edged ahead from £91,000 to £114,000. The installation and engineering group is experiencing a lull in demand from water companies as the latest regulatory period is still to get going. Energy from waste business is strong.
Formation Group (FRM) has secured a profit share agreement relating to a development at 34 Wembley Hill Road, Wembley. Formation has loaned £5m to the developer and this entitles Formation to 40% of the net profit on the development. A five-for-one share consolidation happened on 28 February.
Sandal (SAND) increased interim revenues from £1.66m to £1.88m, while pre-tax profit improved from £7,000 to £35,000. The energy efficiency and hoe automation products supplier is confident that it will continue to grow in the second half.
Primorus Investments (PRIM), which was formerly Stellar Resources, is raising £237,000 at 0.15p each in order to finance further investments. The most recent investment was in Australia-based food services business Fresho, where Primorus invested £175,000. Valiant Investments (VALP) has raised £23,000 at 0.1p a share. African Potash (AFPO) has raised £26,550 at 0.045p a share for working capital.
AIM
Gear4music (G4M) generated 58% growth in revenues last year and the fastest rate of growth was in Europe. In the year to February 2017, revenues are forecast to rise from £35.5m to £56.1m. The musical instruments supplier is expected to quadruple pre-tax profit to £2.4m.
Enterprise software supplier Sanderson Group (SND) has made a solid start to the financial year. In the four months to January 2017, revenues are 8% higher and the order book is larger than the year before. The main growth in order intake is in the digital retail operations.
Some good news for TechFinancials Inc (TECH). Asia Pacific-focused DragonFinancials, which is 51% owned, will pay a $3m final dividend and TechFinancials will receive $1.5m. DragonFinancials had already paid an interim to the company of $1m. The loss of a software client is still hanging over TechFinancials, though.
Asset tracking technology products developer Starcom (STAR) says that it expects to report a 2016 loss of $1.5m, after a $450,000 stock write-down, following a slight increase in revenues to more than $5.2m. However, there may be additional bad debt write-offs. Starcom, as ever, is positive about this year but sales are still slow in coming through.
CloudTag Inc (CTAG) says that the £975,000 fundraising at 3.75p a share that was undertaken by Novum Securities will not go ahead following the resignation of Cairn as nominated adviser. Trading in the shares is suspended.
Interim revenues were 11% ahead at £9.6m at engineer Avingtrans (AVG) and the loss was cut to £200,000. Avingtrans is still expected to make a small profit this year. The add-on acquisition of Scientific Magnetics broadens the product offer in the MRI sector. A full year dividend of 3.4p a share would not be covered by earnings but there is net cash of £27.8m in the bank.
Seeing Machies (SEE) says that US fresh food distributor Shamrock is installing 750 Guardian driver monitoring devices in its heavy vehicles. There will also be a monthly subscription to the SafeGuard monitoring service. This contract has been signed after a 12 month trial period.
SalvaRx (SALV) is investing an initial €600,000 in Nekonal, which owns IP for therapeutics and diagnostics in autoimmune disorders and oncology. A further €300,000 may be invested. SalvaRx undergoing a corporate and financial restructuring. The group's structure is being streamlined so that the investment in Intensity Therapeutics Inc and related convertible debt will come under SalvaRx Ltd. The convertible loan will be converted into shares in SalvaRx Ltd. Up to $5m of unsecured loan notes will be issued and these will yield 7% and be repayable in four years. There are also warrants for ordinary shares attached to the loan note issue.
Botswana Diamonds (BOD) has raised £500,000 at 1.5p a share in order to finance drilling at the Frischgewaagt property in South Africa, as well as financing exploration by the joint venture with Alrosa in Botswana.
MAIN MARKET
AB Traction continues to build its stake in Waterman Group (WTM) and it has reached 16%. The engineering consultancy reported flat interim revenues of £45.7m and pre-tax profit was unchanged at £1.8m. Even so, the interim dividend was increased by one-third to 1.6p a share. Net cash was £6.7m at the end of 2016.
InnovaDerma (IDP) has acquired the Stevie K and Charles + Lee cosmetics and skincare brands for A$500,000. The sellers can take this in shares if they want to. The brands will help the group enter the make-up and male skincare markets and they can be sold via the existing distribution network.
River & Mercantile has reduced its stake in Flying Brands Ltd (FBDU) to below 5%. Trading in the shares on the Main Market remains suspended pending a potential acquisition. The suspension has lasted more than eight months.
PRE-IPO / OTHER TRADING FACILITIES
JP Jenkins has launched its new trading platform and an updated website (www.jpjenkins.com), which should provide more information for potential investors.
Andrew Hore