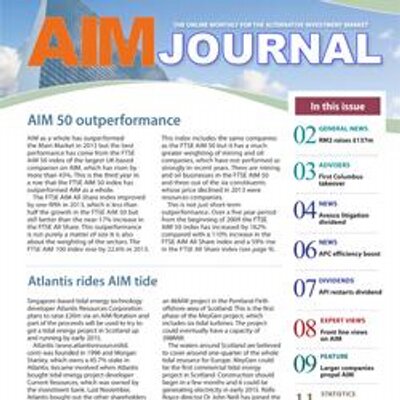 ISDX
Brewer Shepherd Neame (SHEP) reported a lower brewing profit but this was made up for by a higher contribution from managed pubs in the six months to December 2015. However, the National Living Wage and other costs will increase by £1.1m in the next financial year and management is cautious about the prospects for consumer spending. Revenues were flat at £73.7m but underlying pre-tax profit improved from £4.73m to £5.07m, helped by lower interest costs. There was also a property disposal profit of £3.6m. Net debt was reduced to £61.4m thanks to disposal proceeds.
Electrical and control systems supplier Field Systems Design Holdings (FSD) had a much stronger six months to November 2015 thanks to additional work from the energy from waste incineration sector. Longer-term, demand from the water sector should build up. There was a jump in revenues from £5.51m to £8.31m, while pre-tax profit improved from £11,000 to £91,000. There was £1.1m in the bank at the end of November 2015. At 15.5p (14p/17p) a share, Field is valued at £900,000.
Energy efficiency products supplier Sandal (SAND) moved back into profit in the six months to November 2015. Overall revenues were flat at £1.66m, although there were much higher sales of Energenie products, while a loss of £129,000 was turned into a profit of £7,000 thanks to lower overheads. Sandal has completed its investment in the Energie MiHome range with ongoing investment focused on linking up with Hive and other smart devices for the home. There was £398,000 in the bank at the end of November 2015.
Leni Gas Cuba Ltd (CUBA) has made two new investments in Cuban businesses. The first is a 49% stake in entertainment consultancy Cuba Professionals Inc for an investment of €180,000 over nine months. A short-term working capital facility of €200,000 will also be prfinance ovided. This cash will go towards a larger office in Havana and recruiting additional staff. The other investment is a 15.8% stake in Australian company MEO Australia Ltd, which is focused on Cuban oil exploration. The £730,000 investment will be used to finance exploration in onshore block 9 in Cuba, where another one of the company's investments, Petro Australis has and interest. Non-executive director Darren Smith has bought 250,000 shares at 0.8p each. That takes his stake to 4 million shares. Smith did not buy any shares in the subscription at 5p a share when the company joined ISDX. The share price has fallen back to 0.9p (0.8p/1p).
Via Developments (VIA1) has raised a total of £2.5m from ten placings of 7% debenture stock since joining ISDX. Two residential property acquisitions have been made in Manchester and Luton.
Ganapati (GANP) is still attempting to obtain a licence from the Gaming Commission and there have been further delays so the company will require additional cash. Ganapati also needs to further develop its BUZZPOP app and this means that there will be no revenues from the app until 2017. There will be a write-down of intangible assets as a consequence. The share price was unchanged at 60p (50p/70p).
Doriemus (DOR) plans to leave AIM and move to ISDX. This follows the decision to buy a further 60.56% of Greenland Oil & Gas. This means that a reverse takeover will not be completed by 14 March and the AIM quotation will be cancelled. The oil and gas-focused investment company should start trading on ISDX on 15 March.
Cyber security technology commercialisation company Crossword Cybersecurity (CCS) is linking up with the University of Surrey in order to explore opportunities for commercially exploiting technology for advanced information hiding. The university has developed a way of encoding information into the normal ebb and flow of computer systems. A patent has been filed for this research and the plan is to develop a platform that can use the technology.
AIM
Shell company 3Legs Resources (3LEG) has announced details of the reverse takeover of SalvaRx and plans to raise £1.95m at 35.5p a share – post a 100:1 share consolidation. SalvaRx is an immunotherapy business and it owns 60.5% of iOx, which is developing under lice compounds for cancer immunotherapy. The cash raised will help to finance the first human clinical trials, which are being sponsored by Oxford University, for iOx's lead compound based on invariant natural killer T cells. SalvaRx has invested £510,000 in iOx and is committed to put in a further £1.33m. 3Legs had already acquired 11.1% of SalvaRx, at a cost of £215,000, last September. The rest of the shares will be swapped for 3Legs shares valuing them at £8.8m. New chairman Jim Mellon and his associates will end up with 73% of 3Legs, whose name will be changed to SalvaRx Group.
Property investor Palace Capital (PLA) has bought an office block in Milton Keynes, near to the railway station, for £7.2m. The near-fully let building generates net income of £550,000 a year. This deal will immediately enhance earnings per share and there is potential to increase rents in the short-term.
Sutton Harbour (SUH) has renewed and extended its bank facilities. A new £25m, three year facility with RNS will replace the £22.5m facility due to expire in October. Finance costs are not expected to change significantly. The enlarged facility plus the rolling £550,000 asset lease financing facility will provide more headroom for Sutton Harbour to push ahead with property developments and invest in the harbour infrastructure.
NWF (NWF) has boosted its agricultural business through the acquisition of ruminant feed manufacturer Jim Peet, which supplies 500,000 tonnes a year to cattle and sheep farmers in northern England and south west Scotland, where NWF wants to grow its exposure. There are two factories near Carlisle and Wigton and they fit well geographically with NWF's existing facilities.
Advanced ultrasound training simulators developer Medaphor (MED) says that its US subsidiary has signed a long-term agreement with the American Board of Obstetrics and Gynecology (ABOG) for the use of its ScanTrainer as the simulator for its obstetrics and gynecology certification exams. ABOG undertakes 2,000 examinations each year. This provides additional confirmation of the usefulness of the technology.
MAIN MARKET
Investment company Athelney Trust (ATY) increased its net asset value by 7.5% to 245p a share last year. The final dividend is being increased by 18% to 7.9p a share on the back of this growth. During the year, Athelney acquired new stakes in two REITs, Safestyle UK, Samuel Heath and Low & Bonar amongst others, while also adding to existing holdings including Begbies Traynor, Juridica Investments and Quarto Group. The disposal of stakes in GLI Finance and Plus500 appears to have been well timed, while Catlin and Nationwide Accident Repair were taken over. There was a dip in the NAV to 235.8p a share by the end of January but that is not surprising given the weak stockmarket. Athelney says that it would not be surprised to see small caps outperforming larger companies again. The original investors in Athelney back in 1994 have enjoyed an annual return of 15.8% net of basic rate tax on their original investment.
Global Resources Investment Trust (GRIT) is changing its strategy to become a more direct investor in resources businesses. This is because it is in default for its 9% convertible loan notes. Prime Star Energy FZE is subscribing £3.9m at 2p a share and RDP Fund Management £1.5m at the same price. There is also an open offer raising up to £300,000 at 2p a share. However, the final proposals are still not agreed and the board is in discussions with the main parties. The company name will be changed to Global Resources International.
Education software and services provider Tribal Group (TRB) is selling its Synergy children;s services management information systems business to Servelec for £20.25m in cash. The business generated EBITDA of £2.3m in 2015. The disposal cash will be used to reduce the requirement for funds in the previously announced rights issue. The plan is to raise up to £21m and the terms will be announced later this month when the 2015 figures are announced. Ian Bowles took over as chief executive on 1 March. There had been plans to move back to AIM but no mention was made of this.
ANDREW HORE