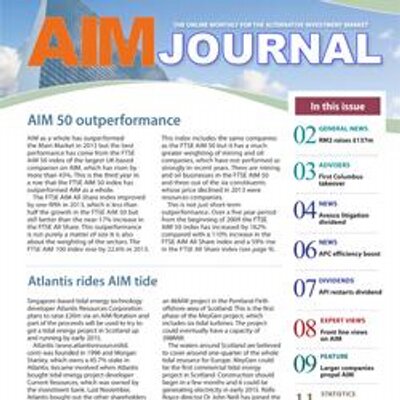 ISDX
Guild Acquisitions (GAQO) has invested £30,000 in NOMAN Ventures Ltd, which is seeking investments in areas such as block chain, artificial intelligence, drones and virtual reality. The cash is being invested in convertible loan notes that will either be convertible at a 40% discount to the share price of the next fundraising of at least £250,000 or after 12 months. Guild plans to ask its shareholders to vote to change its name to Kryptonite 1.
St Marks Homes (SMAP) increased its NAV to 137p a share by the end of June 2016. A Richmond development was completed in March and three sales have been completed since June. Sutton and St Margarets sites will be completed this month, with all of the Sutton residential units already sold and the commercial space under offer. The merger with St Marks Contracts Ltd happened after the period end. Carbury Property Holdings has increased its stake in St Marks to 19.1%.
Via Developments (VIA1) says that it expects to start generating revenues in the final quarter of 2016. Cash raised from debenture issues has been used to buy three development sites – two in Manchester and one in Luton – costing £4.1m and with a development value of £18.3m within 18 months.  The marketing of the first development in Manchester has begun. The company says that it is seeing more interest from foreign investors since the EU referendum. Via Developments has issued more ordinary shares but Pyramid Court Investments Ltd, which is owned by John Kahn, still holds 100% of these unquoted shares.
Secured Property Developments (SPD) has agreed to lend £600,000 for development finance to Space Property, which is 29.15%  owned by Secure Property Developments director R Shane. This means that shareholders have to agree to the deal. The cash will lent for 12 months at 10.2% a year and it will be secured on a freehold commercial property in York. Secured Property Developments had £760,000 in the bank following the sale of its property asset.
Black Sea Property (BSP) has joined ISDX and 50,000 shares were traded at 0.01p each on the first day of trading (31 August). The former AIM company has a new strategy, which is to build up a portfolio of Bulgarian property assets. This could be residential, commercial or hotel properties, or it could be investments in distressed companies that need to be restructured.
Diversified Oil & Gas (DOIL) has raised a further £715,000, taking the value of bonds in issue to more than £10.6m. That is after buying back £197,000 worth of 8.5% unsecured bonds from a bondholder fund.
Crossword Cybersecurity (CCS) has appointed former chief of the secret intelligence service Sir Richard Dearlove as non-executive chairman.
ISDX is hosting an event called Cyber Security Risks: Threats to Publicly-Traded Companies and the Capital Markets on 21 September. The networking and panel session will be led by a team of experts and cover the current cyber security landscape and how public companies can prepare themselves for potential cyber attacks. The event starts at 8.30am and will be held at 2 Broadgate in London.
AIM
EMIS (EMIS) reported flat interim revenues but profit improved. The GP and pharmacy software operations grew their profit but the specialist operations produced disappointing results due to the extra costs for taking on additional contracts. There were cost savings in the first half and the benefits will start to come through in the second half. Full year profit is expected to improve from £36.1m to £39.3m even though revenue forecasts have been shaved.
Facilities management and security services provider Mortice (MORT) grew its revenues by 51% to $133.5m in the year to March 2016 and even if acquisitions are stripped out underlying growth is still 13%. There were initial contributions from the UK and Singapore businesses acquired during the year but they will make a much bigger contribution this year – particularly as the UK facilities management business has won a major contract. India remains the main revenue generator but further acquisitions are likely. There should be a large increase in pre-tax profit in 2016-17 – house broker finnCap forecasts $4.2m.
Surgical instruments developer and supplier Surgical Innovations (SUN) has returned to profit at the operating level and there is still scope to improve gross margin. A small pre-tax profit is expected for the full year as new product launches boost second half sales. A sharp fall in inventories and debtors has helped to cut net debt to around £700,000. The underlying business is back on a firmer footing and management can turn its attention to building up the group via acquisition.
Bond International Software (BDI) says that it has received a bid approach from ESW Capital but no figure has been put on the potential offer. The Bond board has advised shareholders not to accept the Constellation Software bid of 105p a share. The offer document has been sent to shareholders.
MAIN MARKET
Investment in new products is starting to pay off for BATM (BVC) but the real benefits are unlikely to show through until next year's figures. BATM reduced its interim loss and it is on course to move back into profit this year. Revenues declined in the first half because of reducing sales of legacy products, particularly in the networking sector, but newer products will boost second half revenues. The diagnostics business grew its revenues and it has secured a partner in China. A pre-tax profit of $2.7m is forecast for 2016 and that profit should double in 2017 as the newer products build up sales.
Cathay International Holdings (CTI) has investments in China-based healthcare businesses and a hotel.  Revenues dipped slightly to $61.1m but higher gross margins meant that the company swung from loss to profit in the six months to June 2016. The main improvement came from 50.5%-owned Lansen. Trading would have been even stronger but for the decline in the RMB.
Gulf Keystone Petroleum (GKP) has launched an open offer to raise £19.1m at 0.8314p a share as part of its restructuring. The open offer closes on 15 September.