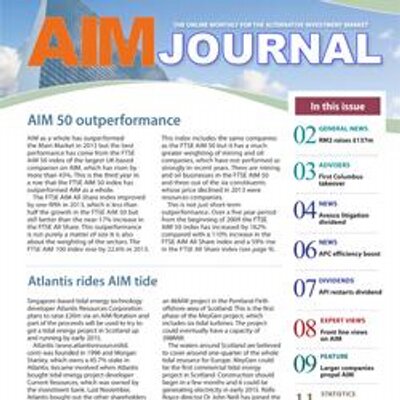 ISDX
Employee-owned businesses funder Capital for Colleagues (CFCP) has invested £500,000 in Anthesis Consulting, a sustainability services consultancy with operations in Europe, North America and Asia. The investment includes £350,000 of shares, which is part of a £1.3m share issue, giving Capital for Colleagues a 3% stake with employees owning 80%. The other £150,000 is in the form of a loan repayable in five years. Anthesis will use the cash to make international acquisitions. Capital for Colleagues had an NAV of 53.66p a share at the end of May.
Ganapati (GANP) says that it failed to achieve its revenue forecasts in the year to January 2016 because of increasing competition. Revenues were £3.45m, while the loss was £7.82m after a £4.56m write down of intangible assets. Ganapati develops software for social media and consumer games but it has decided to move into offering online gambling software. The company continues to try to gain a licence from the UK Gambling Commission but there are issues that need to be sorted out and there is no guarantee that the application will be successful.
Equatorial Mining & Exploration (EM.P) continues to seek additional funding but it is confident enough to spend money on further surveying of its exploration licences in Nigeria. The interim figures will be published in September.
Blockchain technology investor Coinsilium (COIN) has appointed Mrs Pier Thomas as finance director. She has been awarded options over 2 million shares at a cost of 10p a share – a premium of 156% to the market price at the time of appointment. The options last until 28 June 2019.
Investment company Globe Capital Ltd (GCAP) has refocused its investment policy on the retail and menswear sectors. A 25% stake has been acquired in Sterling Craig, an online retailer of men's fashion. The investment cost £12,500. The company was incorporated on 11 December 2015 and Sterling Craig's only director is Terry Burnett. Earlier this year £100,500 was raised and Globe intends to raise more cash in the near future to fund additional investments. There was £19,000 in the bank at the end of March 2016.
A director has acquired a £400,000 convertible loan to Gowin New Energy Group Ltd (GWIN). Chen Chih Lung paid face vale for the loan which is convertible at 0.2p a share.
Energy efficient products supplier Sandal (SAND) has cancelled 130,000 shares that were issued at the time of its flotation because the buyer did not come up with the cash.
AIM
Omega Diagnostics (ODX) says that its Allersys diagnostic instrument is nearing commercial launch with 41 allergens available. The current operations put in a mixed performance in the year to March 2016. Food intolerance sales grew and helped group revenues improve from £12.1m to £12.7m. Pre-tax profit dipped from £1.4m to £1.3m and there is likely to be a further fall to £800,000 this year as the cost base is increased for product launches. Management believes that it has enough cash in the bank for its requirements but it will have to choose what opportunities it focuses on.
Surgical Innovations (SUN) says that sales are growing and it is manufacturing more of the equipment sold. Interim revenues should be at least 10% ahead, suggesting they will be around £2.9m. Growth is coming from the US. That is helping to improve gross margins to more than 25% – they were 8.4% in the first half of 2015 but they had reached 47.3% at the interim stage in 2014. New product ranges will be launched in the second half. At the same time inventory levels are likely to reduce by £500,000 in the first half. Net debt was £2.26m at the end of 2015 and this will reduce further.
Servoca (SVCA) is paying up to £3.1m for Classic Education in a deal that should be earnings enhancing. The initial payment for the Gravesend-based education recruitment business is £1.2m and Servoca believes that the sustainable level of pre-tax profit is more than £400,000. In the year to September 2016, pre-tax profit is forecast to improve from £3m to £3.5m.
Fishing Republic (FISH) has raised an additional £3.75m at more than double the share price at which it floated just over one year ago. Fishing Republic floated at 15p a share and subsequently raised more cash at 16p a share but the latest fundraising was at 35p a share. The cash will help to expand the retail chain and fund further development of the online operation. The share issue does initially dilute earnings but this should change when the cash is invested. The subscribers to the share issue include former Tesco boss Sir Terry Leahy and associates, who will have a combined stake of 15.9% in the company.
Corporation tax software provider Tax Computer Systems is reversing into Eco City Vehicles (ECV) in a deal that places an enterprise value of £73m on the transaction. A placing will raise £45m at 67p a share – after a 50-for-one share consolidation – and MXC Capital is subscribing £8.7m for 20% of the enlarged group, which will be renamed Tax Systems. There are plans for international expansion and a broadening of the product range.
DJI Holdings (DJI) is raising £29m at 95p a share in order to pursue new revenue opportunities. DJI has struck a deal with Xinhuatong, which provides content to the Xinhua News App owned by China's national news agency, and this provides exposure to mobile. DJI sees itself as an internet technology provider having originally positioned itself as a developer of online lottery products. The share price has strengthened in the past three months but it has only just gone back above the July 2014 flotation price of 100p a share.
Mariana Resources (MARL) should have an updated mineral resource estimate for its 30%-owned Hot Maden gold copper project in Turkey. The current estimate is 3 million ounces of gold equivalent at a grade of 11.2g/t. The preliminary economic assessment should be completed before the end of the year.
Constellation Software has launched its 105p a share bid for recruitment software provider Bond International Software (BDI) but the target's board has not recommended the bid. The deal vales Bond at £44.2m and Constellation already has a 29.6% stake and 100% of the convertible non-voting shares. In 2015, Bond reported a loss of £2m on revenues of £39.7m, while net assets were £34m. Bank debt has subsequently been repaid from the proceeds of the Strictly Education disposal. The other parts of the business are also up for sale.
Medical devices company Tissue Regenix (TRX) has secured a deal with a national US group purchasing organisation for hospitals and physician offices for the supply of wound care product DermaPure, the company's first commercial product. The three year contract covers 43 states.
Nostra Terra Oil & Gas (NTOG) is selling its 20% stake in assets operated by Ward Petroleum in the Chisholm Trail prospect in Oklahoma for $2.1m. The book value was $1.7m. These assets generated the majority of 2015 group revenues of £594,000. The cash can be used to acquire other oil and gas assets.
MAIN MARKET
Trading in shares of shell company Flying Brands Ltd (FBDU) has been suspended ahead of the potential purchase of medical technology business Stone Checker Software. The deal is still dependent on due diligence. The share price had halved to 3.25p since the beginning of June.
Global Resources Investment Trust (GRIT) is hoping to raise up to £2.5m through a subscription and open offer at 5p a share. RDP Fund Management is subscribing for £2m worth of shares while the terms and dates for the open offer have yet to be announced. The cash will be used to reduce gearing.
ANDREW HORE