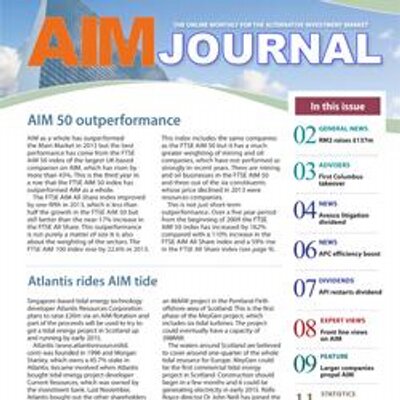 ISDX
Newbury Racecourse (NYR) reported flat interim revenues of £5.56m and a higher underlying loss because of the loss of three race days to bad weather. There was a cash outflow from operations of £1.51m. The sale of a final tranche of land to David Wilson Homes has generated a disposal profit of £20.1m but the cash has not been received yet. There is £7.56m of cash in the balance sheet but the disposal proceeds will be received as homes are sold. The current market capitalisation is £17.6m, whereas shareholders funds are £44.9m.
Chapel Down Group (CDGP) says that interim revenues were 26% higher at £4.09m with the fastest growth coming in the Curious Drinks business, although the wine operations increased revenues by 14% and still remain the core activities. Curious Drinks raised £1.74m during the period and that led to a notional gain on disposal of £467,000. The cash outflow from group operations reduced from £713,000 to £441,000.
Halal verification business DagangHalal (DGHL) reported higher revenues in the six months to June 2016 but the costs of raising £3.6m and joining ISDX helped push the company into loss. Revenues grew from MYR2.96m to MYR3.34m but MYR3.54m of flotation costs and nearly trebled overheads meant that a pre-tax profit of MYR1.18m was turned into a loss of MYR4.49m. DagangHalal has not had time to invest the funds it raised, there was MYR14.9m in the bank at the end of June 2016, so this should help revenues to grow to offset he higher overheads. Management was also distracted by the flotation in the first half. The company has developed a global e-marketplace and two more certification bodies have signed up for the Halal verification engine, taking the total to 40, and two say that they will sign up for the Halal certificate management system, which has eight users. The number of merchants using the system has also increased.
In the six months to June 2016, WMC Retail Partners (WELL) reduced its loss helped by the release of £42,000 of past provisions. Revenues dipped from £2.15m to £2.05m but the loss fell from £226,000 to £78,000. No interim dividend has been declared. Management expects to make an announcement about loss-making Cornish Market World in the near future.
Diversified Oil & Gas (DOIL) has almost trebled its first half revenues from $2.9m to $7.6m. One-off books gains meant that the reported pre-tax profit was $36.5m but in reality there was an underlying loss. There was a $381,000 cash outflow from operations. The company continues to make acquisitions.
Mechan Controls (MECP) is holding a general meeting to gain shareholder approval to buy back up to 200,000 shares – equivalent to 10% of the shares in issue. This is part of the board's plan to enable shareholders to realise part of their investment following the termination of bid talk earlier in the year.
Ecovista (EVTP) says that planning permission has been granted by East Herts Council for 100 Rye Street.The building will be demolished and a six bedroom home will be built on the site. In the six months to June 2016, the loss increased from £92,000 to £168,000. Ecovista is seeking additional finance in order to acquire the 85% of Cingella Srl it does not already own. The company has until the end of 2017 to pay €4m for this stake. Ecovista's interim loss increased from £36,000 to £168,000.
AIM
Conference call technology and services provider LoopUp (LOOP) has reported its interims one month after joining AIM. In the six months to June 2016, revenues grew from £4.81m to £6.38m. That includes revenues from a BT contract which is almost at an end and underlying growth was 38%. There was a pre-tax profit of £72,000, compared with a £619,000 loss. The cash raised in the flotation and the conversion of debt into shares means that pro forma net cash is £3.16m.The US is the biggest generator of revenues with the UK not far behind. The cash will be invested in further development spending and marketing. Non-executive chairman Lady Judge bought 15,754 shares at 126p each, compared with the flotation price of 100p. This is her total shareholding.
Gold recovery firm Goldplat (GDP) moved back into profit in the year to June 2016 as the performance of the gold recovery activities in South Africa and Ghana improved with more to come from capital investment in these operations. Revenues grew from £16.6m to £20.2m with a loss of £796,000 turning into a profit of £1.94m. Strong cash generation meant that there was net cash of £2.06m. There was a 23% increase in gold production, which included a toll processing contract with Rand Refinery. In contrast to the growth in output from the recovery operations, there was less produced by the Kilimapesa mine in Kenya . A new processing plant should come into action by the end of this year which will increase capacity; at Kilimepesa. There is scope to expand recovered gold production by sourcing material from South America.
Training systems supplier Pennant International (PEN) returned to profit in the first half of 2016 even though a number of major orders have not yet made a significant contribution. Revenues grew from £5.78m to £6.65m, while a loss of £755,000 was turned into a profit of £11,000. Four new contracts have been secured, including one with new client Lockheed Martin. Net cash was £2.6m at the end of the period, with £3.56m raised at 55p a share since June, but there is no dividend. The order book is worth £46m. There are tax losses of £4.7m so there should be no significant tax charge for up to three years depending on how fast profitability improves. A full year profit of £2.2m is forecast. Management wants to supplement organic growth with acquisitions, which are most likely to be in the core defence sector.
Shares in Sareum (SAR) doubled on the back of a licence agreement for its Chk1 inhibitor CCT245737 with ProNAi Therapeutics. Sareum and co-investment partner CRT Pioneer Fund will receive an initial payment of $7m with up to $2m payable on the successful transfer of two ongoing phase I clinical trials for the cancer drug. Sareum will receive 27.5% of these payments and it will have £300,000 of funding commitment returned. There could be additional payments totalling up to $319.5m depending on the achievement of milestones. There could be low single digit or high double digit royalties on a commercial product.
Savannah Resources (SAV) has raised £1.42m at 3.5p a share and directors and related investors have agreed to provide a further £830,000 at the same share price. The rest of the cash will come in after the closed period has ended. The funds will be used to develop copper projects in Oman and finance other projects in Mozambique and Finland. Joint venture partner Rio Tinto has extended the long stop date for the agreement over the combined Mutamba/Jangamo project in Mozambique until 10 October or a later agreed date. The interim loss was reduced from £1m to £800,000.
Premier African Minerals (PREM) made an increased interim loss because of operational issues at the RHA tungsten mine. The plant has been upgraded so these problems should be at an end and processing rates should improve. A further expansion to 16,000t a year is planned for next year and that investment could have an impact on production levels. Net debt was $3.8m at the end of June 2016.
Thor Mining (THR) is awaiting confirmation of assay results for its Molyhill tungsten project in Australia. The initial indications are that there is anomalous tungsten. Thor may start more closely spaced drilling after the results are received. A £1m impairment on the disposal of the Spring Hill project in February meant that the interim loss before tax increased from £880,000 to £1.75m. The initial proceeds of the disposal helped to reduce net debt to £445,000.
ValiRx (VAL) is on course to start dosing patients with lung cancer with its VAL401 treatment in the phase IIb trial. Higher R&D spending meant that the interim loss increased from £1.37m to £2.12m. There was £569,000 left in the bank at the end of June 2016 and since then £1.2m has been raised and a convertible loan facility of up to $3.75m has been agreed with Yorkville.
Cloud services provider Nasstar (NASA) increased its monthy recurring revenues to £1.23m even before the recent acquisition of Modrus which took the figure to £1.7m. In the first half of 2016, revenues were 14% higher at £8.1m. Underlying pre-tax profit improved from £860,000 to £981,000. Pro forma net debt is £3.5m and cash flow should be strong enough to wipe this out by the end of 2017. Full year profit is expected to rise from £1.6m to £2m. The benefits of the Modrus acquisition should help the profit to rise to £3.5m in 2017.
Digital audio visual agency MediaZest (MDZ) has won £250,000 of contracts in the past six weeks. The company has also said that the previously announced project with Rockar is for Jaguar Land Rover at Westfield Stratford.
MAIN MARKET
Standard list shell Auctus Growth (AUCT) is still seeking an acquisition and it has just over £1m left in the bank. The directors' are not taking any salaries yet and costs are running at £35,000 a year.
Andrew Hore