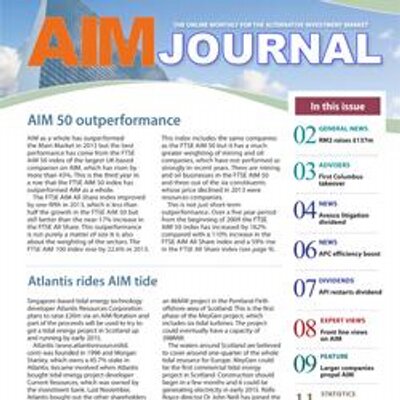 NEX EXCHANGE
Hearing equipment supplier DHAIS (DHAP) has reduced the number of stores it operates and that is why its interim revenues fell by 18% to £4.16m but it did move back into profit before notional interest charges. The company continues to reduce its exposure to the mobility sector and concentrate on the supply of hearing aids.
Capital for Colleagues (CFCP) says that its NAV fell to £4.19m (43.5p a share) at the end of February 2016. The company plans to raise £2m at 42p a share.
Black Sea Property (BSP) has pulled out of the deal to acquire development land in Varna because it would not offer a suitable return even though the seller offered amended terms.
Etaireia Investments (ETIP) has completed the acquisition of the company that owns 89 Dalrymple Street, Girvan. The property was valued at £60,000 and the purchase price has been satisfied by £35,000 in cash and 25 million shares at 0.1p each. The cash payment is deferred for 12 months. A new tenant has signed a ten year lease at an initial rent of £12,000 a year.
Trading in the consolidated shares of Ace Liberty & Stone (ALSP) commences on 3 April. Twenty five shares have been consolidated into one new share.
Barney Battles has withdrawn his request for a general meeting at Milamber Ventures (MLVP).
AIM
Staunton Holdings says that it has no intention of increasing its 300p a share offer for FIH (FIH). Rival suitor Dolphin Fund says that it may be willing to offer 333.3p a share in cash but it still wants to discuss its plans with the independent directors.
Fairpoint (FRP) managed to make a small profit in the second half and full year profit was £4.9m, down from £10.5m in 2015. That is before £11.8m of restructuring charges and write-downs. Net debt was £19.9m at the end of 2016 and since then a medico-legal business has been sold for £1.2m. Bank facilities last until May 2019. There will be no dividend. Legal services revenues are expected to fall by 15% in 2017 and then start to recover in 2018. There will be £5m of annual cost savings showing through in the second half of 2017.
Premier African Minerals (PREM) successfully raised £2m at 0.5p a share via PrimaryBid.com. Premier directors Michael Foster and John Stalker have converted £30,000 of fees into six million shares at 0.5p each.
Connemara Mining Company (CON) has acquired five new prospecting licences in Ireland and two of the licences are in areas known for zinc-lead mineralisation – Tonduff and Derrykean. The licences are all north east of the Galmoy and Lisheen mines.
CloudCall (CALL) had 16,200 users by the end of 2016 and they are generating £31/month each. Revenues grew 48% to £3.3m but the operating loss increased from £3.7m to £4.5m. Recurring revenues continue to grow and February was the best ever month. There was £3.2m in the bank at the end of 2016.
Patient monitoring equipment supplier LiDCo (LID) reported full year figures in line with expectations but the next two financial years will provide indications of how well the company's new strategy is working. The plan is to add high usage accounts in North America following the launch of a new monitor. There will be a significant increase in sales and marketing costs this year and the benefits will not show through until later in the year. This is why LiDCo is expected to slip back into loss before moving into profit in 2018-19.
Evgen Pharma (EVG) has been granted another patent relating to SFX-01. The patent "covers a method of isolation and stabilisation of sulforaphane from a natural source" and lasts until May 2033.
Savannah Resources (SAV) expects to start mining at its Oman copper projects before the end of this year. Ministerial approvals are still required to get a mining licence. Savannah has also established a resource of 4.4bt at a grade of 3.9% total heavy minerals at the Mutamba project in Mozambique.
MAIN MARKET
Path Investments (PATH) is the new name for former AIM company Niche Group. Path joined the standard list on 30 March and it raised £1.4m at 1p a share. The strategy is to acquire production and near-production assets in the oil and gas sector.
Bluebird Merchant Ventures (BMV) has turned its attention to South Korea. Southern Gold Australia has a number of tenements which have abandoned mines on them and there is scope to reopen them. Bluebird intends to earn 50% stakes in individual mines in return for the investment of $500,000. Two former mines have already been chosen – Taechang and Gubong. The plan is to prove resources and then move the mines towards production. Bluebird's existing assets in the Philippines have been put on hold until the market is more favourable.
Dukemount Capital (DKE) joined the standard list on 29 March. The share price ended the week at 0.45p (0.4p/0.5p), which values the company at £1.5m. A dividend should be paid within two years and the target yield is 10%. Dukemount plans to do this by acquiring, developing and managing property assets. Dukemount will then create long-dated inflation-linked assets which will be attractive to institutional investors.
Stewart & Wight (STE) has bought a retail property in Middlesbrough for £620,000. A ten year lease was signed by HK Foods last September providing annual rent of £45,000. An upward only rent review is due after five years.
Andrew Hore