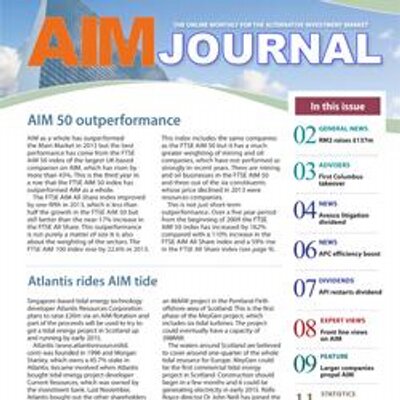 NEX EXCHANGE
Crossword Cybersecurity (CCS) has taken advantage of the high profile of cyber security to raise cash at a premium to the market price. Crossword raised £145,000 at 230p a share. The current mid-price is 195p a share and the most recent trade was at 197p a share last September. Brenlen Jinkens took up 50% of the new shares and he has 5.13% of the company.
Wheelsure Holdings (WHLP) reported a dip in interim revenues due to the lack of funding so the planned £500,000 fundraising should enhance progress. In the six months to February 2017, the loss increased from £126,000 to £159,000 as revenues fell from £133,000 to £94,000.
Mechan Controls (MECP) improved its underlying 2016 operating profit from £518,000 to £594,000 on revenues that were 5% ahead at £4m but there have been significant changes since last year. Nirvana is the only subsidiary left. At the end of 2016, there was £829,000 in the bank and the NAV was £2.41m. Mechan is paying a final dividend of 2.27p a share and the shares go ex-dividend on 1 June. Once all the operations are sold money will be returned to shareholders.
Secured Property Developments (SPD) had cash in the bank of £341,000 and an NAV of £689,000 at the end of 2016. The company is valued at a 47% discount to NAV.
Social housing finance provider Queros Capital Partners (QCP) has raised an additional £875,000 by issuing 8% unsecured bonds 2025. That takes the bonds in issue to £3.5m – from 19 separate placings. So far, short-term bridging loans have generated income to fund the interest payments on the bonds. Longer-term, there are plans to acquire social housing properties.
Blockchain technology company investor Coinsilium Group Ltd (COIN) says that investee company RSK Labs has raised $3.5m. Coinsilium retains the right to 1% of RSK via a convertible. RSK has developed a sidechain to the Bitcoin that enables smart contracts. There could eventually be scope to handle more than 20,000 transactions per second but that requires the additional investment.
NQ Minerals (NQMI) has raised £751,000 at 0.3p a share. Colin Sutherland has been appointed as finance director.
AIM
Enterprise software provider Sanderson (SND) is growing strongly but the cost of investment in the business will hold back short-term profit. The digital retail division is growing fastest but its operating profit was flat as management investors in order to maintain the strong growth rate. In the six months to March 2017, revenues were 10% higher at £10.9m and operating profit was 5% ahead at £1.55m. There was net cash of £4.51m and the dividend was increased by 10% to 1.1p a share.
Software supplier Cerillion (CER) continues to grow its revenues as it starts to build its customer base outside the mobile sector. In the six months to January 2017, revenues were 10% ahead at £7.5m and underlying profit was nearly one-third higher at £900,000. Orders worth £9.4m were won during the period. The interim dividend was 8% higher at 1.4p a share. Directors' sold 4.2 million shares at 120p each, which could help to improve the liquidity in the shares.
Redx Pharma (REDX) has failed in its attempt to juggle its cash requirements and its debt and administrators have been appointed. Liverpool City Council has previously extended the maturity date of its £2m loan but Redx did not repay the debt when it became due at the end of March. There is also interest due and that could total more than £1m. Redx nominally raised £12m in February – an equity swap agreement meant that not all of this was raised immediately – but does not appear to have raised enough to pay the loan. That is blatant bad management which has ended up destroying the investments of shareholders. Iain Ross recently took up the role of chairman so it would be unfair to blame him but the other directors, including those that have recently departed, were responsible for running the business properly and they knew when this money had to be repaid. The directors are Dr Neil Murray, Norman Molyneux, Dr Bernhard Kirschbaum and David Lawrence, while Dr Frank Armstrong, Peter McPartland, Dr Peter Jackson, Philip Tottey and Dr Derek Lindsay have resigned since Redx joined AIM. Investors' should be aware of these people if they are or become involved in any other companies.
Lombard Risk Management (LRM) increased its revenues from £23.7m to £34.3m in the year to March 2017. The pre-tax loss was reduced from £2.2m to £1.6m. The year-end order book was worth £10.1m. Management expects the company to be cash profitable this year. Legislation continues to drive demand for reporting and risk software.
Flowgroup (FLOW) could not find a buyer for its energy supply business at an appropriate valuation so it is raising up to £29m in shares (at 1p each) and bonds, including more than £600,000 raised at 1p a share via PrimaryBid, to finance its development. This is highly dilutive even before any conversion of the bonds at the conversion price of 0.95p a share. Flowgroup also requires £1m to market its Flow boiler in Europe and £4m to end the manufacturing contract with Jabil. In 2016, there was a loss of £23.7m on revenues of £99m. Net cash was £3.7m at the end of 2016. An increasing number of smaller competitors are entering the energy supply market and this led to a reduction in customers. The funding will help Flowgroup to compete and build up its customer numbers.
Big data software supplier Fusionex International (FXI) plans to leave AIM and it already has the backing of shareholders owning 41.9% of the company for the general meeting vote on 15 June. Management blames the lack of liquidity in the shares and paucity of independent research. The also blame political uncertainty in Europe. Fusionex had a gravity defying rating in the first year or so of trading on AIM but the share price is currently less than one-fifth of the peak at the beginning of 2014. The company's growth strategy will remain unchanged. There are plans to arrange a trading facility in the shares.
Safestay (SSTY) has paid €3m in cash for U Hostels, which operates a 226 bed hostel in Madrid. U Hostels also owns an apartment block near the hostel, where managed apartments are expected to be completed during 2018, and a building in Paris that is being converted into a 260 bed hostel, which has a 12 year lease that can be extended by a further 12 years. Safestay will have to invest up to €2.3m in the Paris development, which should be completed in early 2019. In total, including development spending, the acquisition cost will be up to €6.5m. The original Madrid hostel made a small loss on revenues of €1.3m. Earlier this year, Safestay raised £12.6m from the sale and leaseback of the Edinburgh and Elephant & Castle hostels – the leases are for 150 years.
Strategic Minerals (SML) made a maiden pre-tax profit in 2016. The $351,000 profit was after $691,000 of other income – predominantly the settlement of a rail dispute. The Cobre tailings business continues to generate profit and cash.
Thor Mining (THR) says that the Pilot Mountain tungsten resource inventory has risen to 11.73 million tonnes at 0.28% WO3. This does not include the GunMetal and Good Hope deposits.
Greatland Gold (GGP) has granted access to Newmont to the Ernest Giles tenements for a period of six months and it will have first right of refusal for a disposal or joint venture. An airborne survey has identified new structural targets suitable for gold mineralisation. Metal Tiger (MTR) has exercised 15 million warrants at 0.2p a share.
LED lighting systems developer PhotonStar LED (PSL) cut its full year loss from £3.03m to £1.43m on lower revenues. The first quarter of 2017 was tough but there have been orders for its Halcyon devices. R&D has been reduced.
Fairpoint (FRP) has delayed its full year figures yet again. They are promised at some point in June. If they do not come out then then trading in the shares will be suspended.
Arian Silver Corporation (AGQ) has raised £600,000 has raised at 0.5p a share. The cash will be used for exploration of silver and lithium projects.
Mortice (MORT) has won UK contracts worth £2.25m via its Elite subsidiary that take it into new sectors. Elite has won a three year cleaning and waste contract with Surrey and Sussex police and after securing a place on BMW's approved supplier list a two year contract with the car maker.
Orogen (ORE) intends to acquire Thread 35, which owns e-commerce womenswear brand Sosandar. Orogen is lending up to £250,000 to Thread 35. Sosandar is targeted at 35-55 year old women. Trading in the shares has been suspended.
Active Energy Group (AEG) has entered into an agreement in principle with the Province of Newfoundland and Labrador which will provide a timber licence and a forest management agreement covering 1.2 million hectares. The licence would enable the harvesting of up to 140,000 cubic metres of wood annually.
MAIN MARKET
Thomas Charlton has further increased his stake in North Midland Construction (NMD) taking it to 7.24%. Finance director Daniel Taylor recently acquired 23,321 shares at 305p each. North Midland says that its first quarter profit has increased from £237,000 to £580,000 on a 5% rise in revenues to £62.2m. The main reason behind the improvement was a swing from loss to profit by the telecoms infrastructure division but the construction and water divisions generated a lower profit. Management still believes that margins can be improved. The order book is worth £254m helped by the AMP6 water investment cycle getting going. There is the promise of growing dividends.
Shareholders have agreed to the proposed bonus issue by Sealand Capital Galaxy Ltd (SCGL). On 1 June, existing shareholders will receive nine bonus shares for each one they own, leaving them with ten times the number of shares and the share price would be adjusted from 28.5p to 2.85p. The November 2015 flotation price was 10p (1p adjusted) and earlier this year a further £1.4m was raised at 20p (2p adjusted) a share.
Dukemount Capital (DKE) has signed a binding letter of intent for its first deal with a housing association to develop supported living accommodation. The plan is identify properties worth up to £5m which will be leased to Larch Housing Association on a 50 year lease at 6.5% a year plus inflation. Dukemount floated on 29 March.
Health food products supplier World Trade Systems (WTS) has entered into memoranda of understanding with Germany-based Naturemed and Germany-based Biestmilch, which will help it to widen its product range. Naturemed is a new company but Biestmilch was formed in 1999. Trading in the shares has been suspended for years and it is approaching ten years since there was a trade in WTS shares.
CIC Gold Group Ltd (CICG) left the standard list on 25 May. Management believes it will get a better valuation on another designated exchange.
Andrew Hore