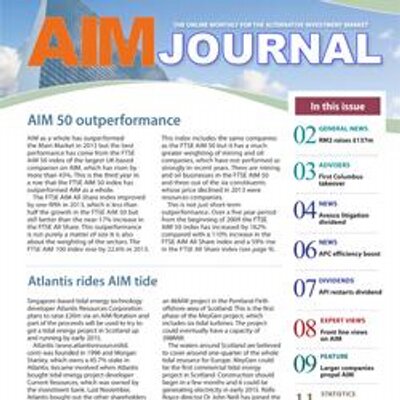 NEX EXCHANGE
Brewer Adnams (ADB), which sponsored last year's Tour of Britain cycling event, continues to invest in its brewery with beer sales moving above 100,000 barrels in 2016. More of that beer is being sold in kegs. The decline in sterling increased the price of hops and wine, which hit the retail operations. In 2016, revenues improved from £65.7m to £70.3m, while pre-tax profit increased from £4.07m to £5.02m, predominantly down to a rise in asset disposal gains from £625,000 to £1.43m. Adnams sold the UK distribution rights to Lagunitas beer. The NAV has fallen to £27.5m because of an increase in the pension liability. There is a dividend of 150p per B share and 37.5p per A share. This year there will be the first beer duty tax increase in four years.
Investment company First Sentinel (FSEN) joined the NEX Exchange growth market on 24 March and pre-IPO £633,000 was raised at 10p a share. That is before costs of £130,000. The founding shareholders own 99.2% of the company with 50,000 shares issued to the market maker. The company's strategy is to provide investments to small companies with an opportunity covering more than 1,000 quoted companies identified in the UK, Europe, Asia and Australia. First Sentinel is run by former Rangers International Football Club director Brian Stockbridge and the main shareholders are two other former directors of Rangers or its subsidiaries, James Easdale and Sandy Easdale. The company is employing Stockbridge's corporate finance business First Sentinel Corporate Finance, which will receive an annual fee of 1% of First Sentinel's assets under management (payable at 0.25% each quarter) plus performance fees based on 20% of pre-tax profit each year when the gross return on capital is less than 20% or 40% of pre-tax profit if the gross return is more than 20%. First Sentinel will be paid 50% of deal fees generated by First Sentinel Corporate Finance from any investment transactions involving the NEX-quoted company. Stockbridge and his partner Aimee Freeding each receive £2,000 a month from First Sentinal. The whole board will be paid £72,000 a year in fees. There are currently 6.36 million shares in issue, with nearly as many shareholder warrants, but the company intends to issue up to 100 million more shares. Stockridge and Freeding have director warrants that enables each of them to receive 10% of the enlarged share capital at the time they are exercised – they each currently own 8.1%. Fellow director Tom Dignall has directors warrants over 5% of the enlarged capital at the time of exercise. The warrants are exercisable over five years. Matthew Rice is the independent director and he has no interest in the present or future share capital. First Sentinel is an investment for fans of Stockbridge.
Angus Energy (ANGS) expects to issue a first tranche of bonds on or around 27 April. Angus plans to issue up to £3.5m secured bonds maturing on 30 June 2022 and these will be quoted on NEX.
A rise in the zinc price has provided further impetus for IMC Exploration (IMCP). A comprehensive zinc works programme on its licences that are between the existing Tynagh and Silvermines deposits in Ireland.
Imperial Minerals (IMPP) is more optimistic about the prospects of the resources sector than one year ago. There was £66,000 in the bank at the end of 2016 and since then Imperial has sold its remaining shares in North River Resources for £30,000.
MetalNRG (MNRG) has raised £295,000 at 0.5p a share – every two shares have a warrant to subscribe for one share at 1p – and directors have exercised options at the same price that provide a further £47,500 – every option exercised sparks the issue of a bonus option exercisable at 0.75p a share. This takes the cash in the bank to £480,000, which will be used as working capital as the company seeks suitable investments. Gervaise Heddle has become a non-executive director. Heddle already owns 9.51 million shares in MetalNRG and he will not receive any pay until the company's NAV is more than £1.5m but he has been issued 3 million options at 0.5p each.
Ecommerce technology provider Netalogue Technologies (NTLP) has signed an agreement with Sage. Netalogue's ecommerce platform complements Sage's X3 ERP technology and the deal could help Netalogue to access new customers.
NQ Minerals (NQMI) has raised a further £32,000 at 8p a share.
AIM
Gatemore Capital Management has requisitioned a general meeting at DX (Group) in order to remove Bob Holt and Paul Murray from the board. The plan is to replace them with Ron Series (as chairman), Paul Goodson, Russell Black and Lloyd Dunn. Gatemore is an activist investor that has been involved with French Connection and Gym Group in recent months. Gatemore's stake in the parcel deiivery company rose above 3% six months ago and the stake has been built up to 11.3%.Furious 7 live streaming film
Pebble Beach Systems (PEB) formerly Vislink, has taken a reduced payment for its broadcast technology division. Former AIM company xG Technology Inc, which has spent more than a decade failing to develop its own business into a profitable operation, is paying $2m of the $4.9m it still owed in the agreement. Net debt has been reduced from £17m to £12m via the disposal and there is potential to obtain $2m from a creditor. The problem is that the remaining software business is too small to prosper with that level of debt.
SalvaRx Group (SALV) is investing in Rift Biotherapeutics Inc, which is developing antibodies for use in oncology. An initial investment of $1m will give SalvaRx a 30% stake in Rift. If the company achieves milestones then SalvaRx could invest a further $1.5m at the same valuation and swap its shares for the shares in Rift held by the other shareholders.
Tracsis (TRCS) had already warned that its interims would be weak. In the end, revenues were one-fifth higher at £15.6m and underlying profit was 11% higher at £3.1m.The cash balance improved to £12.7m. The interim dividend was raised by one-fifth to 0.6p a share. Management is still confident that the second half will be significantly stronger.
Caledonia Mining (CMCL) increased its production, cut costs and received a higher gold price in 2016. The Blanket mine increased gold production from 42,804 ounces to 50,351 ounces and all in sustaining costs fell from $1,037/ounce to $912/ounce. The gold price achieved rose from $1,139/ounce to $1,232/ounce. Production and costs are set to continue to improve. There was $23m generated from operations last year, more than enough to cover capital expenditure and dividends. The annualised dividend is running at 5.5 cents.
Starcom (STAR) continues to be accident prone. Last year, it could not satisfy demand for Watchlock Pro because parts were not delivered. This meant that full year revenues were flat at $5.13m although the post-tax loss fell from $1.76m to $1.36m. There was $35,000 in the bank at the end of 2016.
MAIN MARKET
Falcon Acquisitions Ltd (FAL) is acquiring two businesses involved in technology, distribution and content operations in the Over The Top television sector. Falcon has raised £4m at 25p a share to provide finance for the enlarged business. The plan is to offer a platform to customers as well as its own content via its own channels. The shares should be readmitted on 27 March. The company will be renamed Falcon Media House Ltd.
Telecoms company Toople (TOOP) is finding it difficult to win business. Apparently, Toople's main offering to small businesses is not as competitive as it thought so it is focusing on its cloud-based telephony service, which is building up its revenues. The share price has slumped from 8p to 3.25p in less than one year. According to last year's prospectus, chief executive Andrew Hollingworth gets £120,000 per year (as well as 35 days holiday plus bank holidays) while he acquired his 26 million shares in Toople at 0.0667p each. Finance director Neil Taylor gets £60,000 a year for a two day week. In 2015-16, gross profit was £78,000 while the cash outflow from operations was £1.42m. It appears that the outflow should slow in the first half of this financial year but it will still be significant. There was £744,000 in the bank at the end of September 2016 but there was also debt of £469,000. Given the vast overheads for a company of this size it is no surprise that Toople needs to raise working capital. The trading statement also says that the board "continues to focus on tight cost control" and hopefully they will be able to think of some excess costs that could be reduced.
Books publisher Quarto Group (QRT) has sold its 75% stake in Hong Kong-based Regent Publishing Services for $7m – a gain of $3.3m on book value.
Andrew Hore