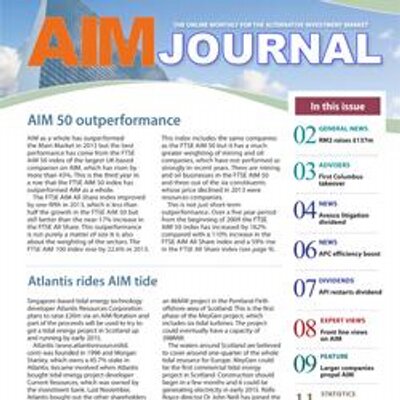 ISDX / NEX
Diversified Gas & Oil (DOIL) has offered to repurchase its bonds for 105p each or, if the bondholders are outside of the US, they can receive ordinary shares at a discount of 20% to the AIM placing price. The AIM flotation has been delayed until late January and Diversified Gas & Oil plans to raise $40m – it had previously been $40m. The closing date for the offers is 13 January. This means that bondholders will receive interest until the end of 2016. So far, holders of 74% of the bonds have opted for the cash alternative and 1% the share alternative.
Western Selection (WESP) has increased its stake in AIM-quoted Bilby, following a profit warning and accounting adjustment announcement by the gas and electrical installation services provider. Western Selection bought 62,192 shares at 51.18p each, taking the stake to 6.04%. There is still £451,000 in the bank
Netalogue Technologies (NTLP) slipped into loss in the six months to September 2016. Revenues slumped from £552,000 to £317,000 and the ecommerce technology developer swung from a profit of £38,000 to a loss of £232,000. There is still £451,000 in the bank despite a cash outflow. Andrew Robathan has been appointed as chief executive. Deal activity has picked up but markets' are still uncertain and business may take longer to come through than in the past.
Chinese medicines supplier MiLOC Group Ltd (ML.P) has extended its agreement with its skincare products distributor in Taiwan. The agreement will continue until the end of March 2017. The launch of a range of hair care products. Has been delayed until April. MiLOC has paid the first instalment of £320,513 as part of the endorsement agreement with BrandKing, while the same amount is payable by April.
Forbes Ventures (FOR) has taken an option over a potential investment in Primus Care (www.primuscareplc.com), which manages residential care services for children and the elderly. Forbes has the right to acquire £500,000 of convertible loan notes with a conversion price of 0.3p a share, lasting 18 months. The option expires on 30 December 2016.
CyberOwl, a spin-off from Crossword Cybersecurity (CCS), has raised an additional £510,000. The cash will fund further development of an early warning system for network security for uses such as the internet of things.
AIM
The award for the latest pre-Christmas warning announcement goes to TLA Worldwide (TLA). The sports agent and marketing business sneakily put out its announcement at 6.26pm on 23 December, having sadly been denied the chance to put it out on Christmas Eve because that is a Saturday. Poor ticket sales for the Australian 2016 International Champions Cup football tournament in July means that the agreement to promote the tournament has been ended. There is talk of another football event to replace this. Second half trading in the US sports management business was not as good as expected. This means that EBITDA will be 15% below previous expectations. That appears to mean that it will be lower than last year. The fact that, in September, the bid from AAPC fell through because it found it difficult to raise money, is less surprising given the trading. That bid cost the company $1m.
Kuala Lumpur Kepong has allowed its bid for MP Evans (MPE) to lapse after it receives acceptances equivalent to 13.2% of the oil palm plantations operator.
Price volatility in the energy trading market has made the autumn a tough trading period for Good Energy (GOOD) and it means that 2016 figures will be at the bottom end of market expectations. Trading has been more favourable in the past couple of weeks. Good Energy is recycling the investment in its 5MW solar site in Dorset, which is being sold to Eneco UK for £5.78m, while retaining an option over the power generated. There will be a disposal gain of more than £340,000, which will be recognised in 2017. The cash will fund further solar sites prior to the end of March, after which the current renewable obligation certificate subsidy will no longer be available.
Facilities management and security services provider Mortice Ltd (MORT) is raising £2.3m at 75p a share to help it to reduce dependence on working capital facilities. Some of these facilities have an annual interest rate of more than 9%. Mortice intends to spend more on the marketing of its Soteria remote surveillance services. First half revenues of $80m have been generated, with more than doubled facilities management revenues thanks to the UK business.
Italy-based PR firm SEC Group (SECG) is acquiring 60% of Martis Consulting for around €1m. Poland-based Martis provides public and corporate affairs services and the latest annual revenues were €1.69m and a pre-tax profit of €286,000. SEC is only acquiring the relevant assets and management will own the other 40%, while having the option to exchange these shares for shares in SEC.
Biopharmaceutical products and services developer and provider Abzena (ABZA) has signed a licence agreement with start-up immunomodulatory oncolytic viruses treatments developer Trieza Therapeutics Inc. The exclusive worldwide licence is for an undisclosed antibody sequence that Trieza wants to use with its own viral vector technology to develop oncology treatments. If the development is successful then up to $35m of milestone payments could be generated on top of any royalties from commercial sales. Abzena made an interim loss of £4.27m. Net debt was £9.38m at the end of September 2016.
Share (SHRE) has sold a further 40,000 shares in the London Stock Exchange and raised £1.12m. This takes the money raised from disposals in recent weeks to £1.66m. Share retains 60,000 shares in London Stock Exchange. Share has taken on up to 8,700 customer with more than £200m under management from Invesco Perpetual – which had not previously been named when the deal was announced. These are mainly ISA accounts.
Simon Fry, Jean-Pascal Tranie and Felipe Simonsen have joined the board of investment company Mercom Capital (MCC) and John Zorbas, Patrick Cross and Kyle Appleby have sold their shares and stepped down from the board. The exiting directors sold their shares at 20p each and returned 2p a share to the company. There are plans for Mercom to raise £3m at 30p a share and issue a warrant with each share that is exercisable at 80p a share for 180 days after issue. Existing shareholders will be issued one warrant, on the same terms, for every four shares they own. The placing price is much higher than that suggested in the initial proposals. This depends on resolutions being passed at the AGM in early January. The new investing strategy is to invest in established technology and media businesses. The name will be changed to Monchhichi.
Learning management systems provider NetDimensions (Holdings) Ltd (NETD) says that 2016 revenues will be at least $26m, up from $25.4m, and EBITDA will be $2m, compared with a loss of $500,000 in 2015. Bid discussions are continuing.
Redcentric (RCN) has reported interim figures which should show a real picture of the company's position. Internal systems are being improved and this will continue well into 2017. In the six months to September 2016, revenues edged up 2% to £53m, while there was a turnaround from a loss of £2.5m to a profit of £300,000. There was £7.29m generated from operations during the period and £5m came from the disposal of network assets. Net debt was £34.4m at the end of September 2016. Richard Griffiths and Kestrel have been picking up shares in the market.
NWF (NWF) has warned that a weak first quarter means that the interim figures will be lower than the same time last year but the full year outcome is still expected to be in line with expectations. Demand for feed has weakened at a time when ingredient costs have increased, while the fuel division has been hit by warm weather. The food distribution activities The interim figures will be published on 31 January.
Vislink (VLK) will seek shareholder approval for the disposal of its hardware division on 9 January. The acquirer xG Technology Inc will then seek to finalise the funding of the $16m (£13m) acquisition. If the disposal is completed early in 2017, then the forecast earnings per share will reduce from 1.3p a share to 1.2p a share. Trading in the fourth quarter of 2016 has benefited from the normal seasonal uplift but a £1.2m full year underlying loss is still expected. An additional £5.3m write-down will be required to bring down the book valuation of the hardware division. This appears to indicate a group NAV of around £16m., while net debt will be more than £10m
Diversis has posted the offer document for ServicePower Technologies (SVR). Diversis is offering 6p a share, which values ServicePower at £13.7m.
Collagen Solutions (COS) grew its interim revenues by 30% to £1.89m, but the loss quintupled to £418,000. Additional staff have been taken on and more spent on marketing and R&D. There was still £1.66m in the bank at the end of September 2016. House broker Cenkos expects net cash of £230,000 at the end of March 2017, while net debt is forecast at £3m one year later.
MAIN MARKET
Standard list shell Papillon Holdings (PPHP) has come to an agreement with main shareholders and directors to acquire Myclubbetting.com Ltd, where golfer Lee Westwood is a shareholder and ex-England manager Sam Allardyce was a shareholder – he said in August that he was giving up his shares (https://www.thesun.co.uk/sport/1611113/sam-allardyce-drops-footie-betting-job-and-ditches-shares-after-sun-probe-finds-boss-lost-investors-4m/). The target is run by Neil Riches who used to run Worldlink, which was introduced to the standard list on 24 November 2011 at a notional valuation of £55m (at 250p a share), although it never got near that valuation when trading commenced. Worldlink was a mobile applications developer that had a similar business to Myclubbetting.com but fewer than two years later it was in liquidation. In August, The Sun said that Neil Riches claimed Myclubbetting.com would float on the Scandinavian First North market at a valuation of £75m. There is still due diligence and other matters to complete before the deal goes ahead. Papillon floated on 24 June and raised £824,000 at 1p a share.
World Trade Systems (WTS) is aiming to relist on the standard list in the first quarter of 2017 and additional funds will be raised at that time. This follows the establishment of Shimao (Suzhou) Biotechnology, which plans to sell healthcare products to consumers. Net liabilities were £1.12m at the end of June 2016. The loans from Kudrow totalling £800,000 are repayable by the end of July 2017 or when trading in the shares recommences and have a 5% interest charge. Trading in the shares has been suspended for more than eight years.
Aircraft leasing company Avation (AVAP) has acquired and delivered a new Airbus A321-200 to Vietjet, taking the number delivered to six. Avation has also sold its remaining five Fokker aircraft. WH Ireland forecasts a full year profit of $21.5m.
Andrew Hore