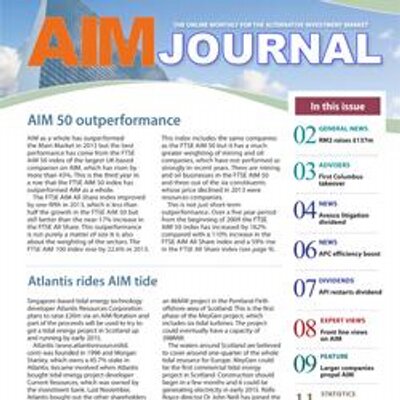 ISDX
Property investor Etaireia Investments (ETIP) has acquired the company that owns 5-6 High Street, Cleator Moor, Cumbria.Etaireia paid £182,000 with £50,000 in cash and the rest in shares issued at 0.065p a share. The company also raised £35,000 at 0.09p a share, while Babak Shirazi has been granted options over 333.33 million options (equivalent to 18.2% of the fully diluted share capital) at the same share price – the option lasts until 9 April 2019.Etaireia has also issued shares to pay advisers and salary owed to two directors that have resigned. The property has a tenant paying £20,000 a year so it has been acquired at an attractive valuation.
ZimNRG (MNRG) had £123,000 in the bank at the end of February 2016 but £50,000 was subsequently raised from AIM-quoted Metal Tiger following a share sub-division. There was a £24,000 cash outflow in the year to February 2016. The cash is being held in US dollars so that it is ready to pay for any deal that is secured. The focus is the natural resources and/or energy sectors.
AIM
Cloud-based services provider Nasstar (NASA) is paying £13m cash and shares or the acquisition of competitor Modrus in an earnings enhancing deal. A placing will raise £13.3m at 7.5p a share and £11.7m of this will be used to pay the cash consideration. Modrus specialises in property services so it provides an additional specialisation for the group. Modrus generated EBITDA of £1.6m in 2015-16, which is similar to Nasstar's EBITDA for 2015 and there should be cost savings.
Gresham House Strategic (GHS) has transferred 3.876 million shares in IMimobile (IMO) at 193.5p each as part of a £7.5m co-investment deal with Gresham House Strategic Public Equity Fund LP, which is also managed by Gresham House Asset Management. There will be an initial gain of £900,000. Gresham House Strategic will retain a direct legal interest in 1.53 million of these IMimobile shares, so the retained interest will be 8.19 million shares. Within 12 months, a further 1.14 million of the shares will be fully transferred. The company will distribute 50% of gains to shareholders and, along with the gains from the investment in Castle Street Investments, there should be £600,000 available – equivalent to 15p a share – and this could be paid as a final dividend.
Tracsis (TRCS) has won its first significant US contract for remote condition monitoring equipment. The total order, which includes software, is worth more than $400,000 and should be delivered by the end of 2016. Up until now there have been pilot projects in the US and demand for the company's remote condition monitoring equipment in the US could be large. A full year trading update will be published on 22 August.
Pennant International (PEN) is raising £3.56m at 55p a share – a discount of nearly 13% to the previous closing price. The cash will finance working capital for the recent contract wins and the £500,000 purchase of adjacent property in Cheltenham. Chief executive Chris Snook is selling one million existing shares at the same price. An interim profit of £10,000 is estimated but the second half should be much better. Hargreave Hale increased its stake to 14.4% and the Business Growth Fund has taken a 6% stake.
Caledonia Mining Corporation (CMCL) increased gold production in the first half of 2016 helped by higher grades. Production from the 49%-owned Blanket Mine in Zimbabwe improved from 20,360 ounces to 23,332 ounces, while the cost per ounce has fallen. Net cash has fallen to $10.6m because of the investment in the mine, which should peak this year. The real benefits from the investment will show through next year. Even so, the quarterly dividend has been increased from 11.125 cents a share to 1.375 cents a share.
Nostra Terra Oil & Gas (NTOG) has sold its interest in the Chisholm Trail oil and gas project for $2.1m. The buyer is Staghorn Petroleum. The cash is likely to be reinvested in North America or Egypt.
MAIN MARKET
Global Resources Investment Trust (GRIT) has decided not to go ahead with the proposed subscription and open offer following discussions with larger shareholders, which indicated they did not support the proposals.  GRIT will repay £1m of convertible loan stock held by LIM Asia Multi-Strategy Fund Inc, which had requested repayment, by the end of August and then repay the £2.5m of loan stock owned by LIM that is left from the proceeds from portfolio disposals. There was £331,000 in the bank at the end of 2015, while the portfolio was valued at £12.3m at that time. At the end of July, the NAV was 27.4p a share, up from 20.3p a share at the end of 2015. The current share price is 6.5p (5.75p/7.25p).
Andrew Hore