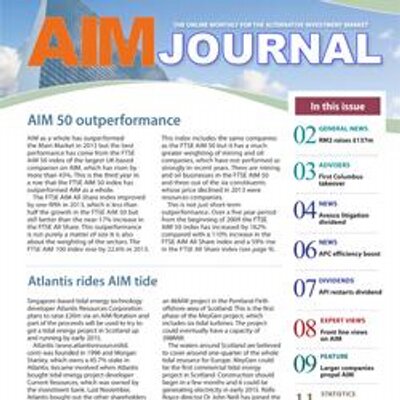 ISDX
Etaireia Investments (ETIP) has appointed Ian Fallman as a non-executive director. He was previously head of the Asia Pacific activities of Bloomberg and a non-executive director of AIM-quoted recruitment firm Hydrogen. He does not seem to have much direct experience of property investment companies and Etaireia is currently focused on the UK.
Energy efficiency products supplier Sandal (SAND) says that its MiHome radiator valves have been integrated in the programme of Google-owned Nest. This enables the control of individual radiators vie the Nest system. There are around 300,000 users of Nest in the UK and the radiator valves could also be sold in Europe.
ISDX is hosting an event called Cyber Security Risks: Threats to Publicly-Traded Companies and the Capital Markets on 21 September. The networking and panel session will be led by a team of experts and cover the current cyber security landscape and how public companies can prepare themselves for potential cyber attacks. The event starts at 8.30am and will be held at 2 Broadgate in London.
AIM
Bond International Software (BDI) has agreed terms for the sale of its remaining software interests for £17.25m. The sale to funds managed by Symphony Technology has to be approved by shareholders. Anyone who has accepted the 105p a share bid from Constellation Software Inc can still vote but how 29.6% shareholder Constellation decides to vote is likely to be the key to whether the transaction goes ahead. Bond has the backing of shareholders owning more than 27% of the shares. If the sale does happen and the bid from Constellation and the proposed bid from ESW do not go through then Bond will be wound up and it should be able to pay out at least 113p a share. The head office still has to be sold but an initial distribution of between 101p and 105p a share could be made before the end of November.
Replacement windows supplier Safestyle UK (SFE) continues to win market share in the consumer market. In the six months to June 2016, revenues were 13% ahead at £83.5m and underlying pre-tax profit improved from £9m to £10.6m. The dividend has been raised by 10% to 3.75p a share. Strong cash flow means that pro forma net cash is £12.4m. Some of this cash will go on investment in expanding the company's manufacturing facility.
Verona Pharma (VRP) is well financed following its recent placing and this means that it can concentrate on pushing ahead with the trials for RPL554. COPD and asthma are two of the potential uses for RPL554. The fundraising brought new shareholders to the company which can help it to find partners for the potential treatments.
Consumer-focused franchises operator Franchise Brands (FRAN) has a strong management team and the intention is to grow via acquisition. The first acquisition since flotation could be made by the end of the year. If this does not happen there should be £2.4m in the bank according to house broker Allenby. The two current franchise brands are mobile paint repairs provider ChipsAway and oven and hob cleaning service Ovenclean. Acquisitions will be focused on consumer-facing businesses that are already proven and profitable. Pre-tax profit improved from £612,000 to £724,000 in the first half and the business is cash generative. A full year profit of £1.14m is forecast.
Exiting molecular diagnostics has enabled EKF Diagnostics (EKF) to reorganise its remaining operations and the benefits are starting to show through in the latest interim figures. Revenues grew 18% to £17.5m and the underlying loss after amortisation was £750,000. Both point of care and central laboratory grew strongly in the period. There was net debt of £4.3m at the end of June 2016. This will continue to be reduced and there will be further improvement in the profit position in the second half.
Audio visual systems distributor Midwich Group (MIDW) has reported its first figures as a quoted company and it has already announced its maiden dividend. In the six months to June 2016, revenues were 12% ahead at £158.3m and adjusted pre-tax profit improved from £6.14m to £7.56m. The interim dividend is 1.5p a share. The full year pre-tax profit is forecast to grow from £14.5m to £16.3m. See further information on Midwich here.
Oil and gas explorer Sound Energy (SOU) has been one of the better performers on AIM this year. There have been exceptional flow results from a test at Tendrara in Morocco. Schlumberger has farmed-in to the Badile well asset in Italy and it was take a 20% interest in return for €7.5m of funding. There is cash in the bank of $27m and a debt facility of a similar amount.
MAIN MARKET
Pharma-focused standard list shell Levrett (LVRT) has signed a non-binding letter of intent to acquire Nuformix Ltd, which is involved in co crystal technology. Cocrystals are solids that are crystalline materials composed of two or more molecular and/or ionic compounds. Cocrystals are used in drug development. When it floated Levrett raised just over £900,000 at 2p a share. Trading in the shares has been suspended and the suspension price is 3.5p.
Another standard list shell RockRose Energy (RRE) has agreed non-binding terms to acquire the non-operated interests of Maersk Oil North Sea UK. The interests are a 7.43% stake in Wytch Farm, 5.16% of Scott and 2.36% of Telford. Trading in the shares has been suspended at 44.63p a share. At the beginning of the year, RockRose raised £4.4m at 50p a share.
Andrew Hore