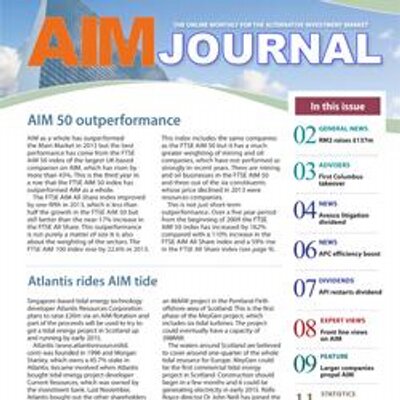 NEX EXCHANGE
Renewable electricity supplier Good Energy (GOOD) says rival Ecotricity, which owns 25.3% of Good Energy, has requisitioned a general meeting to get two directors, Dale Vince and Simon Crowfoot, on the board. Ecotricity founder Dale Vince believes that because of the significant stake he deserves representation on the board but Good Energy argues that it would not be in its interest to have a rival on the board with access to group information. Vince has been critical of contracts between Good Energy and chief executive Juliet Davenport's husband. Ecotricity also owns Forest Green Rovers which was promoted to League Two at the end of last season. Annual revenues £126.5m, including £1m from football club. In the year to April 2016, revenues were £126.5m, including £1m from the football club. In 2016, Good Energy generated revenues of £90.4m. Both companies are profitable. Ecotricity had net debt of £97m at the end of April 2016, while Good Energy had net debt of £55m at the end of 2016. Gary Peagram (former Good Energy finance director between 2010 and 2014) was appointed as Ecotricity finance director on 6 April 2017 but he left on 6 July.
MetalNRG (MNRG) has acquired 18.18% of US Cobalt and an option to purchase the rest. The main interest is the Columbia Pass high grade cobalt exploration and development project in Nevada. The initial stake will cost $200,000 (£118,000) and the option cost $50,000 (£30,000) in shares at 1.5p each. If it takes up the option, MetalNRG will pay £724,000 in shares at 1.5p a share. The vendors will also receive 40 million warrants exercisable at prices up to 10p a share. MetalNRG has also set up an Australian cobalt subsidiary. MetalNRG chief executive Paul Johnson has bought 300,000 shares at 1.5p each, taking his family's stake to 11%.
Hydro Hotel, Eastbourne (HYDP) is starting to benefit from its new general manager's strategic programme. Interim revenues grew from £1.33m to £1.52m but the loss increased because of repair costs. The second half generates all the profit.
Milamber Ventures (MLVP) has launched the Milamber Education Technology Fund in partnership with Innvotec. This is a hybrid EIS and SEIS fund. Milamber will help to identify potential education technology investments and Innvotec will raise funds and manage the fund.
Global Halal verification e-marketplace operator DagangHalal (DGHL) says it is taking longer than expected to penetrate markets. Management is considering widening the scope of the business. This could mean the acquisition of producers of Halal products.
Bulgaria-focused property company Black Sea Property (BSP) has gained the official approvals to acquire the UniCredit building and the purchase should be completed by the end of September. A deposit of €1.04m has been paid out of the total purchase price of €10.5m and Black Sea Property is raising the rest of the cash. If the cash is not raised then the deposit will be forfeited. Phoenix Capital Management is taking over from AG Asset Management as investment adviser but the same team will be handling the task. Phoenix owns Mamferay Holdings, which owns 28.65% of Black Sea Property and has lent it £100,000 in the form of a convertible which has to be repaid by 31 July.
AIM
Nostra Terra Oil & Gas (NTOG) has withdrawn its general meeting requisition at Magnolia Petroleum (MAGP) after it became clear that it had no chance of winning any of the votes.
Chisbridge Ltd has received acceptances totalling 49.6% for its 42p a share cash offer for InterQuest Group (ITQ) and the bid has been extended until 31 July. This means that independent shareholders owning 6.92% of the company have accepted the bid, which is up from just short of 3% previously.
First half trading at Pennant International (PEN) was strong and the order book was more than £42m at the end of June 2017. The order book stretches out into 2020 and there is a pipeline of other potential orders. Full year pre-tax profit is forecast to increase from £2.2m to £2.4m. There is a possibility of a return to paying dividends but that might have to wait until next year.
In the year to March 2017, AdEPT Telecom (ADT) reported a 19% increase in revenues to £34.4m, while underlying pre-tax profit improved from £5.5m to £6.9m. Net debt was £15.5m at the end of March 2017, following spending on acquisitions. The total dividend also rose by 19% to 7.75p a share. The growth in managed services is helping margins to improve. A profit of £7.4m is forecast for this year.
Premier Technical Services Group (PTSG) has increased its revolving credit facility from £10m to £12m and doubled the overdraft facility to £8m. This will provide additional working capital and funds for acquisitions following the recent purchase of Brooke Edge Industrial Chimneys Ltd for £14m.
Savannah Resources (SAV) has raised £1.3m at 5.25p a share and there is one warrant for every two shares issued exercisable at 6p. Two directors have subscribed for £500,000 worth of shares, including chief executive David Archer, and Al Marjan Ltd has subscribed £520,000 to take its stake to 29.3%. The money will be used on the lithium project in Portugal, the Mutamba heavy mineral sands project in Mozambique and the copper project in Oman.
The sale by Stanley Gibbons (SGI) of part of its interiors division to Millicent has been delayed. The buyer has not obtained the £2.25m initial payment because of a change in financial backers. Millicent has until the end of July to complete the acquisition.
Arian Silver Corp (AGQ) has raised £600,000 a 0.5p a unit, which is one share and one warrant exercisable at 0.6p. The cash will be spent on exploration of the three lithium projects where Arian has an option.
Botswana Diamonds (BOD) has discovered a group 2 kimberlite pipe on the Ontevreden licence held by Vutomi joint venture. A 1.5 hectares to 2.5 hectares area is thought to contain high levels of garnet. Drilling will help to better understand of the kimberlite and to find out if it is diamondiferous. A refined grade estimate has been published for the Frischgewaagt project in South Africa. This estimate has a range of 64cpht to 110cpht. The dyke system covers 7.5 kilometres.
Interim revenues will grow by two-fifths at cloud-based software provider Cloudcall Group (CALL) and recurring revenues will be 61% higher. The second quarter was the strongest quarter ever for new orders. Annualised revenues are £7m.
Camper & Nicholsons Marina Investments Ltd (CNMI) is raising £3.3m via a one-for-four open offer at 8p a share, a premium of 33% over the market price. The NAV was €0.154 a share at the end of 2016.
DX (Group) (DX.) has announced that its chief executive and finance director are leaving. The business is being reorganised into two divisions. Revenues are expected to be £292m in the year to June 2017. Net debt was £19.1m.
Sphere Medical (SPHR) is in discussions with potential investors in a share issue. A shortage of sensors has hampered first half sales of blood monitor Proxima 4.
Ramsdens Holdings (RFX) admits that there has been unauthorised access to its IT system but there should be minimal disruption to the pawnbroking business. Trading continues to be strong.
House broker Northland has increased its profit forecasts for online gaming marketing services provider Veltyco Group (VLTY) following its interim trading update. The 2017 pre-tax profit forecast has been upgraded from €4.62m to €5.82m, up from €1.74m in 2016. The 2018 profit forecast is €7.63m.
Rich Pro Investments Ltd has launched a 2.1p a share cash bid for ASA Resource Group (ASA) but the mining company has yet to recommend the offer. The bid values ASA at £35.5m. Rich Pro argues that the high level of creditors and other uncertainties makes its bid attractive.
Angling Direct (ANG) raised £9m at 64p a share when it joined AIM. The group has 15 stores and the retailer wants to be a consolidator in the fishing tackle market.
Venture Life Group (VLG) says that interim revenues will be 28% higher at £7.8m and like-for-like growth was 18%. New product listings will help further growth in the second half.
An interim trading statement by ClearStar Inc (CLSU) suggests that it should be able to meet expectations this year. The employee background checks provider says that the improving employment levels in the US and international growth are helping growth, as is the demand for medical testing. Interim revenues are expected to increase by 12% to $8.9m. A full year loss is still expected.
Sunrise Resources (SRES) is starting drilling at its CS pozzolan-perlite project and it should take around one week to complete. Eleven trenches have been excavated and ten of them contain pozzolan and/or perlite. Sample results will be available in fewer than ten weeks.
Housebuilding infrastructure services provider Nexus Infrastructure (NEXS) has joined AIM. Although £35m was raised by existing shareholders via a placing at 185p a share, the company, which was valued at £70.5m, is not raising any new money. There is already cash in the bank. The share price ended the first week at 188p. In the year to September 2016, revenues grew from £130.9m to £135.7m. That growth appears modest but a change in the mix of business helped underlying pre-tax profit improve from £9.4m to £11m. However, the latest interim profit was lower because of delays to contracts for earthworks business Tamdown. At the end of May 2017, the group order book was worth £187m.
Abzena (ABZA) has secured another licensing deal for its ThioBridge antibody drug conjugate linker technology with a Taiwan pharma company. The value of the deal could be up to £128m in development and commercial milestones.
House broker finnCap has upgraded its 2016-17 forecast for Mortice Ltd (MORT) after a positive trading statement by the security and facilities management services provider. The pre-tax profit forecast has been raised from $5m to $5.3m. Trading in the first quarter of the current financial year shows a 12% increase in revenues even though currencies have moved against Mortice and there were similar increases for each part of the group. Like-for-like growth was 5%.
MAIN MARKET
Standard list shell Rockpool Acquisitions (ROC) floated on 12 July and the share price ended the week at 10.5p. Rockpool is raising £1.085m at 10p a share, having previously issued 1.875 million shares at 8p each.
Fandango Holdings (FHP) also joined the standard list on 12 July. The shell raised £840,000 at 1p a share and is seeking to acquire a company valued at between £1m and £20m. The share price ended the week at 1.25p (1p/1.5p).
PV Crystalox Solar (PVCS) is closing its silicon ingot block manufacturing facility in the UK in the third quarter. The blocks will be sourced from an external supplier. The judgement relating to a customer which failed to buy the amount of wafers it was supposed to is expected by the end of September.
Andrew Hore