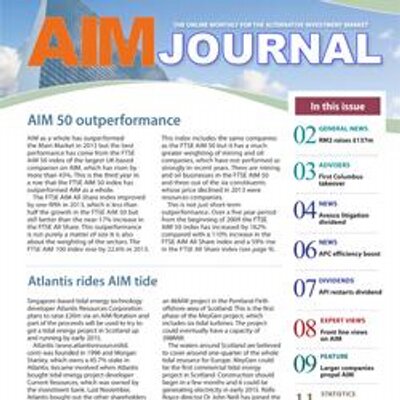 NEX / ISDX
Ecommerce technology provider Netalogue Technologies (NTLP) has secured three contracts in the drinks sector. Brewer Marston's, pubs operator Enterprise Inns and drinks wholesaler Matthew Clark have bought ecommerce portals. They all used the iTradeNetwork online ordering system previously but this will no longer be available from August so this provides a significant opportunity for Netalogue.
Goldcrest Resources (GCRP) has raised £217,000 at 0.25p a share to provide working capital so that it can execute its plans. Further shares are being issued to Pelamis Investments Ltd for the conversion of a £70,000 convertible loan note at 0.25p a share and from issuing 48.52 million shares at the same price to settle £121,000 of liabilities. Goldcrest plans to seek further gold projects. Peterhouse has been appointed as corporate adviser and broker.
NQ Minerals (NQMI) has secured funding of A$4m and raised £400,000 at 8p a share. The loan is secured on the assets of a subsidiary and has an annual interest charge of 12%, payable quarterly. There is a fee of A$35,000. Greg Lane, who has experience in mine development, has joined the board. He has four million options exercisable at 7p a share.
AIM
This year will be an important one for battery technology developer Ilika (IKA). There are discussions with potential licensees for solid state battery technology and there should be deals during 2017. Stereax M250 batteries are being assessed by a number of potential customers. In the six months to October 2016, revenues improved from £254,000 to £329,000 but the operating loss edged up to £2.2m. Full year revenues should grow from £600,000 to £2.5m, which is partly underpinned by recent grant wins. Losses are expected to continue for the time being. The balance sheet is strong and there should be £6.7m in cash at the end of April thanks to cash raised late in 2016.
Packaging supplier Robinson (RBN) says that trading is still tough but it has gained planning permission on part of its surplus property portfolio. The outline planning permission covers 23 acres on two sites. House broker finnCap believes that this could double the value of the land from £5m to £10m – equivalent to 60p a share. The disappointing trading and investment in sales and marketing has led to a 12.5% downgrade in the 2016 pre-tax profit forecast to £2m, and the 2017 forecast has been cut to £2.1m.
Somero Enterprises Inc (SOM) has sparked another forecast upgrade with its latest trading statement. A strong finish to the year means that the earnings per share for 2016 have been upgraded from 22.7 cents to 24.4 cents. There was good demand for newer products and larger concrete levelling machines. Net cash is expected to be $18.7m and the dividend payout ration has been increased from 30% to 40% of net adjusted income. There is even potential for a special dividend.
Cloud-based telecom services provider Cloudcall (CALL) increased its full year revenues by 50% to £4.9m with a large chunk of this growth coming from existing customers. Around 400 customers were added each month last year. There is cash of £3.2m. The expected 2016 loss of £3.5m is similar to the year before but it is expected to be reduced in 2017. Around 85% of revenues are recurring or repeating.
Focusrite (TUNE) says trading continues to be strong and cash is building up. Foreign exchange movements have been favourable. Timothy Carroll has taken over as chief executive.
Tertiary Minerals (TYM) is evaluating acquisitions so that it can generate revenues and profit earlier than would be the case with its current fluorspar interests. Legal changes in Sweden and poor market conditions for fluorspar has delayed progress with the existing assets.
Caledonia Mining Corporation (CMCL) says that its Blanket mine beat production expectations for 2016. There was an 18% increase in fourth quarter gold production (year-on-year) and 2016 gold production was 18% higher at 50,351 ounces. Caledonia owns 49% of Blanket mine. In 2017, production of 60,000 ounces is expected and the mine cost is estimated to be lower than in 2016 at $600-$630/ounce. Investment in infrastructure are improving production but there is a lot more to come and annual production of 80,000 ounces of gold is anticipated in 2021.
Evgen Pharma (EVG) has received a positive interim safety review from the Data Safety Monitoring Board for the use of SFX-01 to treat subarachnoid haemorrhage. This means that the phase II trial will proceed and results should be available in the first half of 2018. So far, 26 patients have enrolled out of a total of 90 people.
Pensions services provider Mattioli Woods (MTW) says that revenues are growing faster than expected. Profit growth has been held back by investment in the business but finnCap has raised its earnings per share estimate from 30.5p to 32.5p. The interim figures are due to be published on 7 February.
Edenville Energy (EDL) has started trial mining at its Rukwa coal project in Tanzania and commercial mining should begin by the end of the first quarter of 2017. The trail mining is generating revenues.
The old guard continues to depart from 1Spatial (SPA) with the latest being Marcus Yeoman.
MAIN MARKET
Canadian oil and gas explorer and producer Zenith Energy Ltd (ZEN) joined the standard list on 11 January. The company, which operates onshore oil and gas fields in Azerbaijan, Argentina and Italy, is already listed on the TSX Venture Exchange. Zenith also produces electricity in Italy. AIM-quoted and NEX-quoted Gunsynd (GUN) has invested £524,000 in Zenith.
Andrew Hore