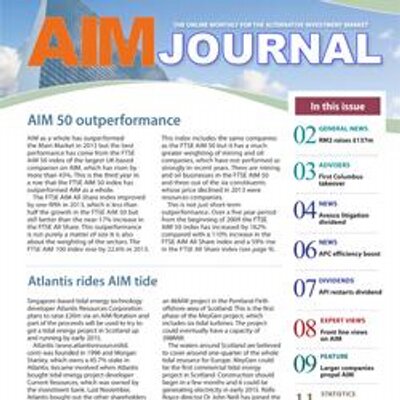 ISDX
Beer and spirits volumes were both higher in the first half for Adnams (ADB). Beer volumes were 7% ahead, while the volumes of the less-mature spirits business were 60% higher in the first half. However, increased marketing costs meant that operating profit fell from £962,000 to £624,000, while disposal profit jumped from £407,000 to £1.42m – including the sale of UK distribution rights for Lagunitas to Heineken. The second half is always stronger for the pub and retail operations. A £7m investment is being made to increase brewery capacity by next summer. The A and B dividends have been increased by 5.6% to 19p and 76p respectively. The record date for the dividends is 9 September. There were 132 shares traded during the week at prices between 10500p and 10850p.
WMC Retail Partners (WELL) expects to make a lower interim loss this year. WMC has agreed in principle a funding package of £1.8m plus revised terms for the lease of Cornish Market World, which is still losing money even though a reconfiguration has improved performance. Interests related to two directors are lending the company £300,000, taking the total outstanding to £400,000, ahead of completion of the funding package. These loans are repayable at the end of November but longer term loans, which shareholders have to approve, are being negotiated.
National Milk Records (NMRP) has appointed Mark Frankcom, who has previous experience in the dairy industry, as its new finance director. Since April 2011, Frankcom has been a director of Gloucestershire-based Combined Brewers, which was known as Cotswold Spring Brewery prior to its merger with Severn Vale Brewery, where he owns 33.3% of the shares. At 77.5p (76p/79p) a share , NMR is valued at £5.8m. The latest trade was 320 shares at 76p each on 10 August.
There has been mixed news for blockchain technology investor Coinsilium (COIN). Factom, which has developed technology to time stamp trading data, has done a deal with digital information platform DataYes to publish pricing data on the "3,000 most valuable Chinese stocks". Coinsilium has a 1.9% stake in Factom. The management of Mexico-based digital currency exchange MeXBT, where Coinsilium has a 17.6% stake, has temporarily suspended its exchange operations in order to perform a review.
Diversified Oil & Gas (DOIL) has bought back £197,000 worth of 8.5% unsecured bonds from a bondholder fund. There are £9.93m worth of bonds in issue, including the bonds bought back.
AIM
Premier Technical Services Group (PTSG) continued to grow strongly in the first half and it has not been hit by the Brexit vote. In the past two weeks, Premier has secured two access installation contracts worth £2.5m. The construction-related order book stretches out to 2018 and the testing and maintenance operations also have a strong order book. The two dry and wet riser systems installation businesses acquired in July will contribute to the second half.
Staff turnover is holding back the progress of energy procurement services provider Utilitywise (UTW) and it has overhauled its management, including the appointment of a new chief executive. Brendan Flattery is joining the company at the beginning of October, having previously headed Sage's European business. Sales grew by 19% in the year to July 2016, while EBITDA will be slightly higher than last year at around £18m. Earnings per share forecasts have been reduced by around 10% to 17.7p, which is slightly lower than the previous year.
Digital media company Milestone (MSG) is providing NaPo with a white label version of its Backstage HD music publishing platform. NaPo is a mobile reward platform and revenues generated will be shared 50/50.
Audio visual services provider MediaZest (MDZ) says that it is targeting its first ever post tax profit in 2016-17. In the year to March 2016m revenues grew from £2.48m to £3.14m, while the post tax loss was cut from £656,000 to £109,000, excluding share-based payment charge. There are two large projects that could come through later this year or early in 2017.
Self-storage sites operator Lok'nStore (LOK) says that like-for-like storage occupancy was 2% higher last year and prices have increased by a similar percentage. This lead to a 5.2%increase in sales and means that Lok'nStore is on course to increase earnings per share buy one-third to 10.3p. There are plans for new outlets including one in Gillingham, Kent.
Information management software provider Ideagen has acquired Covalent, which is similar to its own business, for £3.6m. Covalent has a customer base that includes the NHS, local government and housing associations and annual recurring revenues are £1.9m. This deal has led to a 8% increase in forecast 2017-18 earnings per share to 3.5p.
Mining services provider Management Resource Solutions (MRS) has agreed to acquire the min assets of SubZero Group Ltd for A$6.12m in cash and shares. This cost includes the assumption of A$2.85m of equipment finance and employee benefits. SubZero, which has generated annual revenues of A$40m, fits with MRS' project management and labour hire businesses and will double group revenues. Operating sites will be consolidated and corporate costs reduced. Rising coal prices should lead to recovery in demand for the group's services in Australia.
MAIN MARKET
Publisher Quarto (QRT) has acquired becker&mayer publishing assets for $9.8m. The US-based business is a book publisher and toy business and a further $1.25m could become payable. The US will account for 45% of group revenues, while children's publishing will be 30% of group revenues. Quarto is second half weighted so the interim loss is no surprise. The interim dividend is unchanged at 5.13 cents a share but in pence terms it will be higher. Full year profit is expected to improve from $14.1m to $15.5m.
Tex Holdings (TXH) says that a change in mix of work meant that profit did not reflect the improvement in interim turnover from £17.8m to £20.6m. Pre-tax profit was flat at £495,000. Plastics turnover fell in the first half but sales volumes have picked up in the second half. The interim dividend has been increased by one-quarter to 2.5p a share.
Andrew Hore