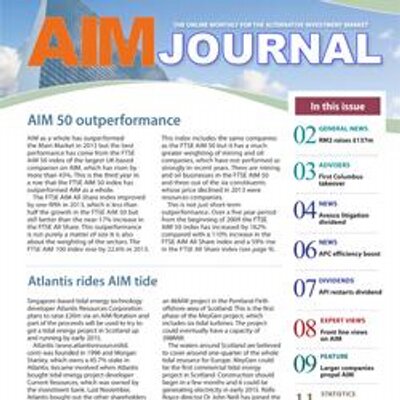 ISDX
Dairy services provider National Milk Records (NMRP) reported flat revenues, including joint ventures, of £10.3m in the six months to September 2016 but profit declined as the core milk recording business fell into loss. This was due to a reduction in clients. There are signs of the milk price improving but that will take time to feed through to increased demand for services as dairy farmers rebuild their cash position. The laboratories and livestock surveillance businesses generated higher revenues but made lower profits. Inimex Genetics reported a reduced loss. Underlying pre-tax profit fell from £809,000 to £619,000 as the milk records contribution moved from a profit of £71,000 to a loss of £119,000. Even so, the inflow from operating activities doubled from £300,000 to £599,000. This was down to an increase in creditors, compared with a reduction in the corresponding period. The pension deficit has increased from £3.5m to £6.25m.
Diversified Gas & Oil (DOIL) plans to raise $60m (£48m) via an issue of ordinary share and join AIM. The bonds that are traded on ISDX can either be converted into shares or be repaid. A maiden dividend is promised by June 2017. The US-focused gas and oil producer and daily production is running at 4,400 barrels of oil equivalent with an average operating cost of $9.53/barrel. Total production was 428,522 barrels of oil equivalent in the first half of 2016, while revenues were $7.6m. Funding from the bonds trading on ISDX has helped Diversified Gas & Oil to grow by acquiring and investing in wells. Other oil companies are focused on shale prospects so the conventional projects that the company focuses on are reasonably priced and the fundraising will provide plenty of cash for acquisitions. Bradley Gray has been appointed finance director and chief operating officer. He has been granted an interest in 5% of the Diversified Gas & Oil ordinary shares and this will vest over a three year period.
Goldcrest Resources (GCRP) continues to review ways of pushing ahead with its Asheba project in Ghana and it is also assessing other projects in west Africa. Ryan Long has resigned as a non-executive director.
Kryptonite 1 (KR1) has raised a further £127,000 at 0.05p a share. Back in June, £10,000 was raised at 0.04p a share and in July £100,000 was raised at 0.03p a share. Kryptonite 1 was formerly known as Guild Acquisitions.
AIM
ServicePower Technologies (SVR) says that a subsidiary of Constellation Software Inc, which is generating funds from the winding up of Bond International Software (BDI), may make a cash bid for the work scheduling software company. Constellation has previously acquired gym and leisure membership software provider Gladstone in 2010, following a lapsed bid at the end of 2008.
Asset manager Miton Group (MGR) has managed to weather the problems caused by investment manager departures and assets under management are being rebuilt. Peel Hunt forecasts an improvement in full year profit from £3m to £4.7m. The broker expects assets under management to be £2.8bn at the end of 2016 and it believes that Miton has funds that should be able to attract investment inflows over the coming years. The share price has barely recovered from its low.
Oil and gas exploration information provider Getech (GTC) reported a strong second half and this meant that management appear to have been too cautious when they issued their profit warning prior to the year end. The weak oil sector still meant that pre-tax profit fell from £1.99m to £671,000 as revenues declined from £8.64m to £7.03m. Net cash is £1.89m but there is no dividend. Dr Jonathan Copus became chief executive during the summer so did not have time to affect the full year figures. He represents a move towards a more commercially focused management, away from the previous academic management that developed the business and its products. Getech is well-placed to take advantage of an upturn in the oil sector but this may take some time to come through.
Thalassa Holdings (THAL) has requisitioned a general meeting at The Local Shopping REIT. Thalassa would like a faster liquidation of the REIT's assets and it is also critical of the management agreement with and bonus scheme for INTERNOS Global Investors. Thalassa wants to remove the two directors and appoint three of its nominees.
Starcom (STAR) says Amerijet Airlines has approved its Kylos Air GPS tracking device for air cargo. Kylos Air can be used to track high value air cargo because they are in flight mode when the plane is in the air and then they start transmitting when the cargo is unloaded. Starcom is no longer expected to make a profit in 2016, but a pre-tax profit of $500,000 is forecast for 2017. This type of news helps to give greater confidence that the forecast could be achieved. There is more than $1m in the bank.
Savannah Resources (SAV) has completed its initial mineral resource estimates for two out of the four deposits at the Mutamba project in Mozambique. The indicated and inferred mineral resource estimate is 3.5 billion tonnes at a grade of 3.8% of total heavy minerals, containing 81 million tonnes of ilmenite, 2.2 million tonnes of rutile and 3.8 million tonnes of zircon. This is part of the deal for Savannah to build its stake in its joint venture with Rio Tinto from 10% to 51%. A scoping study will be completed in three-four months.
MAIN MARKET
Trifast (TRI) interims were better than expected and this led to an earnings upgrade for the full year. Revenues were 15% higher at £89.7m and underlying pre-tax profit was one-fifth higher at £9.9m. The main growth came in the EU. A full year profit of £18.2m is forecast. Malcolm Diamond is becoming non-executive chairman.
Standard list shell Falcon Acquisitions (FAL) intends to pay £500,000 for direct-to-consumer media technology company Teevee Networks. A general meeting will be held on 24 November to gain shareholder agreement for the acquisition of Quiptel, which operates in the over the top (OTT) broadcast services market.
Andrew Hore