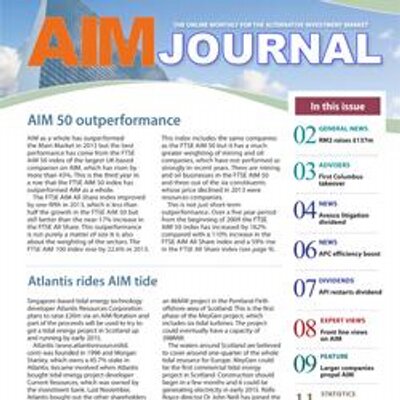 NEX EXCHANGE
Blockchain technology investment company Coinsilium Group Ltd (COIN) has raised £188,000 at 1p a share with the cash coming from directors and existing shareholders. The valuations of Factom and SatoshiPay have increased since the beginning of the year. Potential new commercial opportunities are being reviewed. Coinsilium is also raising its own profile so that investors' are aware of the potential investment.
Middle East-focused investment vehicle Indigo Holdings (INGO) has announced its second investment, which is in Net Tejarat Ahoura, which operates an Iranian online classifieds marketplace. A stake of 1.09% was assigned to Indigo by Turquoise Group, which owns 32.1% of Indigo, in return for assuming the commitment to provide an interest free loan of €376,000 (£320,000). Related parties own 14.1% of Net Tejarat. There was net cash of £818,000 at the time of flotation and Indigo previously spent €176,800 (£150,000) on a 5% stake in Iranian car ride sharing app Carvanro.
Technology incubator Milamber Ventures (MLVP) has entered discussions with Barney Battles and he has suspended his general meeting requisition. The one million shares issued to acquire League of Angels has been cancelled because the transaction was not completed. Milamber has added six portfolio companies taking the total companies that it works with to 25. Milamber is providing funding support to all six as well as strategic advice and/or business planning to some. Milamber has raised just over £9,000 from an issue of shares to its executive chairman Andrew Hasoon at 12.5p a share.
MetalNRG (MNRG) has appointed Paul Johnson as chief executive. He was already on the board as a non-executive director and he is also a non-executive of Thor Mining (THR). The management is keen to attract more trading in the shares by taking advantage of the potential opportunities in the resources sector.
Property investment company Ace Liberty & Stone (ALSP) plans to consolidate 25 existing shares into one new share so it is no longer perceived as a penny share. The shareholder meeting will be held on 31 March. Kryptonite1 (KR1) is also consolidating its shares. Nineteen shares will be consolidated into one new shares with the shareholder meeting being held on 3 April.
Western Selection (WESP) has sold 130,000 shares in AIM-quoted toiletries and cosmetics supplier Swallowfield (SWL) for 320p each. Western Selection still owns 1.5 million shares in Swallowfield, where the share price has doubled over the past nine months. The recent interims showed a quadrupling of underlying operating profit of £2.54m and a more than doubled interim dividend from 0.8p a share to 1.7p a share – the shares go ex-dividend on 4 May.
AIM
Plant Impact (PIM) continues to increase its Veritas sales to soybean farmers in Brazil and Paraguay and Bolivia are the next markets it is trying to break into. Another treatment, Fortalis, is being launched in Argentina and the US. In the six months to January 2017, revenues increased from £4.22m to £4.91m, helped by currency movements, with Brazil still dominating sales. Higher sales and marketing and R&D costs meant that there was a loss of £333,000, compared with a pre-tax profit of £541,000. There is £6.03m in the bank which is enough to cover cash outflows for the next year or so.
Strategic Minerals (SML) says that drilling will start by the end of March at the 50%-owned Redmoor tin/tungsten project in Cornwall. The first phase of drilling is 13 holes and the second is 10 holes with potential for six more. This drilling programme is fully funded. On top of this, significant cobalt mineralisation has been identified at Hanns Camp in Western Australia. The company has raised £50,000 via the exercise of warrants at 0.6p a share by Cornhill Capital. There was $1.2m in the bank at the end of 2016 but this was before the £844,000 payment to take the 50% stake in Redmoor.
Remote meetings technology provider LoopUp (LOOP) sharply reduced its loss in 2016 and the cash raised in last year's flotation should reduce interest costs which were the reason there was a loss in 2016. There was a swing from an operating loss of £353,000 to a £398,000 operating profit in 2016. There is net cash of £2.24m, against net debt of £7.3m at the end of 2015. There was cash generated from operations of £3.29m but that was not enough to cover capital expenditure, which was predominantly capitalised product development investment. There are £12.6m of accumulated tax losses.
Advanced materials developer Versarien (VRS) raised £1.5m at 15p a share via PrimaryBid, having initially tried to raise £1m. All the applications were satisfied. Henderson and Miton each subscribed for 1.33 million shares. The cash will be used to scale up graphene manufacturing facilities and finance the marketing of the Nanene brand.
The People's Operator (TPOP) is raising a further £1.58m at 8p a share and every two shares will have a warrant attached that is exercisable at 15p a share. The recent fundraisings were at 5p a share. The mobile virtual network operator has confirmed that 2016 revenues were £3.6m and there has been strong growth in US revenues in the first two months of this year. Management has negotiated much better terms with its network providers in the UK and US.
Immupharma (IMM) has raised £4.1m at 52p a share having initially asked for £3m. The drug discovery company has brought new institutions to its shareholder list. Immupharma is negotiating with potential partners for lupus treatment Lupuzor, which is in a phase III trial and the cash will strengthen the balance sheet as well as providing investment in other treatments.
Palm oil waste products-based biogas power generation plants operator Green & Smart Holdings (GSH) says that its figures for the year to September 2016 were in line with expectations but there have been delays in new plants. House broker SP Angel had expected half of forecast 2016-17 gross profit to come from electricity generated by these four projects.
The sale of the broadcast equipment division of Pebble Beach Systems (PEB), formerly Vislink, to xG Technology Inc is not going smoothly. Instead of paying the next part of the deferred consideration xG has taken on responsibility to pay $1.6m of trade creditors. This leaves $4.9m owed but xG says that this payment will be dependent on Pebble's performance of its contractual obligations. Until outstanding liabilities are clarified xG says that it will not pay any more deferred consideration. The buyer claims that "numerous breaches of contract" have occurred. It is difficult to say whether this is just a negotiating ploy.
Ascent Resources (AST) expects to start untreated hydrated gas production from Pg-10 in the Petisovci gas project in Slovenia in early April. This will provide initial revenues prior to the sale of gas to Croatia later in the summer. Ascent has decided not to lease a dehydration plant and instead it will refurbish the existing plant on the site.
Thor Mining (THR) has reported positive drilling news at the Pilot Mountain tungsten project in Nevada and plans a third drill hole. The second drill hole has intersected 51 metres of mineralisation. The drill hole sample assays should be analysed by the end of April. The third hole is 25 metres to the east of the second hole. Paul Johnson (see MetalNRG) has acquired 500,000 shares at 1.13p each, taking his stake above 2%.
Sunrise Resources (SRES) has raised £250,000 at 0.1p a share. The cash will be used to finance projects in Nevada.
MAIN MARKET
Shares in Ocelot Partners Ltd (OLOT) commence trading on the standard list on 13 March. The cash shell has raised $417.7m at $10 a share. The proposed acquisition is expected to be involved with the European technology, media or telecoms sectors. Management has been involved with other standard list shells, including Nomad Holdings, which acquired frozen foods businesses including Findus.
BATM (BVC) has weathered a difficult 2016 and is in good shape to improve its performance in 2017. A delayed contract hit the network and cyber division but this should be delivered this year. Strong diagnostics activity offset the weaker waste treatment business, enabling the bio-medical division to report flat revenues. finnCap expects the 2016 loss of $3.3m to be turned into a pre-tax profit of $1.5m this year. There was net cash of $23m at the end of 2016, although around £580,000 has been spent on acquiring Israel-based Zer Laboratories.
Bio-decontamination services provider Bioquell (BQE) reported flat revenues of £26.5m and the underlying pre-tax profit improved from £900,000 to £1.6m. There was a £1.5m charge for board restructuring and write-down of intangible assets. The full benefits of last year's restructuring will come through in 2017. Having returned £40.8m to shareholders, net cash was £8.8m at the end of 2016.
Oil and gas explorer Aminex (AEX) says that the Ntorya-2 well has been successfully tested and it has confirmed that the area should contain a significant amount of gas but there are production difficulties to overcome. Aminex owns 75% of the Mtwara licence in southern Tanzania. Once a full analysis of technical data is complete Aminex will apply for a 25-year development licence over the area. Joint broker Shore Capital says that it is likely to increase its NAV estimate of 3.9p a share on the back of the news.
Electronic Data Processing (EDP) says the original potential bidder has withdrawn but a different bidder has started talks with the board. There was £6.56m in the bank at the end of February 2017 and EDP will consider returning some cash to shareholders if there is no bid. This could depend on the level of distributable reserves, which could be hit by the next pension scheme revaluation.
Andrew Hore