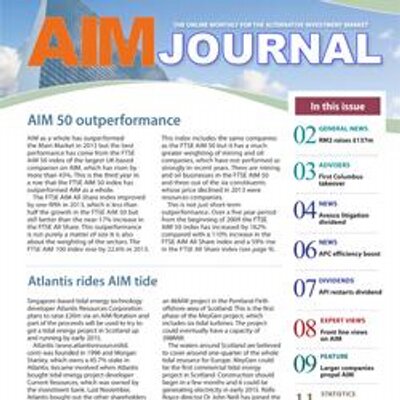 NEX EXCHANGE
Investment vehicle Indigo Holdings (INGO) is seeking acquisitions in the consumer, financial and technology sectors in the Middle East and it joined NEX on 10 February. An initial 15 million shares were issued at 1p each and in January a further 26.5 million shares were placed at 3p each. The market capitalisation is £1.24m at 3p a share. There was net cash of £818,000 at the time of flotation. Indigo can issue a further 218.5 million shares. There has been one trade of 4,000 shares at 5p each but the bid/offer spread is 3p/5p.
Equatorial Mining & Exploration (EM.P) has signed a conditional option agreement to acquire a Mexican mining and exploration project. The option lasts 90 days and the acquisition will be funded by the issue of £10.4m worth of shares. Equatorial will need to raise at least £2m to finance the Tango project which includes copper, gold and molybdenum interests. This is an area with historic workings. An initial fundraising of £250,000 at 0.00125p a share will finance the current interests in Nigeria. There are plans to consolidate the Equatorial shares on the basis of 0ne new share for 650 shares and then switch to a standard listing.
A new investment in blockchain technology company Factom Inc means that the stake owned by investment company Coinsilium Group Ltd (COIN) has increased by 236.5% since the initial investment. The 1.5678% stake in the developer of audit and accountability tools using blockchain technology is valued at $473,000.
Western Selection (WESP) says that its NAV has increased by 6% to 84p a share in the six months to December 2016 but this had increased to 91p a share by the end of January. Gains have been made on the disposal of shares in Swallowfield (SWL) with some of the cash used to buy shares in Bilby (BILB), which has been hit by a profit warning. The interim dividend has been increased from 1.05p a share to 1.1p a share.
Milamber Ventures (MLVP) has removed Barney Battles from the board but he wants to convene a general meeting to get himself reappointed to the board. Milamber says that there are concerns about the League of Angels business that he sold to the company.
African Potash Ltd (AFPO) has raised £126,000 at 0.045p a share and issued 55.2 million shares to pay liabilities. The new shares account for 22.7% of the enlarged share capital.
FT8 (GFT) is still trying to secure payments from Billyst Holdings, which has defaulted on its agreement to provide monthly payments. This means that FT8 is short of cash.
AIM
Staunton Holdings Ltd has launched a recommended offer of 300p a share for FIH Group (FIH). The deal values the Falkland Islands trader and transportation company at £37.1m. The bidder is controlled by The Rowland Purpose Trust 2001he bid is at a significant premium to the market price prior to the announcement but it is below the level of the share price two years ago. FIH has net cash of nearly £10m. The bid values FIH at 15 times 2015-16 earnings but profit is likely to fall this year making the prospective rating 26 times. When the interim figures were published in November, house broker WH Ireland estimated a sum of the parts valuation of 320p a share but this was subsequently reduced to 300p a share.
Ascent Resources (AST) launched a £3m fundraising via PrimaryBid.com, which closed at 5pm on Sunday 12 January. The offer at 1.85p a share is underwritten. The cash will be spent on the Petisovci project in Slovenia, where there has been positive news on flow rates at Pg-10. Ascent has risen money via PrimaryBid.com a number of times in the past.
Strategic Minerals (SML) has exercised the option to take a 50% stake in the Redmoor tin/tungsten project in Cornwall. The £844,000 payment to take the stake to 50% will provide the joint venture with funds for the 2017 drilling programme. The rights to sell the stockpile of magnetite from the Cobre mine in New Mexico have been renewed for a further 12 months to the end of February 2018 and there is still a possibility to come to agreement over a contract lasting a number of years, which would provide more certainty about future revenues. Strategic Minerals moved into profit in 2016 thanks to strong sales of magnetite and it has enough cash to push ahead with the development of its other interests. Strategic Minerals is also interested in the CARE nickel project in Australia.
Billington (BILN) has confirmed that its 2016 figures will be in line with expectations, which ended had been increased by 26% over the past year. A pre-tax profit of £3.5m is forecast. The structural steel supplier will publish the figures on 21 March.
Thor Mining (THR) says that it should receive the final payment for the disposal of its Spring Hill gold project before the end of February. Heavy snow has delayed the commencement of drilling at Pilot Mountain. The cash received will help to finance the drilling.
TechFinancials Inc (TECH) says that its 2016 figures will be better than expected but the loss of a client (24Option.com) will hit the 2017 figures. The client will end the agreement on 1 April. The 2016 EBITDA of $2.8m is well above the forecast of $1.6m. However, any dividend will be put off until there is more clarity about future trading.
Spend management platform developer blur Group (BLUR) has signed up the first large customer for its 12 month group buyer plan. The subscription is paid upfront which is good for blur's cash flow. The attraction is the potential cost savings by the customer, which is a law firm, and it could be followed by other large customers signing up for the package which provides access to 65,000 suppliers and covers up to $2m of purchases in a year. There is a higher subscription rate for annual purchases of more than $2m. By focusing on larger customers blur has been able to reduce costs and it has been jettisoning unprofitable small customers. Cash burn has been reduced in each of the past five quarters and 2017 will see the full benefits of the cost cutting. The costs in the fourth quarter of 2016 were 43% down on the fourth quarter of 2016. There was £2m in the bank at the end of 2016. This will not last long if the cash burn is not reduced further.
Monchhichi (MCC), formerly Mercom Capital, is raising £2.1m at 35p a share in order to finance the company's new investing policy focused on technology, media and internet sectors. Each of the new shares comes with a warrant that is exercisable at 80p a share. Shares have been issued at 40p each to cover £200,000 of professional fees.
Crystal Amber Fund Ltd (CRS) has increased its stake in medical devices developer GI Dyamics Inc from 22.65% to 38.73%. Other shareholders in the developer of the EndoBarrier minimally invasive device for treating type 2 diabetes and obesity, include Johnson & Johnson. EndoBarrier is in use in Europe and other countries outside of the EU but an FDA trial was terminated. More than 3,500 patients have been treated through the placing of a temporary bypass sleeve in the intestine – equivalent to a gastric bypass–type treatment. Although GI is based in Boston, Massachusetts but it is quoted on the ASX. The share price has slumped since GI joined the ASX in 2011 and Crystal Amber believes that this is an opportunity to invest in a treatment for significant clinical need at a depressed valuation.
Pebble Beach Systems (PEB), or Vislink as it was known up until the beginning of February, has warned that its 2016 figures will be even worse than expected. The poor performance of the former Vislink hardware activities is not great surprise and the additional write-offs were obviously required given the price it was sold for. However, the remaining software business has also disappointed, although order levels have been good. That suggests a better 2017. Debt remains high and the £8m deferred payment due in mid-March is important if Pebble Beach is to have anything like a stable financial position. Kestrel still believes in the business and it has taken its stake to 14.4%.
React Energy has changed its name to EQTEC (EQT) following the issue of shares to EBIOSS Energy taking its stake to 51%. The share issue covers the €5.15m debt that was due from 50.02%-owned subsidiary Newry Biomass. The 5.53p issue price was a premium to the market price at the time the deal was announced but it subsequently rose above the issue price. Newry should be on course to produce electricity by March 2018. The main revenue generating asset is a wind turbine in County Cork.
Mattioli Woods (MTW) has acquired a 49% stake in profitable small company-focused fund manager Amati Global Investors for £3.33m in cash and shares and has an option, lasting two years from February 2019, to buy the other 51% for cash and shares. The wealth management and employee benefits business reported interim earnings per share nearly one-quarter higher at 11.7p and an interim dividend per share 22% higher at 4.7p. Net cash was £22.6m at the end of November 2016.
PowerHouse Energy Group (PHE) has signed a memorandum of understanding with Peel Environmental to develop and operate an energy from waste plant at Peel subsidiary Protos' Chester facility. This would be PowerHouse's first commercial project and Peel has a number of other potential sites if this is successful. The deal is a positive result of the previously announced joint development agreement with Waste2Tricity.
Former Hydro International boss Michael Jennings has taken over as interim chief executive of Autins Group (AUTG). Jennings has been appointed for six months following the departure of the previous chief executive of the acoustic and thermal insulation supplier. The strategy is to take Autins products into new sectors so that it is not so dependent on a limited number of automotive customers. Earlier in the month, a major customer reduced orders leading to a profit warning.
A slow build-up of occupancy levels at the new Holland Park site meant that hostels operator Safestay (SSTY) performed disappointingly last year. Even so, EBITDA increased from £600,000 to £2.2m.
Botswana Diamonds (BOD) has entered into an option to acquire kimberlite projects in South Africa. Botswana Diamonds has the option to acquire a 72% interest in the projects in return for £942,000 in cash and 100 million shares. This is payable in stages. An exclusivity and option fee of £122,000 is payable equally in cash and shares at 1.9p each. Then £215,000 has to be spent on exploration in 12 months to earn a 15% stake and then a further £215,000 in the next 12 months to take the stake to 40%. There is then nine days in which to issue 96.8 million shares and pay £300,000 of shareholder loans in order to reach 72%. The main asset is the Frishgewaagt project in Limpopo province and there are nine other prospecting rights.
Connemara Mining Company (CON) has confirmed the presence of lead, zinc and silver within a 2 metre wide bed at the former silver mine at Glentogher in Donegal but there are no signs of gold. Connemara Mining had previously found gold 8km away and the structural model will have to be revised. Teck has spent enough on exploration to take its stake in the Oldcastle block on the Cavan/Meath border to 65%. The latest drill hole has found trace mineralisation (zinc and lead).
Savannah Resources (SAV) says that initial metallurgical results suggest that there should by 90% plus recoveries at the Oman copper gold project.
MAIN MARKET
BATM Advanced Communications Ltd (BVC) is paying £580,000 to buy Zer Laboratories, the largest private diagnostics laboratory in Israel. Zer's expertise fits well with BATM's move into non-invasive pre-natal tests. In 2015, Zer made a profit of $27,000 on revenues of $2.4m. There are potential deferred payments dependent on sales increases.
PRE-IPO / OTHER TRADING FACILITIES
Integumen, which bought the Innovenn healthcare product development business of Venn Life Sciences (VENN), is raising £2.16m ahead of a flotation. EIS relief is available for this investment. The offer equates to 23.6% of the enlarged share capital. Integumen has made three other acquisitions and its interests include skincare, wound care and oral care. It also includes the Labskin product developed by AIM-quoted Evocutis before it was sold to Venn. The offer is available via the Crowd for Angels crowdfunding site (www.crowdforangels.com/integumen)
Former GXG-quoted company US Oil & Gas is trying to raise up to £2.18m via a ten-for-63 open offer at 27p a share. A placing has already raised £470,000 at the same price. Revised resource estimates in the area of the Eblana#1 well in Nevada show a 20% recovery factor suggesting a low case of 57 million recoverable barrels of oil and a best case of 207 million recoverable barrels of oil.
Andrew Hore