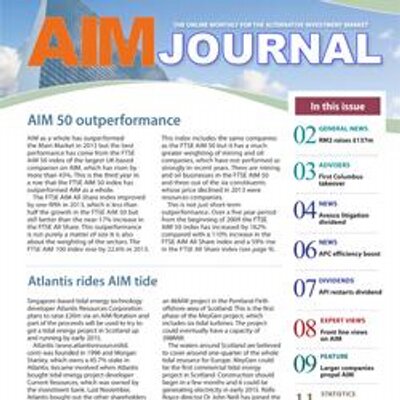 ISDX
Mechan Controls (MECP) reported a rise in pre-tax profit from £180,000 to £271,000 on flat revenues of £1.9m in the six months to June 2016. There was £1.08m in the bank. Mechan has declared an interim dividend of 1.1725pa share and the ex-dividend date is 15 September. Trading conditions are better than one year ago and the improvement in the first half is expected to continue in the second half.
Capital for Colleagues (CFCP) has invested £50,000 in return for A shares in IT services provider 2C Services. The A shares have preferential rights to capital in the event of certain exits. Capital for Colleagues has also subscribed for ordinary shares equivalent to 20% of the share capital in return for a nominal sum. The existing investment in The Homebuilding Centre has been converted from £250,000 in loan notes into 250,000 A shares, while further loans of £97,000 have been combined into a three year loan.
Crossword Cybersecurity (CCS) has linked up with AIM-quoted Iomart to work on a machine learning-based way of stopping Distributed Denial of Service (DDoS) attacks.  The hosting and managed services business wants to offer the service to its clients so it could be lucrative for Crossword.
Oil and gas explorer Doriemus (DOR), which is also quoted on AIM, has launched a three-for-15 open offer at 0.035p a share to raise up to £865,000. The open offer price is at a 22% discount to the previous closing mid price. The open offer closes on 18 October. The cash will pay for cost overruns of the Brockham drilling and testing programme – Doriemus has a 10% interest – and for further funding of other interests. The directors will be taking up their entitlement.
ISDX is hosting an event called Cyber Security Risks: Threats to Publicly-Traded Companies and the Capital Markets on 21 September. The networking and panel session will be led by a team of experts and cover the current cyber security landscape and how public companies can prepare themselves for potential cyber attacks. The event starts at 8.30am and will be held at 2 Broadgate in London.
AIM
SQS Software Quality Systems AG (SQS) is reaping the benefits of its strategy to increase higher margin managed services business. In the six months to June 2016, revenues were 11% higher at €166.6m but underlying pre-tax profit was one-third higher at €11.9m. Net debt was €32.9m, following the acquisition of the remaining 25% of the company's Indian business, but the second half is always highly cash generative. New sectors are starting to increase their use of software testing services, particularly in the digital area, including mobile payments and smart grids businesses. The US is becoming an increasingly important market and it is expected to overtake Germany as the biggest market.
Belvoir Lettings (BLV) reported a three-fifths increase in revenues to £4.3m in the first half of 2016 tanks to contributions from acquisitions made in the past year. The Northwood acquisition was made at the end of the period so it will not make a significant contribution until the second half. Like-for-like revenues were 10% higher. Pre-tax profit was 69% higher at £1.3m. The unchanged interim dividend of 3.4p a share is nearly covered by underlying earnings per share.
Motif Bio (MTFB) says that patient enrolment for the phase III clinical trial for the use of antibiotic iclaprim for acute bacterial skin and skin structure infections is ahead of schedule. This means that data should be available in the second quarter of 2017. The results of the second iclaprim trial should be available in the second half of 2017. The convertible promissory notes held by Amphion Innovations have been renegotiated. Instead of converting the accrued interest of $441,000 on the $3.55m of loan notes (maturing at the end of 2016) into shares at 24.47 cents a share, Motif will issue 409,000 shares and pay cash of $314,000. Amphion will also provide $15,500 a month of corporate services if Motif floats on Nasdaq.
Sutton Harbour (SUH) says that it expects the government report on the viability of the reopening of the Plymouth City Airport site to be published in the next few months. This will be followed by an independent government inspector making a decision on whether "safeguarding of the former airport site from redevelopment is sound planning policy following the Examination in Public, currently timetabled for March 2017". The company's strategic review is continuing.
Minoan (MIN) is one of the first companies to admit that the vote to leave the EU has hit its business. Along with the political problems in Turkey, the EU vote has knocked £100,000 a month from gross profit. Management does believe that this could be a temporary phenomenon. The latest court action over Minoan's proposed Greek development is due to happen on 16 September. The judges will determine the arguments against the development after the hearing.
MedaPhor (MED) says that the American Board of Obstetrics and Gynecology has given notice that it will terminate its ultrasound skills training contract because of ongoing litigation over some of MedaPhor's patents. If the litigation is sorted out then the relationship can be resurrected.
Fishing Republic (FISH) has acquired the Fantackletastic store in Lincolnshire for £150,000 in cash. The 4,000 square feet store is the group's first in the east Midlands and takes the number of stores owned to 11. In the year to March 2016, the store made an operating profit of £40,000 on revenues of £425,000.
Starcom (STAR) has launched the new version of its Watchlock product but this was too late to benefit the first half figures. Interim revenues slipped from £2.64m to £2.51m, while cost savings meant that the loss was reduced. Starcom has recruited an installation and services company for its Tetis cargo security product.
IPPlus (IPP) is selling its original contact centre business for £6.7m in order to concentrate on its secure payments business. The company's name will change to PCI-PAL. The sale and leaseback of a property will raise a further £800,000 leaving net cash of £4.8m. A £1m special dividend will be proposed.
MAIN MARKET
New standard-listed shell Vale International Group Ltd (VIG) commenced trading on 5 September. The strategy is to acquire a financial services-focused technology business in Europe or Asia. A placing raised £550,000 at 3.5p a share and the shares have traded at 5p (4.5p/5.5p).
Standard-listed Anglo African Agricultural (AAAP) is raising £475,000 at 0.67p a share in order to pay creditors and finance the growth of food manufacturer Dynamic Intertrade. Cape Town-based Dynamic supplies herbs, spices and seasonings to food manufacturers and the cash will be used to build stock levels and increase production. David Lenigas has been appointed as non-executive chairman and he has subscribed for 22.39 million shares giving him a 12.4% stake. No bids were made during the recent offer period and the strategic review has come to an end.
Andrew Hore