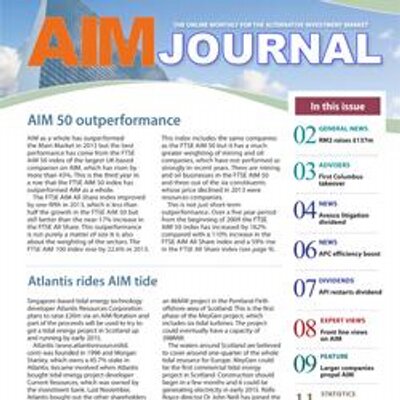 ISDX
Ace Liberty & Stone (ALSP) has acquired 1-5 Upper Market Square in Hanley for £9m. The tenants are Boots and National Westminster Bank. Prior to this deal, property holdings has grown 23% to £29.5m at the end of April 2016, while the NAV is £17.9m. The sale of Hume House for £3.55m – more than double the 2014 purchase price – should be completed by the end of 2016. Economic uncertainty has made it difficult to complete other deals. Management believes it can increase the size of the portfolio to £50m within in the next year without the need for more cash from shareholders.
DXS International (DXSP), which provides software for clinical commissioning groups and GPs. Has reported a one-fifth increase in revenues to £3.25m in the year to April 2016. Pre-tax profit improved from £27,000 to £46,000. Progress has been held back by NHS but DXS continues to investment in developing software in order to widen the range it can offer. There was £315,000 in the bank at the end of April 2016 and debt has been reduced.
Hellenic Capital (HECP) continues to seek an acquisition and it had £82,600 in the bank at the end of June 2016. Mark Jackson of Quetzal Securities, which has acquired a 29.9% stake, partly from director Gavin Burnell, at 0.3784p a share, has been appointed a Hellenic director.
Ganapati (GANP) is not proceeding with the existing application for a gaming licence in the UK and will instead apply via new Maltese subsidiary Ganapati (Malta) Ltd. There will be licence applications to the regulators in the UK and Malta.
Investment company Western Selection (WSE) increased its NAV from 75p a share to 79p a share in the year to June 2016. Since then £520,000 has been raised from selling 200,000 shares in toiletries supplier Swallowfield. That is a gain of £180,000 before expenses. The final dividend is 1.05p a share, making an unchanged total for the year to 2.1p a share.
WMC Retail Partners (WELL) has agreed an extended lease on Cornish World Market on better terms and it will be able to commence the new retail development at the front of the market. More funding will be required for this and WMC is asking shareholders to allow it to issue up to £500,000 of five year secured loan stock. Two related parties will subscribe for £400,000 to replace existing loans. This is part of a £1.96m funding package with £1.26m coming from the bank and £300,000 from the landlord. A capital reorganisation will reduce the par value of the shares from 50p to 5p so that money can be raised through share issues. The general meeting will be held on 21 October.
Angelfish Investments (ANGP) has lent a further £70,000 to 4 Navitas (Green Energy Solutions) Ltd. This takes the amount loaned to the Lancashire-based to £497,500 and this is repayable at the end of 2015. The loans have an interest rate of 12% a year. The cash will be used to acquire composite materials for manufacturing an upgraded version of the 4N-VAWT vertical axis wind turbine designed in partnership with Siemens. The wind turbine is lower cost and smaller.
Employee owned business finance provider Capital for Colleagues (CFCP) has lent and invested more than £5m in its portfolio companies. There have been four main loans and investments in the most recent quarter. The NAV is 54.5p a share.
Kryptonite 1 (KR1) has made its first investment into an initial coin offering (ICO) of SingularDTV. It has invested £5,605 for 462,931 SNGLS tokens that provide a claim to a portion of revenues and IP to show content – there are no voting rights. The tokens can be traded on the Consensys blockchain platform. The idea behind the business is to enable people to directly reward creators of content so that less is taken in fees.
Trading in the shares of DagangHalal (DGHL) has been suspended after three directors failed to be re-elected at the AGM. This leaves three remaining directors. The shares will remain suspended until there is further information about the composition of the board.
AIM
Investment company Draganfly Investment (DRG) is loaning IP developer AltEnergis (www.altenergis.co.uk) £60,000 for one year at an annual interest rate of 8%. AltEnergis was formed in 2011 and lost £53,000 last year. At the end of 2015, net liabilities were £11,000 but there is no value placed on the development of five technologies. The company's strategy is to develop technologies that will attract deals with multinationals. There is a piezoelectric technology that the company believes can be adapted to use vibrational energy/human movement to recharge a phone on the move. This was developed with Swansea University and Solar Press Ltd. There is a gearbox condition monitoring technology being developed with Oxford University and GSS Avionics. At the time of its 2015 annual report, AltEnergis says that it was hoping to complete a reverse takeover of an AIM-quoted company and raise at least £1m.
Mariana Resources (MARL) has acquired the early stage Bondoukou gold project in Cote d'Ivoire. The deal involves acquiring 80% of the holding company in return for $544,274 in shares plus paying obligations of $89,000 and lending $56,000 to the company to pay other loans. Up to $3.5m more could be paid based on the mineral resource defined. This is based on $0.5/ounce up to one million ounces and $1/ounce after that.
Floorcoverings manufacturer Victoria (VCP) is buying Bradford-based underlay manufacturer Ezi Floor in a deal that will be earnings enhancing this year. Victoria is paying £13m – £6.5m immediately and the rest over four years – with up to £6.5m payable depending on the achievement of targets. Earnings per share forecasts for this year have been upgraded by 4% to 23.8p and by 10% next year to 26.5p a share. Net debt is forecast at £54.7m at the end of this financial year.
Engineer Avingtrans (AVG) has announced details of its tender offer that will pay out £28m to shareholders. Each shareholder can tender up to 50% of their shareholding at a tender price of 200p a share – a 4.2% premium to the share price at the end of September. There is potential to tender more than 50% of a shareholding if others do not tender their full share. There will be 14 million shares left in issue.
DP Poland (DPP) is raising £3.2m at 48p a share. The previous placing was at 15.8p a share. There was still net cash of £5.39m at the end of June 2016 but management wants to accelerate the store opening programme. The new target is 100 stores by 2020. There are currently 29, including 16 corporately managed, in seven Polish cities. The interim loss was £944,000.
Park Group (PKG) is acquiring corporate employee and customer engagement company Fisher Moy International. The two companies have been working together for more than one year. This deal should be modestly earnings enhancing in the first full year and provides a new base in Buckinghamshire.
Digital media provider Milestone (MSG) is collaborating with the Social Stock Exchange, which currently has 44 companies as members. The two organisations will introduce new members to each other , enter joint promotions and also establish an investment fund. Milestone will also offer training expertise.
Versarien (VRS) is acquiring plastics manufacturing business AAC Cyroma in order to develop a graphene-enhanced plastics manufacturing operation. Versarien is paying an initial £1.925m with up to £200,000 more payable depending on profit figures in 2017 and 2018. – 2015 pre-tax profit was £166,000.
MAIN MARKET
Software provider Gresham Computing (GHT) has agreed to pay up to £4.55m for C24 Technologies in order to expand its data integrity business in the financial markets. The deal doubles the customer base and should be earnings enhancing next year. Gresham raised £3.32m at 105p a share.
Industrial fasteners supplier Trifast (TRI) continues to trade strongly in the first half of its financial year and sterling weakness will be a further help in the second half. A new distribution centre has been opened in Barcelona. The profit forecast for the year to March 2016 has been raised from £16.9m to £17.6m to take account of currency movements.
Andrew Hore