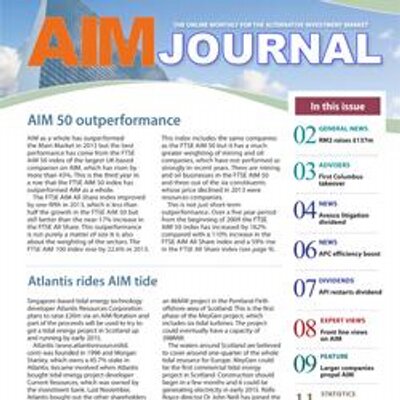 NEX EXCHANGE
Coinsilium Group Ltd (COIN) has sold its remaining stake in nanopayments software and blockchain company SatoshiPay to AIM-quoted Blue Star Capital (BLU) for €725,000 (£650,000), which has been raised through a placing at 0.2p a share. Blue Star Capital owns 31.1% of SatoshiPay. Blue Star Capital has granted Coinsilium 85 million warrants, of which 42.5 million are exercisable at 0.6p and 42.5 million at 0.8p. Coinsilium has made a gain of 362.6% on its initial SatoshiPay investment in less than two years, even before any longer-term upside from the warrants.
Via Developments (VIA1) has secured an exclusivity agreement to acquire land in Luton, Bedfordshire for £8.25m. The residential development site has planning permission for 200 apartments. A non-refundable deposit of £50,000 has been paid.
Capital for Colleagues (CFCP) has invested £400,000 in Employee Owners Group Ltd, whose main business is timber frame buildings supplier Carpenter Oak, in return for a 30% stake. The cash will be used to grow the business which currently supplies around 90 frames a year.
First Sentinel (FSEN) has raised £700,000 at 11p a share and made three investments, including £35,000 at 7p a share in fellow NEX-quoted company Milamber Ventures (MLVP). The two firms are already working on an investor event at the Century Club, Shaftesbury Avenue in London on 11 July. First Sentinel plans to sell the Milamber shares in the market. First Sentinel has also invested $300,000 in a 13%, one year loan note for Red Rock Resources (RRR) with two year warrants exercisable at 2.2p a share, compared with a market price of 0.75p. The third investment is in newly floated AIM copper mining company Phoenix Global Mining (PGM), where First Sentinel invested £81,000 at the placing price of 4p a share.
Blockchain investments company Kryptonite 1 (KR1) has raised £750,000 at 2p a share. Chinese medicines firm MiLOC Group Ltd (ML.P) has raised £99,000 at 28.5p a share.
AIM
Premier Technical Services Group (PTSG) is acquiring Brooke Edge Industrial Chimneys Ltd for an initial £14m, plus £1m in acquisition costs, and the building services provider has raised £15m in a placing at 120p a share. There is deferred consideration of £6m payable in three yearly instalments, which fits with the owners staying on with the business for at least three years. The acquisition made a profit of £2.1m on revenues of £10.6m last year. This consolidates Premier's position in lightning protection services, while specialist earthing and surge protection will be added to the group's range of services. Although the acquired business has similar margins to Premier, it has lower margins than the same businesses already owned by Premier. This means that continued growth in revenues could be complemented by improvements in margins providing even faster profit growth. According to Numis, he acquisition will enhance earnings per share by 5% to 8.7p in 2017 and 12% to 9.2p in 2018.
Blur Group (BLUR) has managed to raise £1.7m at 1.75p a share in an oversubscribed placing that more than trebles the number of shares in issue. There is one warrant for every four shares with an exercise price of 3.5p. Robert Keith has increased his stake to 25% following the placing. The need for the cash is reflected in the low issue price, which is more than 40% below the all time low market price.
Superyacht painting and maintenance services provider GYG (GYG) joined AIM on 5 July and the share price has already risen from 100p to 120p. GYG raised £6.9m before expenses.
Thor Mining (THR) will start a drill programme for the Pilot Mountain tungsten project in August. Thor expects the results in the near future from a 50 hole drilling programme on the Dundas gold project in Western Australia. Further opportunities are being assessed.
Portmeirion Group (PMP) says that its sales were 16% higher in the first half of 2017 but excluding home fragrance products manufacturer Wax Lyrical, which was acquired in May 2016, the sales are 3% higher due to a boost from sterling weakness. Churchill China (CHH) continues to grow it exports and this has been helped by weaker sterling comparatives in the first half of 2017.
Walker Greenbank (WGB) has received its final insurance payment of £2.4m relating to the flood of its fabric printing factory at the end of 2015. This takes the total payment to £19.3m.
Home improvement products supplier entu (UK) (ENTU) is undertaking a strategic review. There are already plans to cut costs and improve efficiency but entu needs to secure long-term financing to improve the balance sheet. There could also be disposals of businesses.
Sula Iron & Gold (SULA) has completed six holes of the phase 3 drilling at Sanama Hill at the Ferensola gold project in Sierra Leone. So far, 2,000 metres out of a total of 5,000 metres of drilling has been completed. Part of the drilling will include further exploration of the new southern target. The assay results will be available at the end of July.
Veltyco Group (VLTY) says that first half trading is significantly ahead of market expectations. This is not the first time that Veltyco has beaten expectations and even before this the full year pre-tax profit was expected to jump from €1.74m to €4.62m.
TechFinancials Inc (TECH) expects to make a first half loss. Senior management has taken a 20% pay cut. There is still $5.8m in the bank.
Safestay (SSTY) has acquired second hostel in Barcelona for €2m. Safestay has eleven hostels and acquisitions have gathered pace following a £12.6m sale and leaseback deal.
MAIN MARKET
Share trading will commence on 12 July in standard list shell Rockpool Acquisitions, which is seeking to acquire a Northern Ireland-based company. Rockpool is raising £1.085m at 10p a share, having previously issued 1.875 million shares at 8p each.
RockRose Energy (RRE) has raised £8m at 150p a share and it continues to progress the acquisition of oil and gas assets.
Gresham Technologies (GHT) says that revenues will be 26% higher in the first half of 2017. Eight new Clareti Transaction Control software clients have been signed up in the first half. Net cash is £7.7m.
Quarto Group Inc (QRT) has sold its New Zealand business, which was the last non-publishing business owned by the group. Quarto will receive $600,000 over two years plus 50% of debtor receipts for the next year. Quarto is also entitled to 15% of pre-interest profit for three years.
Andrew Hore