The city still slumbers on and only next week will it begin to wake up to the first of the disasters which it will have to face in 2018. That will naturally be the Nightmare on High Street as our major retailers also wake up to the fact that whilst Britain was still playing at being a nation of shopkeepers, the rest of the world had been taken over by computers which are even now threatening to close down our favourite shopping malls and turn them into huge depots for the storage and distribution of goods which you can now select from the comfort of your own home, without having to suffer the indignities heaped on the public by our ancient creaking transport systems which are as useful in transporting people as the police are in attempting to investegate crime.
The much awaited Christmas and new year sales figures look like they could be fairly  horrific unless the media has yet again been trying to spread fear and trepidation as the best way it knows of increasing sales. There are even ugly rumours that the BBC is to start employing reporters to see if it can get some reasonably up to date news on to its internet pages.
The real horror story for 2018 is likely to be Brexit with the Brussels bullies heaping more insults, lies and even threats not on to our politicians but on to the British people themselves because they dared to vote in a democratically held referendum to exit Euroland by methods which were and still are completely legal. So successful has the European campaign of menace and ill will  become that we have lost our stiff upper lips and started to tremble at the thought that leaving this sad and pitiable shambles may be extremely bad for our country and forgetting that for most people we voted to leave because we were fed up with dictatorial rule from bosses in Brussels who didnt know and could not care less what a ballot box was.
Much of Europe agreed with us except for the growing list of countries which were electing extreme right wing politicians determined to take Europe back to the dark ages.of the nineteen thirties, even to the introduction of so called camps for immigrants.What is the point of insisting that   Greece with the longest borders in Europe must take responsibility for hundreds of thousands of illegal immigrants and then screaming at this impoverished bankrupt country for spending money it did not have in providing food and shelter for these very same immigrants.  Levels of double think which make Geoge Orwell look like an amateur.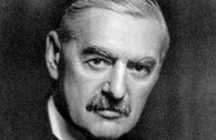 Our own politicians still hankering after the European gravy train, wobbled" and did so in a way which would have had Thatcher standing like Boadicea, routing her enemies single handed with mighty swipes of her handbag. Instead we had Teresa May and her trembling cohorts, caving in to every threat and unjustified demand emanating from Brussels. If we stay in, in the face of these odious bullies,we will deserve, everything they throw at us. Perhaps Chamberlain should be resurrected from the grave in a last desperate attempt to give us backbone and strength.
Find beachfront villas & houses for sale in Greece;   http://www.hiddengreece.net