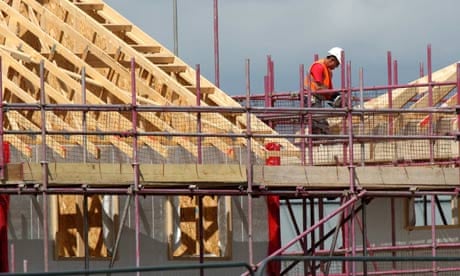 The greed of the housebuilders knew no limits and it looks as if they may have killed the goose that laid the golden eggs. The UK housing market has been bled dry by large annual price increases, way way above the rate of inflation. The housebuilders  shrank their own market as more and more people became unable to buy even a starter home.
The builders saw an everlasting boom and ever rising dividends fuelled by ever rising prices. They suffered from short term memory loss as they forgot that booms always end and always  in tears.
Barrat Developments BDEV is a prime example. In 2011 when the average private selling price was £178,300 it could not afford to pay a dividend but promised one for 2012. In 2012 Barratts profit before tax rose by 159%, the start of the boom but it still could not afford to pay a dividend. The average price rose slightly to £180,000.
In 2013 the dividend was restored with a payment of 2.5p per share after a rise of 73.7% in profit before tax, helped by another inflation beating price increase.
2014 may in retrospect have been the golden year.  The average selling price soared to £241,600, profit before tax was up by 103% and the dividend was increased by a massive 312%.
2015 was still a good year but there were obvious signs of black clouds on the horizon. Profit before tax rose again but by a much more modest 44.8% and the rise in annual revenue was down to only 19.1%.  But the shocker as far as the market was concerned was that the increase in average selling price fell to a comparatively meagre 8.7%. That hit the share price hard but the annual dividends for the year were still upped by 143.7% to 10p.
The history of Barratts share price illustrates the boom and bust nature of the company.  In 2010 it was 50p before rising sharply to 275p and then collapsing again in 2011 & 2012 to 75p. as the dividends disappeared. Then came the boom which saw a rise to 660p as recently as last month, followed by a sharp and sudden retreat to 579p.
Perhaps the rot set in in July when the Investors Chronicle gave the kiss of death to house builders by claiming that they were due for further growth.
It is not just Barratts world which has been turned upside down.  A few days ago Bovis lost 11% in one day and Persimmon topped the FTSE100 fallers list with a fall of 25p.
It is early days yet  but it looks like those golden eggs may soon be in short supply.  It will be interesting to see the reasons offered – "challenging conditions" etc etc plus the usual tired list of well used excuses could soon be be back in fashion.
Hotels & investmentproperties for sale in Greece – click here; http://www.hiddengreece.net