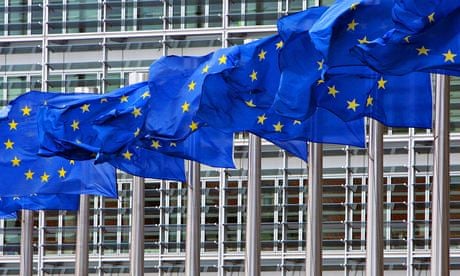 And now Merkel issues the UK with a warning, "You will never get a really good result in negotiations, particularly on very important issues, when you're not in the room and giving input." The content of the warning is irrelevant.  What is very relevant. is that she thinks she is in a position to give a warning to the UK.  What is the next step in this scenario, are we going to see our PM emerging from a flight at Heathrow and proudly waving a paper whilst  declaiming " I have here a slip of paper signed by Frau Merkel".  It is all beginning to feel very much a rerun of 1938.
The frightening thing about the present situation is that there is not a single European leader who is pointing out to our feckless leaders, what the advantages are to the UK of remaining in the EU. – surely there must be some. All they can do is issue threats and warnings of the appalling consequences for the UK if it does leave. The Brits have always been a bit bolshy about things like that. and it is one of the best ways of ensuring that rightly or wrongly , we do leave.
I would love us to remain in a reformed EU but the EU with its refusal to accept that reform is necessary, is driving us out. We now have an EU riddled with consent that what its member states want, is rule by Brussels. Well let them enjoy it.  It will not be long before they rue the day they drove us out, if that is what in the end, they do.
And speaking of Lebensraum, one of the main aims of the German Reich was to to create out of Eastern Europe, a larder which would supply cheap food  for the German nation. Now they have it and they call it Lidl which specialises in buying products and produce at knock down prices from farms and producers in the East, for re sale in the prosperous west. It is the only supermarket I know where the ever present security gaurds so openly supervise their charges so closely and obviously that shopping there has become an unpleasant experience.
Until a few months ago the EU was united behind its EU frontiers which suddenly ceased to exist, once Greece was invaded by nearly a million immigrants from Turkey. All of a sudden  that boundary was solely the responsibility of the impoverished Greeks, nothing at all to do with the EU.  That left the EU in its various forms, free to scream at the Greeks for spending too much money when they should be reducing expenditure, whilst in the same breath it screamed at the Greeks for spending too little on caring for the immigrants.
Greece provides yet another excellent example of the nonsensical way in which Brussels imposes its nonsensical rule across Europe. The weekly maximum withdrawal which can be made from a Greek bank account in cash is 420 Euro. That is to ensure that individual Greeks can not overspend and lead the country even further into debt. The German led Troika which imposed this, forgot to exclude credit cards. The result is that the use of credit cards mushroomed. Nobody pays cash any more in a supermarket because then it would have to come out of the 420 Euro weekly cash allowance. Use a credit card and you can spend as much as you like.
Yet another example of what Euro rule means. If Greece needs anything, it is inward investment. There are two main sources – tourism and real estate purchases by foreign investors. So what has German economic rule brought about – they have just banned foreigners from opening a new bank account in Greece – so at a stroke they have prevented the Greek economy from benefitting from the improvement in the Greek real estate market by ensuring that all the purchase money is prevented from entering the Greek economy and the Greek banking system. Instead it is going to the UK and perhaps a smidgeon may even get into Deutsche Bank. Think of this misgovernance on a Euopean wide scale, not just as it is applied to Greece
And the laughing stock who create this farce, issue the UK with threats and warnings.
Find Beachfront Property For Sale In Greece;   http://www.hiddengreece.net