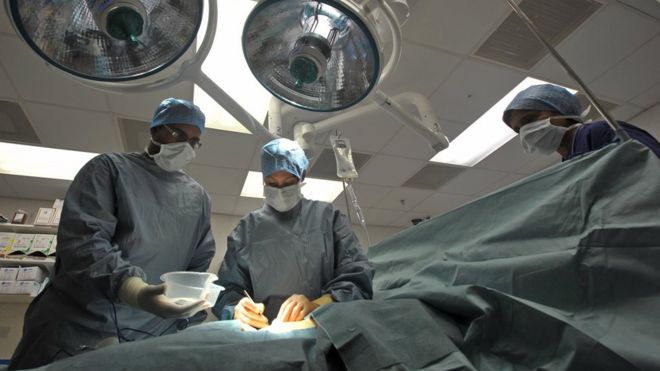 Senior doctors say they are concerned about the number of cancer patients having their operations cancelled amid "tremendous pressure" facing the NHS in England this winter.
Ian Eardley, from the Royal College of Surgeons, said a shortage of beds was one of the causes.
Such surgery is usually protected under treatment time guidelines, he added.
The NHS said it was "pulling out all the stops" to ensure patients receive surgery "as quickly as possible".
A spokesman for NHS England said there had been a steady increase in the number of operations over the last 15 years and more people were surviving cancer than ever before.
'Current pressures'
Guidelines for hospitals in England stipulate that cancer patients should be seen within 31 days and receive primary treatment within 62.
In November 2016, the latest period which NHS figures are available for, the 62-day target for treatment to start was missed – with 83.5% of patients being treated in that timeframe instead of 85%.
Mr Eardley, vice president of the RCS, said most hospitals were able to see more than 90% of patients within that time period, but in the past year "it's been more difficult to achieve that".
He said that while cancer operations were cancelled "from time to time", especially during the winter, the RCS had heard from its members in England about an increasing number of cancellations within the last week.
"There are current pressures – since Christmas particularly – and the number of cancelled operations has been going up," he told the BBC.
"The NHS is under tremendous pressure – more and more patients are going to A&E and there is more difficulty in getting patients home, and it's not something we are comfortable with at all.
"If we could get patients home more quickly and effectively, we could carry on with doing surgery more quickly and more effectively."
He added that solving the shortage of beds caused by problems with arranging care in the community would be "the easiest thing to do most quickly, although there are other longer-term problems and there also needs to be a broader review of the NHS."
---
Analysis – by Hugh Pym, BBC News health editor

It's a graphic illustration of what the current extreme pressure on the NHS means for patients.
Routine surgery is often cancelled during the winter to allow hospitals to keep beds free for the expected surge in emergency admissions, but cancer treatment always continues with very few exceptions.
In what looks like a highly unusual move, several hospitals are now having to postpone cancer operations because of a shortage of beds.
This comes after news that more than four in ten hospitals in England were on major alert status because of high patient numbers in the week ending 8 January.
All this is at a time when the weather is mild and there has not been a major flu outbreak. If that changes, the NHS will come under even greater strain.
Dr Moira Fraser, director of policy and public affairs at Macmillan Cancer Support said: "Nobody should have to go through the distress of making emotional and practical preparations for an operation only to have it cancelled."
Link here for the full BBC article