Home » Posts tagged 'yu group'
Tag Archives:
yu group
NEX EXCHANGE        
China-based Gamfook Jewellery had planned to join the standard list, but it has decided to float on NEX. The online retailer of customised jewellery had intended to raise cash at 15p a share, but the flotation on NEX on Christmas Eve will be an introduction at 15p a share. Management hopes the flotation will help to increase its profile and customer base. A dividend based on 28% of profit attributable to shareholders is promised.
Walls and Futures REIT (WAFR) has maintained its NAV at 92p a share at the end of September 2018. In the six months to September 2018, rents increased from £33,000 to £67,000. Additional supported housing opportunities have been assessed.
KR1 (KR1) has raised £785,000 at 5p a share and paid £40,000 in fees to advisers in shares at the same price. KR1 director Keld van Schreven subscribed for 50,000 shares. The cash will fund further blockchain token investments.
Panther Metals (PALM) has signed heads of terms for the acquisition of Parthian Resources, which owns exploration assets in Australian. Parthian shareholders will own 15% of Panther if the deal goes ahead. One of these shareholders is Kerim Sener, who is non-executive chairman, who will end up with 4% of Panther. The deal should be completed in January 2019.
Blockchain investment company Coinsilium Group Ltd (COIN) says that Gibraltar-based StartupToken has attracted a £193,000 investment from South Korea-based Blockwater Capital in return for a 7.4%. Coinsilium had invested £360,000 in StartupToken during November and the value of the investment has doubled to £722,000. Executive chairman Malcolm Palle has bought 200,000 shares in Coinsilium at 3.6p a share, taking his stake to 6.35%.
Clean Invest Africa (CIA) is acquiring the remaining 97.5% of CoalTech LLC for £24.6m. This will be funded by a share issue. A circular will be published in the first quarter of 2019. A new incentive plan for management, in the form of options exercisable at 2.5p a share, is planned.
IMC Exploration (IMCP) has issued five million shares at 1p ia share and every five shares has a warrant exercisable at 1p a share. The £50,000 will be used to continue exploration in Avoca, County Wicklow. Wishbone Gold (WSBN) has raised £300,000 at 0.1p a share. The cash raised will be used to accelerate production at the Honduras gold facility. NQ Minerals (NQMI) has raised £38,000 at 12p a share.
Milamber Ventures (MLVP) has issued shares valued at nearly £302,000 to creditors at a range of share prices. Management has acquired the majority stake in Milamber USA and Milamber retains a 20% stake. Milamber has also reduced its stake in Vocademia to 5% with the rest of the share capital acquired through the return of 900,000 Milamber shares. A further 166,667 shares were returned for Milamber's stake in White Cobalt. Milamber has created a new training compliance company called Checkbox and taken a 51% stake in an education joint venture with Black Arrow Space Technologies, which is developing commercial orbital launch services.
Imperial Mining (IMPP) is changing its name to Imperial X to reflect the change in investment focus from resources to the cannabis sector.
Medicinal cannabis investment company Sativa Investments (SATI) says that investee company Rapid Dose Therapeutics Inc has listed on the Canadian Stock Exchange. This has provided a 70% uplift in the initial investment value for a gain of C$140,000.
Lombard Capital (LCAP) had £4,130 in cash and £112,000 in assets available for sale. at the end of September 2018. Lombard still plans to issue an asset-backed investment bond.
Tectonic Gold (TAU) says that initial analysis of drilling at the Specimen Hill project in Queensland has confirmed mineralisation with grades up to 6.06g/t. Full results should be available in January.
Trafalgar Property Group (TRAF) is raising up to £1m through an issue of 8.5% convertible bonds 2025. The issue could eventually be increased to £5m. The bonds will be traded on NEX. The cash will be used to fund residential development and planning applications. Trafalgar has limited cash and it lost money last year.
Filta Group (FLTA) has multipled the size of its grease management operations in the UK through the acquisition of Watbio for £6.9m in cash and shares, plus working capital adjustment. Cenkos has provisionally upgraded its 2019 earnings forecast by 26% to 11.8p, assuming completion of the deal in early January. Filta is raising £3m at 200p a share, which is a premium to the market price, and has obtained a £4m, five-year loan facility. Filta started building a grease management division through acquisition just over one year ago. Watbio generates annual revenues of £10.3m and pre-tax profit of £800,000 so it is much larger than the existing operations. It also offers other drain management services.
A strong performance from property servies more than made up for a weak first half performance of the business recovery division of Begbies Traynor (BEG) and pre-tax profit was 9% higher at £3.2m on revenues 8% ahead at £28m. The number of insolvencies increased in the first half but there was no repeat of the large one-off fee in the first half of the previous year. The interim dividend was raised by 14% to 0.8p a share. Net debt fell 10% to £6.3m. The performances of the divisions will reverse in the second half and 2018-19 pre-tax profit should improve from £5.6m to £6.4m.
President Energy (PPC) has drilled the third Puesto Flores well on budget and there have been good oil shows, but they are lower than the previous two wells. All three wells could be in production by the end of the year.
AssetCo (ASTO) has transferred the loal employees in Abu Dhabi to the new supplier of fire services. There is a possibility of winning work in the region. The litigation against former auditor Grant Thornton continues and a judgement could happen in the first couple of months of 2019.
URA Holdings (URA) was not able to complete the acquisition of Entertainment AI early enough to prevent the cancelation of the AIM quotation on 24 December. The acquisition could still happen.
Real Good Food (RGD) has sold jams maker R and W Scott for £1.5m, of which £500,000 is deferred until September 2019, and the assumption of £2.45m of debt. That takes disposal proceeds to £17.8m and completes the main corporate activity. The cake decoration and food ingredients businesses make up the majority of the remaining group.
Small business financial services provider City of London Group (CIN) continues to lose money as it builds up its activities. Recognise continues to try to obtain a UK banking licence.
HaloSource Corporation (HALO) has not been able to secure additional finance and trading in the shares has been suspended. There is limited cash left.
Thalassa Holdings (THAL) intends to move to a standard listing. No new shares will be issued and the move should take place on 25 January.
Revenue and EBITDA growth in the range of 15% to 20% is expected by Craneware (CRW) in the six months to December 2018. The healthcare accounting software provider has a 100% renewal rate in dollar terms in the first half.
Replacement windows and doors manufacturer Safestyle (SFE) has improved its order intake in the past six months after its agreement with a former employee who was competing with the company. However, costs have increased and the 2018 loss will be between £8.2m and £8.6m. The 2019 performance could be ahead of expectations. Otus Capital Mananagement has taken a 5.42% stake.
Audio equipment supplier Focusrite (TUNE) had a strong November but it is still cautious about the full year. The trade dispute between the US and China remains a concern.
N4 Pharma (N4P) has extended the licence agreement with UniQuest for Nuvec. It has become an exclusive global licence with certain fields licensed back to UniQuest.
finnCap has resigned as nominated adviser and broker to The People's Operator (TPOP) and that could scupper the placing with the owner of LycaMobile. An investment of £1.3m in shares (29.9%) and convertible loan notes was planned.
Yu Group (YU.) says that the Financial Conduct Authority is investigating the accuracy of its announcements between March and October. Poor internal controls caused a shortfall in profitability. The energy supplier has revealed that its 2018 loss could be as high as £7.85m, which is higher than previously estimated. This is due to a decline in gross margins and balance sheet corrections. There was £11m in the bank at the end of November 2018.
LiDCO Group (LID) will report float full year revenues and this has led to a £800,000 increase in forecast pre-tax loss to £1.9m. The take-up of the high usage programme has been slower than expected and an Asian order was delayed. The patient monitoring equipment supplier is expected to have cash of £1.5m by the end of January 2019.
TLA Worldwide (TLA) has agreed in principle to sell its Australian business to QMS Media and this would make TLA a cash shell.
Rasmala (RMA) left AIM on 19 December. A new holding company is based in the British Virgin Islands.
It gets worse at Paragon Entertainment (PEL) with another loss in the second half on lower than expected revenues. A 2018 loss of £2.4m is forecast. Overheads have been reduced so the loss could be smaller next year.
Scientific Digital Imaging (SDI) increased interim revenues by 23% to £8.05m through a combination of acquisitions and organic growth, while pre-tax profit was one-third higher at £1.5m. finnCap is cautious about the full year for the scientific instruments supplier and has maintained its full year pre-tax profit forecast at £2.6m, which suggests a lower second half profit.
Management has launched a 12p a share bid for former AIM-quoted PR firm Freshwater as a way of enabling existing shareholders to exit the business.
MAIN MARKET  
Trading in standard list shell Fandango Holdings (FHP) shares has been suspended ahead of the proposed reverse acquisition of Konnect Mobile Communications Inc, which owns PaySocial Inc, a mobile banking and payments eWallet.
Standard list shell Papilon Holdings (PPHP) has acquired 50% of Pace Cloud Ltd, which owns CarCloud, a fintech company involved in the used car sector. This represents a fundamental change in the business. Papilon is raising up to £500,000 via a convertible loan note issue. The conversion price is 1.25p a share.
Telecoms services provider Toople (TOOP) lost £1.4m in the year to September 2018, which was slightly more than the previous year. The gross profit of £203,624 was enough to cover the directors pay of £196,713. There was a cash outflow of nearly £1m in the period. There was £2.14m in the bank at the end of September 2018, but there is a loan from former shareholder David Breith with a cash value of nearly £607,000, which could become repayable from 3 May 2019.
Zegona Communications (ZEG) has decided not to tender €7.75 a share for up to 14.9% of Euskaltel, where it is trying to improve performance, because it has not been abe to secure funding. Zegona has secured a relationship with Talomon Capital, which will own up to 2.4% of Euskaltel on top of Zegona's existing 15% stake, which will be increased via market purchases. That requires a share issue by Zegona.
Investment company Athelney Trust (ATY) is consulting with existing and potential shareholders, concerning a tender offer to existing shareholders at the same time as an issue of new shares.
Andrew Hore
Small cap award winners 2018
Company of the year
ZOO Digital (ZOO)
The ZOO Digital share price is ten times the level it was one year ago. ZOO localises film and television content and it has been investing in upgrading its technology and services over the past few years. This investment is paying off and the ability to offer cloud-based services is helping the business to grow and move into profit. Hollywood studios have been customers for many years and ZOO is winning market share. Newer entrants to the market such as Netflix have grown the demand for localisation of content. ZOO is expected to report an underlying pre-tax profit of £500,000 for the year to March 2018.
NEX company of the year
Crossword Cybersecurity (CCS)
Cyber security technology developer Crossword Cybersecurity originally floated on GXG and then switched to NEX. It was one of the youngest companies that was on the shortlist for this award. Crossword is generating modest revenues and it is developing cyber security products with partners. The real potential for the business will not be realised for a few years.
Impact company of the year
Walls and Futures REIT (WAFR)
Walls & Futures REIT is an ethical housing REIT that develops new housing for people with learning and physical disabilities or requiring extra care. In 2017, Walls and Futures achieved a total return on its portfolio of 11.5%, ahead of its benchmark total return of 7%.
IPO of the year
K3 Capital (K3C)
Business sales and corporate finance company K3 Capital Group joined AIM at 95p a share in April 2017 and the share price has more than trebled. Bolton-based K3 helps owners to sell their businesses and it gains clients through a direct marketing strategy. The AIM quotation and the related higher profile appears to have helped to accelerate growth. A move up the Thomson Reuters deal rankings is also helping. Last year, revenues rose by 26% to £10.8m, while pre-tax profit improved 18% to £3.6m.  In the six months to November 2017, revenues were 34% ahead at £7.5m and pre-tax profit moved from £2.48m to £3.21m.
Fintech company of the year
FAIRFX Group (FFX)
Foreign exchange and e-banking services provider FAIRFX has a low cost model while offering an improved experience to the more established rivals. Turnover was £1.1bn last year, while revenues were £15.5m and this enable the company to move into profit. Corporate turnover was 52.3% of the total, up from 45.5%. The company recently moved its international payments book onto the City Forex platform following its acquisition. The focus is increasing scale to improve efficiency combined with the rolling out of new products.
Transaction of the year
Proactis (PHD) – merger with Perfect Commerce
Spend control software provider Proactis merged with Perfect Commerce in August 2017. The deal significantly increased the scope of the business and added to the management team. The integration of the businesses appears to be going well but the loss of a couple of large customers has held back progress in the year to July 2018. Even so, annualised contracted revenues are still £45.5m. Progressive Equity Research still expects a near-doubling of this year's pre-tax profit to £10.2m, rising to £13.2m next year. That means that earnings per share growth is modest this year because of the additional shares in issue.
Executive director of the year
Bobby Kalar – Yu Group (YU.)
Electricity and gas supplier Yu Group floated on AIM in March 2016 at 185p a share. The current share price is more than four times that level. The focus is on commercial customers. Yu increased its revenues from £16.3m to £47m last year and annualised bookings continue to grow. Underlying pre-tax profit jumped from £195,000 to £3.08m. The dividend was increased from 2.25p to 3p a share. Trading continues to be strong and average annualised bookings per month were £6.6m. The cash pile has increased to £18.6m at the end of April 2018. Yu has obtained a licence to supply water.
Journalist of the year
Paul Scott – Stockopedia
Fund manager of the year
Nick Williamson – Old Mutual
Microcap fund manager of the year
Guy Feld – Canaccord Genuity
Analyst of the year
Kevin Ashton – Cantor Fitzgerald
Lifetime achievement award
Katie Potts – Herald Investment Management
Special services to small caps
John Jenkins (Founder of Ofex/NEX)
================================================================
NEX EXCHANGE   
Daniel Thwaites (THW) increased its 2017-18 by 9% to £92.2m, while operating profit improved by 7% to £12.9m. There was a 79% increase in earnings per share to 13.8p, mainly due to a swing from a loss on interest swaps to a profit.  The total dividend is unchanged at 4.46p a share. Investment in the pubs and hotels operations and in the new craft brewery at Mellor Brook has led to a rise in net debt from £47.6m to £63.7m. The old brewery will be demolished and the land will eventually be sold or developed. Poor weather means that the new financial year has started more slowly than last year.
Hellenic Capital has changed its name to Pelican House Mining (PHM) and is focusing on investing in early-stage resources projects in Africa. The focus is making capital gains on the investments. Pelican is trying to supplement its cash resources by selling a commercial property in Leeds, but the buyer withdrew. Pelican has retained the deposit. The investment property in Leeds is in the books at £204,000. Two directors, Simon Grant-Rennick and Mark Jackson, have been granted options over a total of seven million shares exercisable at 0.55p each.
Newbury Racecourse (NYR) says that its conference and events division is 22% ahead of the same time last year and the revenues of the hotel have risen by the same percentage. There has been a 17% rise in revenues for the nursery business on the back of occupancy rates rising by six percentage points. There are longer-term worries about the financial ability of bookies to provide sponsorship and other revenues. Management says it will not be paying any dividends until 2022 at the earliest after the current development projects are completed.
PCG Entertainment (PCGE) has raised £303,000 at 0.15p a share and around £119,000 will go towards paying the £119,000 settlement with D-Beta, which provided an equity sharing facility. D-Beta has sold its existing stake. PCG is talking to Cavitation Solutions Ltd about distributing cavitation technology, which deals with oil and other water pollutants, in China. It is also talking to ChainZy about distributing its blockchain-based technology in Asia. There is interest from third parties concerning the use of PCG's media and gambling licences in China.
IMC Exploration (IMCP) has raised £250,000 at 0.7p a share and the cash will be used to develop the company's three main gold and zinc projects.
South Africa-focused investment company Inqo Investments Ltd (INQO) has made a second investment in Uganda-based Four-One Financial Services, which manages the Mazima micro-pension scheme. This is the second tranche of the original investment and is in the form of a $100,000 convertible loan.
AIM   
NWF (NWF) says that last year's trading was much better than expected and net debt is lower than forecast. The feeds business improved its performance and trading of the fuels division was strong. The food distribution operations wee hit by reorganisation requirements and did not perform as well as expected.
Diversified Gas and Oil (DGOC) has got another large deal on the blocks and trading in the shares has been suspended. The Appalachian Basin oil and gas producing assets will be acquired for $575m and it will more than double the group's daily production. This should be an earnings enhancing deal. A $225m share placing is required to help finance the deal.
RedstoneConnect (REDS) chief executive Mark Braund intends to leave the smart buildings technology company. Frank Beechinor will move from chairman to chief executive. The disposal of the systems integration and managed services divisions has been completed and the group can focus on its software business.
Ilika (IKA) has gained government funding of £4.1m for two battery technology projects in the automotive sector. The PowerDriveLine project is developing a solid state battery for hybrid and electric vehicles. The other project is headed by McLaren Automotive and is developing a battery for performance cars.
Secure payment products provider Eckoh (ECK) increased its full year revenues by 3% to £30m but pre-tax profit was 61% higher at £2.4m thanks to an improvement in operating margin. Growth in the US made up for a weaker contribution in the UK.
Redhall Group (RHL) slumped back into loss in the first half due to a delayed contract. However, it is still on course to make an improved profit in the full year. Interim revenues were 22% lower at £14.7m. There is strong demand for the company's specialist doors from the nuclear and transport sectors.
Evgen Pharma (EVG) has enough cash to get to the end of 2018. There should be further positive news about the two ongoing clinical trials prior to the end of the year. Interim analysis of phase II trial of SFX-01 as a treatment for breast cancer show that six out of 20 patients, who had tumours that had initially responded to treatment but had become resistant, saw some benefit from the treatment of their tumours. The treatment has also been shown to be safe. The final results of the trial should be published before the end of the year.
Life sciences company Abzena (ABZA) has decided to focus on monetising its technology rather than raising money via a share issue. A non-binding heads of agreement with a third party would involve the sale of an interest in future royalties. If this deal is completed there would be enough working capital for the short-term.
Active Energy Group (AEG) has signed a memorandum of understanding with Young Living Farms for the sale of a PeatSwitch plant, which makes environmentally friendly peat replacements. The first plant is in Mona, Utah and the client is paying $3.4m in cash. There could subsequently be other plants at the client's other sites.
Trading has resumed in the shares of Audioboom (BOOM) following publication of its accounts. The share price fell from 3.6p to 2.18p. The podcasts publisher has raised £4.5m from a placing at 3p a share.
MAIN MARKET    
WideCells Group (WDC) managed to raise £513,000 at 3p a share via a bookbuild on the Teathers app. That includes £183,000 from directors. The total amount raised by the stem cell services provider is £2.04m, including conversion of debt of £165,000. Shareholder approval is required for the share issue.Trading in the shares has resumed and the share price has fallen below the placing price. WideCells is using £615,000 of its £624,500 overdraft, which will be reviewed at the end of June. Shareholders have loaned £120,000.
China-based Gamfook Jewellery is planning to join the standard list. The online retailer customised jewellery wants to raise £5m in order to invest in retail sites. Gamfook has managed to generate cash from operating activities in the past few years, although next year there will be a significant working capital outflow according to forecasts. Gamfook is offering an 8.5% yield on its potential placing price of 15p a share and that would rise to 12.5% in 2019.
Air Partner (AIR) has completed its accounting review and the net assets overstatement of £4m net of tax is in line with indications. There were accounting errors and subsequent attempts to cover up the problems going back to 2010. The review has cost £1.3m. Air Partner still intends to pay a final dividend of 3.8p a share.
BATM (BVC) has won a $3m follow-on cyber security for a government department. The total contract value will be $7m.
Falcon Media House (FAL) has raised £500,000 via a convertible loan note issue. The conversion price is 1.5p a share.
Cash shell AIQ Ltd (AIQ) has raised £250,000 from an oversubscribed open offer at 20p a share but there was a delay of one day before the shares were admitted to trading on 14 June. The share price has slumped from a high of 160p to 24.5p over the past month.
Dukemount Capital (DKE) has agreed a 30-year lease on a second property in north west England. Housing association Inclusion Housing is paying £168,740 a year for the lease subject to planning permission for extra rooms. The property needs to be refurbished.
Bluebird Merchant Ventures Ltd (BMV) has executed the 50/50 joint venture agreement with Southern Gold for the Kochang mine and the feasibility report is expected before the end of September. The required $500,000 investment has nearly been completed by Bluebird and it is on course to invest the required $250,000 in Southern Gold. First gold is expected before the end of 2019.
Andrew Hore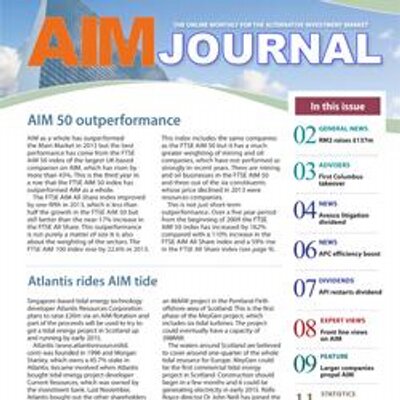 ISDX
Brewer Shepherd Neame (SHEP) reported record results for the year to June 2016. Revenues increased by 1% to £139.9m, while underlying pre-tax profit was 11% higher at £10.3m. The growth in revenues and profit came from the managed pubs business. The brewing division reported a lower profit due to the loss of the Kingfisher brewing contract and higher costs of the water treatment plant. The final dividend is 3% higher at 22.05p a share, making a total for the year of 27.5p a share.
Crossword Cybersecurity (CCS) is starting to build up its revenues from products created in partnership with a number of UK universities. Distributors are being appointed for the cyber risk product Rizikon which is based on research by City University. In the six months to June 2016, revenues were £164,000 – eight times the previous twelve months. The loss was £403,000. There was £668,000 in the bank at the end of June 2016, which is slightly more than the cash outflow in the first half. Boss Tom Ilube was on the panel for the cyber security seminar held at ICAP's headquarters last Wednesday.
Blockchain businesses investor Coinsilium Group Ltd (COIN) reported revenues of £196,000 and a loss of £270,000, including an impairment charge of £120,000, in the first half of 2016. There was nearly £164,000 in the bank at the end of June 2016. There are investments valued at £1.67m in the balance sheet.
Residential property developer Via Developments (VIA1) has issued a further £1m of 7% debentures 2020. This takes the total issued to £4.5m.
London Nusantara Plantations (LNPP) has identified potential oil palm estates investments in east Malaysia. The company has acquired an 11% stake in 404 hectares of land to use for oil palm cultivation. There is nearly £162,000 in the bank. Acquisitions will be funded by a mix of debt and equity.
Incubator company Milamber Ventures (MLVP) has become involved with 15 companies and one of these, Knowledge Motion, has signed a seven figure deal with Pearson. Milamber has the rights to 5% of Knowledge Motion. There was £289 in the bank at the end of March 2016 and the NAV was £291,000. Since then, a further £45,000 has been raised. Service and success fees plus grant-related revenues mean that this years revenues should be much higher than the £70,000 reported in the year to March 2016.
White Fox Ventures Inc is subscribing for $2.35m of shares in Australian minerals explorer NQ Minerals (NQMI) in seven tranches over six months. The issue price is 11.1 cents (8.4p). White Fox has already subscribed for $150,000 worth of shares. White Fox (www.whitefoxventures.com) is an OTXQB-traded company and this is the first of a number of strategic investments planned by the company. The company is also seeking acquisitions and its current activity is educating people how to make money.
AIM
Electricity and gas supplier Yu Group (YU.) could reach profitability in the second half of 2016. Even before it moved into profit Yu is paying a maiden dividend of 0.75p. A growing dividend is planned. Yu is still building up its revenues and they were £5.1m in the first half of 2016 but higher operating expenses meant that there was an underlying interim loss. Yu could become highly cash generative. It is expected to end 2016 with cash of £6.6m and this could rise to £10.3m a year later.
Bond International Software (BDI) has recommended the increase Constellation Software bid of 115.5p a share, which is near to the 116p-118p a share the company expects to distribute to shareholders if it were wound up. The bid provides a certain outcome whereas there is a risk that the total distributions could be lower. However, if there is a majority vote at the upcoming general meeting to agree to the sale of the remaining businesses the offer will lapse. That would mean that the proposed acquirer would have to be paid up to £350,000 due to the deal falling through.
Sinclair Pharma (SPH) was undergone significant changes in the past year but it has still to enjoy the benefits of some of these. It does have cash of £24.4m following the disposal of non-core activities in order to concentrate on aesthetic treatments. Sales are growing internationally but the taking over of distribution in Brazil and the US distribution deal for Silhouette InstaLift will make more significant contributions in a year or two. The latter will require a lot of investment in the coming year or so but it should help Sinclair to move into profit in 2018.
Structural steel supplier Billington Holdings (BILN) is continuing its recovery and the acquisition of Shafton Steel Services, which is based five miles away from the head office, enables Billington to increase its capacity. In the six months to June 2016, revenues improved from £24.5m to £27m, while pre-tax profit edged ahead from £1.7m to £1.74m after redundancy costs. The pre-tax profit margin is back above 6% but there is still more potential for recovery. Strong cash flow meant that cash more than doubled to £6.24m. There will be some additional capital investment required to increase capacity. The order book continues to grow.
Mobile payments processor MiPay (MPAY) is being used to process an increasing number of transactions, although interim revenues were affected by a change in terms with a large customer. The good news is that although revenues were 7% ahead at £1.6m, gross profit was one-third higher. Combining that with lower overheads means that the operating loss was reduced by three-quarters to £250,000. Clients are attracted by MiPay's ability to reduce the risk of fraud. There should be £3m of net cash at the end of 2016. MiPay could make a small profit in 2017.
Fund manager Miton Group (MGR) increased its funds under management to £2.54bn by the end of June and that was despite an outflow from the CF Miton UK Value Opportunities Fund. The figure has risen further to £2.71bn since then. In the six months to June 2016, pre-tax profit recovered from £800,000 to £3.1m. Net cash was £18.4m at the end of August 2016.
Mortice Ltd (MORT) says that its UK facilities management business has been appointed to a £60m framework contract with London Universities. The contract for cleaning and associated services is for a three year period. Those companies on the framework will be invited to bid for individual contracts. Mortice's subsidiary is the only company that has been appointed to all three parts of the framework.
Fishing tackle and consumables retailer Fishing Republic (FISH) grew its first half revenues by one-third to £2.5m. This was via a combination of organic growth and new store openings, although these newere sites are still building up trade. Online sales were weaker as management moved the focus away from third party sites to its own branded website. That will help margins in the medium-term. Underlying pre-tax profit edged up from £149,000 to £157,000. Two more stores will open in the second half. Investment in new stores will hold back this year's profit whih is expected to rise from £305,000 in 2015 to £404,000. Earnings per share will decline because of the recent share issue but that cash is being put to work and the benefits should show through next year.
Talent management technology and services provider NetDimensions (NETD) remains on track to move into profit next year. Higher margin licence sales rose during the first half but overall interim revenues were slightly lower at $10.5m. Recurring revenues are more than two-thirds of total revenues. Full year revenues of $26.6m and a loss of $400,000 is forecast. In 2017, a profit of $1.2m is expected on revenues of $31.5m.
Coins investor Avarae Global Coins (AVR) plans to ditch its AIM quotation and it is offering to buy back 16.16 million shares at 11.5p each. It plans to buy back the same number of shares after it leaves AIM. High quality coin prices are plateauing and a small loss was made in the year to March 2016. There is no dividend. There was a cash balance of £570,000 at the end of March and the NAV was 14.6p a share.
Project management services provider Styles & Wood (STY) is paying an initial £2m in cash and shares for Keysource, which will boost the group's expertise in projects for critical facilities and data centres. The deal will be earnings enhancing next year. In the six months to June 2016, Styles & Wood improved its underlying pre-tax profit from £200,000 to £500,000, although the business is second half weighted so the full year outcome will be much higher.
MAIN MARKET
AIM-quoted Kibo Mining (KIBO) is reversing the Imweru and Lubando gold projects into standard list shell Opera Investments (OPRA). Kibo will receive 61 million shares in Opera at a notional price of 6p each for the Tanzania-based projects. Imeru could be producing gold in 18 months. An AIM admission document is expected to be published before the end of November and at least £1.2m will be raised at 6p a share. The Opera share price has slumped from 10p to 4.38p since it floated in April 2015. Two previous acquisitions have fallen through. It will be interesting to see whether Opera will change its name to Katoro Gold Mining.
Andrew Hore