Home » Posts tagged 'wch'
Tag Archives:
wch
NEX EXCHANGE
Proton Partners International Ltd (PPI) has asked Woodford Investment Management to subscribe for £25m worth of shares at 176p a share. This is part of an agreement with Woodford that was outlined in the prospectus and it comes at a time when the fund manager is coming under pressure for poor performance and it has closed redemptions from one of its funds. The cash will pay off a loan and provide working capital.
NQ Minerals (NQMI) is making a £155,000 investment in Tasmania Energy Metals and the two companies will evaluate whether they should develop an integrated facility for the treatment of metal concentrate. NQ also has an exclusivity period until the end of July during which to decide whether to acquire Tasmania's assets.
Sativa Investments (SATI) has signed an offtake agreement with a Swiss supplier of cannabis oil. This will be used to manufacture cannabidiol products.
AfriAg Global (AFRI) has invested £300,000 in Apollon Formularies for a 0.71% stake. Apollon plans to open a licenced retail medicinal cannabis dispensary and processing facility in Jamaica by the end of the month.
Newbury Racecourse (NYR) says that it is unlikely to return to paying dividends or return capital to shareholders before 2022 at the earliest. There is uncertainty about future revenue streams from fixed-odds betting terminals and how this could impact UK betting. It could reduce prize money levels. The onsite hotel has increased revenues by 15% so far this year.
Trading in shares of Equatorial Mining (EM.P) has been suspended ahead of publishing accounts. They should be published at the time of the general meeting to gain approval of the acquisition of Rwanda-based miner and explorer Eastinco. A £1.2m fundraising is also planned.
Altona Energy (ANR) has signed a memorandum of understanding with Shaanxi Qianyan Vanadium and Magnesium Mining, which owns a vanadium mine in China. The plan is to forma joint venture where Altona will be the controlling shareholder. Due diligence will take up to six months and there will be a JORC-compliant mineral resource classification report. The estimated reserve is 190,000 tonnes of vanadium.
Formation Group (FRM) has secured a £10m subscription at 7.71p a share through the acquisition of Zandra Holdings, whose asset is £10m in cash. This takes the Kennedy Private Trust stake in Formation to 89.99%. A £10m loan facility ahs also been secured.
The Little Bear mine area has been transferred to Panther Metals (PALM) and the Little Bear vein is a high priority drill target in order to see if the bonanza grade gold mineralisation still exists at depth. Panther has also applied for a licence over the Annaburroo gold project in Northern Territory, Australia.
Walls and Futures REIT (WAFR) has secured a £600,000 secured revolving credit facility and spent £465,000 on a bungalow in Didcot to be redeveloped into a home providing specialist support for four adults.
Valiant Investments (VALP) is raising £263,000 at 1.5p a share and it is changing its name to Eurocann International as an indication of the change in strategy to investment in the medicinal cannabis sector. Jeremy Rose will become chief executive and he has a number of directorships including of Speakeasy Cannabis.  Burns Singh Tennent-Bhohi will become a non-executive.
EcoVista (EVTP) had £419,000 in cash at the end of February 2019 and it is seeking further investment. The interim loss declined from £238,000 to £202,000. Net assets were £1.19m at the end of February 2019.
Share trading in Wishbone Gold (WSBN) has been suspended because it has not published its 2018 accounts.
AIM  
The smart machines division of Vianet (VNET) is going to be the source of profit growth for the coming years. Profit can be improved by converting the vending machines that came with the Vendman acquisition to Vianet's contactless technology, as well as winning new business. The smart zones pub dispensing technology division should be able to maintain its contribution with lower UK profit due to pub closures being offset by an improved performance in the US. Pre-tax profit is expected to improve from £2.7m to £2.9m, although earnings per share will be hit by a higher tax charge.
Interim revenues at smart home devices supplier LightwaveRF (LWRF) increased 120% to £2.5m, although there was still a pre-tax loss of £1.35m.  New distribution channels are helping to accelerate growth in revenues. The company could move into profit next year
Bad weather in the US has hampered the progress of Somero Enterprises (SOM) and led to forecast downgrades. Demand for concrete levelling equipment is normally stronger in the spring. This year's earnings have been cut by 12% and next year by 11%. This will also reduce the potential dividend. The forecast 2019 normal dividend plus payout of surplus cash has been cut from 27.8 cents a share to 19.8 cents a share.
Waste-to-energy technology developer EQTEC (EQT) is acquiring a 19.99% stake in North Fork Community Power, a biomass gasification power project in California. EQTEC will supply $2.5m worth of equipment from its Newry site in return for the stake. It also expects to generate €2.2m from selling additional equipment.
Microsaic Systems (MSYS) has signed a distribution agreement for the Microsaic 4500 MID MS detector with CM Corporation for the South Korean market.
A shareholder owning a 17.2% stake in Rurelec (RUR) intends to propose an AGM resolution for the appointment of Gordon Fisher as a director. He is a former boss of a freight forwarding and customs brokerage. The electricity generator reduced its pre-tax loss from £5.8m to £600,000 in 2018, mainly due to lower overheads, exchange gains and a disposal gain. NAV is 4.4p a share, which is more than four times the share price.
Driver (DRV) had already said that its interims would be disappointing and pre-tax profit slumped from £2.11m to £762,000. The Middle East and Asia Pacific were tough markets with lower contributions. The expert witness operations made a reduced contribution. A 0.5p a share interim dividend was announced, and the ex-dividend date is 19 September. The company is also buying back shares in order to put a floor under the share price.
Chemicals-focused shell Wilmcote Holdings (WCH) is in exclusive discussions with Arclin Inc for a potential acquisition. Trading in the shares has been suspended.
Acquisitions consultancy K3 Capital (K3C) has confirmed that trading is in line with previous guidance and EBITDA is at the upper end of the range of £4.5m to £5m. An 80% payout would mean a reduction in dividend from 11.2p a share to 7.2p a share.
Osirium Technologies (OSI) has won a contract with a European telecoms services provider. The three year contract covers cyber security software and services.
MAIN MARKET 
A strong first half has continued into the second half trading for automotive information publisher Haynes Publishing (HYNS) and pre-tax profit for the year to May 2019 is expected to exceed expectations by 10%. This suggests pre-tax profit of around £2m. The results will be announced on 12 September.
Caffyns (CFYN) reported a small improvement in underlying pre-tax profit to £1.45m in the year to March 2019. New car sales were 10% lower, which is more than three times the market decline. However, there was growth in used car sales and aftersales revenues.
Positive news from Argo Blockchain (ARB) where results for May were well ahead of the company's budgets. New cryptomining hardware has started contributing faster than expected and rising cryptocurrency prices have improved mining yields. A further £2.85m is being invested in equipment. There was £685,000 generated in May, based on a bitcoin price of $8,575, while cash operating costs were £280,000. Second quarter figures will be better than expected. If the bitcoin price is maintained, then there will be £2.85m of crypto assets at the end of the second quarter.
BigDish (DISH) has raised £2.1m at 7.2p a share and this should be enough cash for the restaurant platform until 2021. The UK rollout will be accelerated.
Pembridge Resources (PERE) is acquiring the Minto mine from Capstone Mining. Pembridge will pay up to $20m out of future cash flows. Commercial production could recommence before the end of the year. A $10m loan has been secured.
Symphony International Holdings (SIHL) has made an investment in Soothe Healthcare, which manufactures feminine hygiene products under the Paree and Pariz brands.
Andrew Hore
NEX EXCHANGE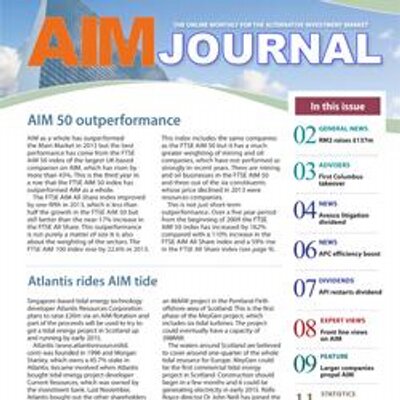 Good Energy (GOOD) has set the date for general meeting requisitioned by rival renewable electricity supplier Ecotricity, which wants Dale Vince and Simon Crowfoot to join the board. The general meeting will be held on 6 September. Good Energy still believes it would be unwise to have the representatives of its rival on the board.
Via Developments (VIA1) has paid a £412,500 non-refundable deposit on a residential development site in Latimer Road, Luton. Funding still has to be secured for the £8.25m purchase price.
Early Equity (EEQP) has taken a 4% stake in Malaysian multi-level marketing business Early Infinity, which has a distribution agreement with healthcare products supplier Yicom, where Early Equity owns 32.1%. The purchase was funded by the issue of 10 million Early Equity shares. The plan is for Early Equity to buy up to 30% of Early Infinity. Five million Early Equity shares have been issued at 0.6p each to raise £30,000.
Karoo Energy (KEP) has published the competent persons report on the Kalahari Karoo basin shale gas play. There is insufficient data to estimate shale gas or quantify the associated risk. The Lower Ecca shales are broadly correlatable with the source rocks in the broader basin. The low, unrisked estimate of gas initially in place (GIIP) is 310 bscf and Karoo has a 93.475% working interest. The advice is that further exploration is required to improve the understanding of maturity trends and confirm the depths of the Lower Ecca shale.
Lombard Capital (LCAP) has issued a further £55,000 of 7.5% convertible unsecured loan notes 2018, taking the total to £100,000. The conversion price is 10p a share and there are ten warrants for each £1 loan note exercisable at the same share price. There is planning permission for 200 apartments.
Clinigen (CLIN) has approached Quantum Pharma (QP.) about a proposed cash and shares offer. Due diligence has to be undertaken before there is a firm bid. Clinigen is taking advantage of the work that Quantum management has done in selling non-core operations and improving the performance of the rest of the business. Quantum says the interim figures will be brought forward to 22 August.
DX (Group) (DX.) has ended discussions with John Menzies over the merger with its distribution division because suitable terms could not be agreed. There had already been a change in the proposals but this was not enough to make the deal go through. This will mean that DX requires to raise additional funds. The four people that Gatemore Capital wanted to be appointed to the board when it requisitioned a general meeting, later withdrawn, are being proposed as directors and Bob Holt will be leaving the board. Trading in the shares remains suspended.
Oozi Cats has been kicked off the board of Telit Communications (TCM) after it turned out that he withheld information about an indictment against him in the US when the company floated 12 years ago. There have been fears about the cash position of the business but the directors' have tried to reassure investors. Telit plans to appoint three UK-based non-executive directors.
Tracsis (TRCS) has reassured investors that it should hit market expectations for 2016-17. This means that pre-tax profit will be better than the £6.9m reported in the previous year. Tracsis had warned that the second half would have to be strong in order to make the forecast and this has happened. There was £15m in the bank at the end of July 2017. A reorganisation of the traffic and data services division should improve margins this year. The full year results will be reported in November.
IDOX (IDOX) is acquiring electoral back office software provider Halarose for £3.5m in cash and £1.5m in shares. This will boost the market share of IDOX in the UK elections market and there should also be cost savings.
Wilmcote Holdings (WCH) is the latest shell backed by Marwyn to join AIM. The £15m raised will be used to seek significant acquisitions in the chemicals sector. The share price rose from 120p to 132.5p. Former Synthomer boss Adrian Whitfield is chief executive.
Market research firm System1 Group (SYS1) stunned the market with a profit warning that sent its shares down nearly one-third. The former BrainJuicer announced at its AGM that the lack of a repeat of a large contract last year means that gross profit could be up to 11% lower in the first half of this year. On top of this costs are rising. The interim figures are likely to show breakeven compared with a £2.8m profit in the first half of the previous year. Full year pre-tax profit could fall by up to 15% from last year's level of £6.3m.
Bushveld Minerals Ltd (BMN) says that a study carried out in conjunction with the Industrial Development Corporation shows strong vanadium redox flow battery technology in Africa with the market peaking by 2025-2030. Global electrolyte demand is likely to peak at the same time at 1200-1800 MWh. There is potential for Bushveld to supply 200MWh of storage per annum and a study is being undertaken for a potential vanadium electrolyte production plant in South Africa. Vanadium mining and related battery technology is the focus for Bushveld. There was a small net cash position at the end of February 2017.
Malvern International (MLVN) reported a reduction in interim loss from £460,000 to £395,000 as revenues slumped from £2.07m to £1.65m. Malaysian revenues fell but operating costs were reduced. There is £360,000 in the bank. The loss in Singapore has been reduced and that was before EduTrust certification, which is required to enrol international students, was reinstated. There has been year-on-year growth of 17% in London revenues and the loss was sharply reduced. House broker WH Ireland is not publishing forecasts at the moment.
Pawnbroker H&T Group (HAT) reported a 62% increase in first half pre-tax profit to £6.2m and the interim dividend was raised by 10%. H&T has been compared with Ramsden (RFX) but the mix of operations and revenues is very different.
Connemara Mining (CON) has raised £200,000 via a placing at 1.75p a share and each new share has a warrant to subscribe for an additional share at 3.42p each. Patrick Cullen has been appointed as chief executive of the gold and zinc explorer.
Red Leopard Holdings (RLH) is in talks to acquire a coal project in Colombia. Red Leopard will have to issue shares with a minimum valued of $180m in order to acquire the La Luna project. Trading in the shares is suspended.
MAIN MARKETS
Stem cell services and insurance provider WideCells Group (WDC) has raised £750,000 at 14p a share and the cash will be used to finance growth in the three operating divisions. Positive news has helped to boost the share price over the past two months. This includes the granting of a research licence by the UK Human Tissue Authority. The CellPlan insurance product is on sale and a digital platform is being developed for the educational division, WideAcademy.
Myanmar Strategic Holdings Ltd (SHWE) has raised $423,000 at $10 a share, while $3.9m of loan notes have been converted into shares. The focus is on hospitality and education sectors. The company already operates three hostels in Myanmar and it has acquired the rights from Pearson to open English language centres. Last year, revenues were $330,000 and the loss was $2.38m. Dealings are due to commence on 22 August.
Pembridge Resources (PERE) is set to move from AIM to the standard list on 21 August. It has raised £2.27m at 1.6p a share. The move will provide more time for Pembridge to build up a portfolio of mining investments without worrying about doing this within the timescale required on AIM.
Quarto (QRT) has ended bid negotiations with an unnamed bidder less than a fortnight after revealing the talks. One of the stumbling blocks was the regulatory approval required by the bidder and the book publisher's management did not want to be distracted from trading by a bid that could take a long time to come to fruition. This is despite the fact that the bid proposal was at an attractive premium.
Bluebird Merchant Ventures (BMV) has located the three historic entry points to the Gubong gold mine in South Korea. This will enable access to five of the veins that were previously mined when the gold price was much lower.
Andrew Hore