Home » Posts tagged 'dsg'
Tag Archives:
dsg
NEX EXCHANGE   
Medicinal cannabis business investor Sativa Investments (SATI) has raised £500,000 from Miton Investment Management at 4p a share. Demand for the shares remains strong. Executive director Mark Blower has sold one million shares at 4p a share, having exercised options for the same number at 0.5p each, and Non-executive Noel Lyons has sold 500,000 at 4.25p each, having exercised 500,000 options at 0.5p each. Sativa joined NEX on 29 March after raising £1.1m at 1p a share. The share price had already reached 3.125p by the end of the first week. Sativa has founded the Sativa Foundation to fund academic research into medicinal cannabis.
AfriAg Global (AFRI) intends to change its investing policy so that it includes medicinal cannabis opportunities. A medical advisory board will be appointed and they will carry out due diligence on the opportunities. AfriAg (Pty) Ltd previously had the right to take a 60% stake in House of Hemp but this deal was terminated when the South African government delayed setting up the legal framework for medicinal cannabis.
High Growth Capital (HASH) joined NEX on 25 June and it plans to become a UK, Canada and Australia-focused medicinal cannabis products index tracker and investor. This will be achieved by giving direct exposure to medicinal cannabis-related companies. The strategy is to acquire up to 10% of an individual company or £150,000 in value, depending on which is the lower amount.
Tectonic Gold (TTAU), which was quoted on AIM as Stratmin until August 2017, also joined NEX on 25 June. Tectonic has gold exploration interests in Queensland, Australia. Tectonic raised £530,000 at 2p a share and then issued another 30.8 million shares to the one of the shareholders in the exploration assets that have been acquired and to advisers.
Capital for Colleagues (CFCP) had a NAV of 41.73p a share at the end of May 2018. There are 18 investments in unquoted employee-owned businesses valued at £5.82m. The most recent was a £600,000 loan to Poole-based aerospace components manufacturer TG Engineering.
Clean Invest Africa (CIA) still had £501,000 in cash at the end of March 2018, following its maiden £372,000 investment in CoalTech, which is involved in cleaning up the waste from coal mining. The technology that has been developed enables coal fines that have little or no worth to be converted into pellets, using a binding technique, to make them a commercial product.
There was a £93,000 cash outflow from the operating activities of investment company Startup Giants (SUG) in the year to January 2018. There was £686,000 in cash and £40,000 worth of investments on the balance sheet. There are plans to add up to 25 more investments.
VI Mining (VIM) says that the seller of the Ximenita de Casma project has cancelled the option over the three mining concessions and it has also exercised its charge over the company that owns the processing plant. VI Mining had held back payment of consideration because of claims for breach of warranty. Legal proceedings will be initiated.
AIM    
Legal firms consolidator Gordon Dadds (GOR) grew revenues by one-quarter to £31.2m last year even though there were minimal contributions from some of the legal firms it acquired. Pre-tax profit was 23% higher at £2.96m. This is a highly cash generative business. The dividend of 4p a share reflects that the company was not quoted for a full 12 months.
IMImobile (IMO) continues to grow organically as well as by acquisition. Full year revenues were 46% higher at £111.4m and that includes organic growth of 7%. Pre-tax profit improved from £9m to £10.1m. The communications connections technology provider has 85% recurring revenues. The main markets are growing well but progress was held back in South Africa by the political situation and since this has been sorted out that market has returned to growth.
Following a cautious AGM statement by Dillistone (DSG), WH Ireland has trimmed its forecasts and that means that the recruitment software provider is expected to breakeven this year, while the 2019 pre-tax profit has been cut from £540,000 to £200,000. Software revenues have been hit by the loss of a major client and the GatedTalent product is taking longer to build up revenues.
SaaS-based app distribution platform developer appScatter (APPS) has revised the terms for its acquisition of Priori Data. The company is still paying £13.5m in cash and shares for data analysis business but more will be funded by shares. This means that only £1.6m has to be raised in a placing at 70p a share.
Transport group Eddie Stobart (ESL) is acquiring The Pallet Network Group for £52.8m, which will be partly financed by a £30m placing at 140p a share. The network comprises 106 regional transport companies and three central hubs.
Action Hotels (AHCG) has agreed a possible cash offer of 24p a share from its major shareholder. Due diligence is being undertaken.  After the company was floated by Sanlam Securities at 64p a share in December 2013, there have been four changes of nominated adviser and broker.
EQTEC (EQT) is on course to raise £2m in cash to pay off the unpopular financing package it previously secured. That deal has hit the share price but EQTEC is making progress with potential projects for its gasification technology. At least one project should reach the construction stage before the end of year to June 2019. That could either be a project in the UK or a 12MWe power plant in Vietnam, which could utilise equipment that was going to be used on the project in Newry, which is no longer going ahead. This will mean that milestone payments will be received throughout the construction.
Omega Diagnostics (ODX) has sold its infectious diseases assets to Novacyt (NCYT) although it is retaining the Visitect CD4 test. The disposal will raise up to £2.175m and these assets generated a profit before overheads of £300,000 in the past financial year. The book value was £600,000. Omega will provide manufacturing and storage services for 12 months. The cash will be invested in the Visitect CD4 test, Allersys and realising the value of the food intolerance business.
TechFinancials Inc (TECH) reported a 37% reduction in revenues in 2017 to $13.4m with software licensing revenues more than halving. Overheads were reduced but pre-tax profit still slumped from $4.05m to $116,000, although that was partly due to a $1.5m asset impairment charge. There was $3.5m in the bank.
Windar Photonics (WPHO) has signed a global distribution agreement with Vestas Wind Systems, which will sell the two beam light detection and ranging LiDAR system as a retro-fit product. The deal could provide access to around 14% of global installed capacity. This should help Windar to move into profit this year and make a significant profit in 2019.
CEPS (CEPS) has raised £1.33m at 35p a share and this will finance the repayment of a £1m loan plus interest. Sunline Direct Mail, which is 80%-owned, has been placed in administration and CEPS is unlikely to receive anything. Group trading is also slightly below expectations.
MAIN MARKET    
Standard list shell Chesterfield Resources (CHF) has agreed to acquire Cyprus-registered HKP Exploration Ltd, which has seven prospecting permits covering three project areas on the island. The focus is copper and gold. At least £1.1m will be spent on exploration and drilling. A placing and subscription at 7.5p a share will raise £2m and each share comes with a warrant exercisable at 15p each. HKP is being acquired for 6.67 million shares at the same price. The original placing price last August was 5p a share.
Highland Natural Resources (HNR) has applied to acquire leases over 46,000 acres in Arizona, which management believes could produce commercial volumes of carbon dioxide.
Andrew Hore
NEX EXCHANGE   
Western Selection (WESP) maintained its NAV at 95p a share at the end of the six month period of December 2017. Net debt was £1.13m. A sharp upturn in the value of the stake in Bilby (BILB) and offset declines in other investments. The interim dividend is unchanged at 1.1p a share. The shares go ex-dividend on 8 March.
Gledhow Investments (GDH) has granted six million options to its directors and company secretary. Guy Miller and Brett Miller will receive 2.5 million options each and Geoffrey Melamet receives 1 million. The exercise price is 1p a share. They last for five years and would equate to 10.9% of the enlarged share capital if taken up. The current share price is 1p (0.75p/1.25p). Gledhow had a NAV of £714,452 at the end of September 2017, which is equivalent to 1.45p a share. Since the year end, a gain of £115,000 was achieved on the sale of Coinsilium shares and Gledhow retains a significant stake which in Coinsilium, where the share price is more than three times the level at the end of September 2017. That could add more than £100,000 to the Gledhow NAV but the Coinsilium share price is volatile. Directors and company secretary remuneration was £21,514 last year. There are 4.9 million warrants exercisable at 1.5p each but these expire on 6 March 2017. Bruce Rowan and related parties own 83.37% of the current share capital.
IMC Exploration (IMCP) is continuing with its plans to move to the standard list. IMC has signed heads of agreement with Trove Metals Ltd and this should lead to a joint venture for the project at Avoca, County Wicklow. The current Koza/IMC joint venture has been set aside. IMC has decided to focus on the 12 most prospective of its 15 licences.
Crossword Cybersecurity (CCS) says that its revenues more than doubled to more than £700,000 in 2017. There is customer interest in the Rizikon cyber security product and the General Data Protection Regulations will provide momentum when they come into force in May. Full year figures should be published by the end of April.
Sandal (SAND) says that radiators supplier Pitacs will be a distributor of the Energie MiHome range. Pitacs is launching a new boiler in April and the Energie MiHome thermostats and radiator valves can be sold with this. Pitacs supplies more than 2,000 independent plumbers' merchants as well as Plumb Nation.
Angelfish Investments (ANGP) says that its investee company Rapid Nutrition plans to gain a quotation in London. Rapid, which is already quoted on the SIX Swiss Exchange, has developed a nutraceutical product range. One of the terms of the £150,000 loan to Rapid was that it should be admitted to the London market by the end of February but this date has been extended to the end of April because of delays in the flotation process. If admission to the market happens by 1 March, then the principal and interest will convert into Rapid shares. If it takes longer than the interest after the end of February is payable in cash.
BWA Group (BWAP) has issued £220,000 of 4% convertible loan notes, with £120,000 taken up by Bath Group, which is owned by BWA chairman Richard Battersby. Bath has taken £70,000 of the loan notes in lieu of cash owed by BWA investee company Mineralfields Group.
Trevor Lloyd has succeeded Philip Kirkham as chairman of National Milk Records (NMR).
Kryptonite 1 (KR1) has changed its name to KR1.
AIM    
Shield Therapeutics (STX) disappointed the market with phase III patient trial results for the use of Feraccru in the treatment of iron deficiency anaemia in patients with chronic kidney disease that did not meet statistical significance requirements. The results are being analysed in order to identify the reason the trial failed. The share price fell by two-thirds.
Diversified Gas and Oil (DGOC) expects to complete the acquisition of Appalachian producing gas and oil assets from CNX Gas by the end of March. This will cost $85m (£59.9m), while the acquisition of Alliance Petroleum will cost a further $95m (£66.9m). A placing at 80p a share has raised £133.1m. The group's net working interest production will increase by 173% to 28,133 boed. Management expects annualised EBITDA to be $70m-$75m.
OnTheMarket (OTMP) joined AIM on 9 February having raised £30m at 165p a share. The share price ended the day at 148p. The online property portal operator will make significant investment in its business over the next two years and this will lead it to fall into loss for a couple of years.
Draper Esprit (GROW) has made three new investments. Evonetix is developing the ability for parallel synthesis of DNA on silicon arrays. Droplet Computing has developed technology to decouple applications from the operating system for online and offline use. Kaptivo is developing products to provide whiteboard live streaming and image capture.
Seeing Machines (SEE) has published a trading statement to try to reassure investors following the unexpected departure of its chief executive. Interim revenues will be greater than the A$13.6m reported for last year. The fleet business is gaining revenues internationally. There is growing interest in the driver fatigue technology from Transport for London.
Recruitment software provider Dillistone (DSG) says that its 2017 figures will be much better than expected. This led to a pre-tax profit upgrade from £200,000 to £300,000. This is still a depressed figure due to the investment in GatedTalent and the future of the business depends on the take-up of this new product.
Engineering and technology recruiter Gattaca (GATC) says that weakness in the technology sector will hold back its progress and its chief executive has resigned. Underlying pre-tax profit is set to decline for a second year while the dividend could be halved to 11.5p a share in order for its to be twice covered.
Trading in the shares of BOS Global Holdings (BOS) remains suspended because of the resignation of RFC Ambrian as nominated adviser. BOS still does not have enough working capital so it cannot publish its 2016-17 annual report because the uncertainty over the AIM quotation scuppered a £1.2m placing.
Trading in Kennedy Ventures (KENV) shares will recommence on 12 February following the publication of its annual report. There was a cash outflow of £2.76m in the year to June 2017. The Namibia Tantalite Investment Mine run by African Tantalum has made its fourth shipment of tantalum to its North American customer and there are two more potential customers.
Croma Security Solutions (CSSG) says its first half figures will be much better than those reported for the first half of last year. The EBITDA will improve from £440,000 to more than £1.1m. The company's largest ever contract was won at the end of the period. There has been an increase in demand for personnel from Croma Vigilant and it has won a five year contract. There is also improved demand for technology supplied by Croma Systems. The interims will be published in February.
BNN Technology (BNN) will lose its AIM quotation on 12 February. A matched bargain facility will be set up. The remaining board hopes to do at least one deal with the two US-listed companies it is in discussions with concerning the acquisition of all or most of BNN's business.
Strategic Minerals (SML) has extended its access to the Cobre magnetite stockpile in New Mexico until the end of March 2019. This will provide cash to finance other projects.
Origo Partners (OPP) has sold 4.7% of Jinan Heng Yu Environmental Protection Co Ltd for the equivalent of $3m. This is in line with book value but it may take many months for the cash to be received. Origo retains a 7.2% indirect stake. The Origo NAV was $0.09 a share at the end of June 2017.
Alba Mineral Resources (ALBA) has secured additional exploration licences in Greenland. The 466 square km of land is in north west Greenland. Exploration work can be combined with existing licence areas.
Mercantile Ports and Logistics (MPL) says its port in Mumbai will receive its first revenues in a few weeks, following delays in the first customer sorting out its logistics. A further 200 metres is being added to the quay on the east flank of the facility.
Physiomics (PYC) has won a £70,000 contract from a major pharma company. The company's Virtual Tumour computer model will be used for helping to predict outcomes in pre-clinical testing.
Warpaint London (W7L) says its 2017 results will be in line with expectations suggesting a pre-tax profit of £9.8m and a total dividend of 4p a share.
Polarean Imaging has relaunched plans to come to AIM. It had planned to float at the end of 2017 and the new proposed date is 22 February.
Fryer management services provider Filta Group Holdings (FLTA) says its 2017 revenues were 30% higher at £13.25m. The sale of the refrigeration business should increase the group margin.
TechFinancials Inc (TECH) has pulled out of the sale of non-core operations because the buyer had still not obtained regulatory approval.
MAIN MARKET    
Cadmium-free quantum dots producer Nanoco (NANO) has secured a material development and supply agreement with a major US firm that will provide funding to expand Nanoco's manufacturing site in Runcorn. The deal covers the production of nano-particles for electronic devices. Commercial supply should commence in 2019.
Dukemount Capital (DKE) has secured a two month extension to its option on a property in north west England while talks with a housing association continue. Plans for the refurbishment of the building will be presented to the housing association. Gary Carp has increased his stake from below 3% to 5% in the past fortnight.
Flying Brands Ltd (FBDU) is negotiating to buy a North American medical imaging software developer, which owns FDA-approved medical imaging software that fits well with Flying Brands; own software. The cost of £500,000 would mainly be financed through a share issue.
Avocet Mining (AVM) has completed the sale of Resolute (West Africa) for $5m.
Path Investments (PATH) is still intending to raise cash and move to AIM in the first quarter of 2018. The farm-in deal to acquire 50% of Alfeld-Elze II licence and gas field in Germany is expected to go ahead in the near future.
Chuk Kin Lau has increased his stake in book publisher Quarto Group (QRT) from 20% to 25.6%. Cavendish Asset Management nearly halved its stake to 3.69%.
Andrew Hore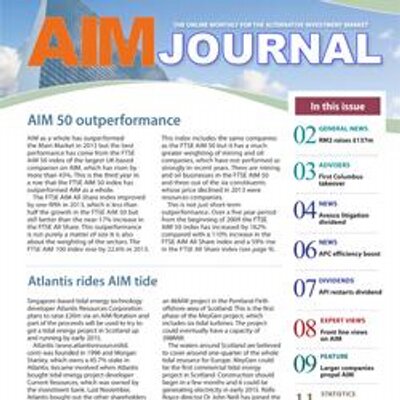 NEX EXCHANGE
Newbury Racecourse (NYR) reported a slightly lower interim operating loss of £268,000 on revenues 10% higher at £7.04m. More racedays helped the racing operations but there were fewer other events which offset that. The nursery business made a much better contribution. Investment in the racecourse continues and income from residential property development of £1.95m helped to fund this. NAV is £44.1m.
Interim revenues were 22% ahead at £4.98m at Chapel Down (CDGP) helped by a 29% increase in wine sales. Management has reassured investors that there was a good harvest in 2017, which will help to improve wine revenues. The Curious Beer brewery is about to commence construction at Ashford.
St Mark Homes (SMAP) has launched a crowdfunding offer via Crowdstacker to raise up to £2m from a bond offering interest at 6% a year. The bonds can be held in ISAs. The cash will finance residential developments, which will predominantly focus on the government's Help-to-Buy scheme. The company's NAV per share was 136p at the end of the interim stage.
Block Energy (BLOK) is acquiring the 31% interest in the Norio field in the Republic of Georgia that it does not own and becoming operator of the field. The deal also includes 90% of the Satskhenisi field. The cost is $310,000 in cash. This is classed as a reverse takeover and trading in Block shares is suspended. An assessment of the reserve potential of the oil and gas assets in Georgia ahead of a return to NEX and a dual quotation on AIM.
V22 (V22O) increased its NAV from 1.55p a share to 3.94p a share in the 12 months to June 2017. That includes £235,000 of cash. If the art portfolio is included at its revalued level then the NAV goes up to 7.47p a share. An uplift in the value of the property portfolio offset an operating loss.
Investment company Western Selection (WESP) made a 2016-17 profit of £850,000 and nearly all of this came from the gain on the sale of shares in Swallowfield. Dividend income fell because Northbridge Industrial did not pay a dividend last year. NAV was one-fifth higher at 95p a share. The stake in Bilby was increased during the period. The total dividend has been raised from 2.1p a share to 2.2p a share.
Coinsilium Group Ltd (COIN) lost money in the first half of 2017 but it expects token investments to generate near-term revenues. There was £344,000 left in the bank at the end of June 2017 and this has subsequently been boosted by the sale of the shareholding in SatoshiPay. Coinsilium's NAV is £2.34m.
Chris Bateman has resigned as chief executive of Forbes Ventures (FOR) after the sale of £500,000 of loan notes in Primus Care to his company Gravity Investment Group. Gravity has handed back 1166.7 million shares in Forbes, which have been cancelled. Gravity still owns 49.7% of Forbes, which still owns stakes in K&C REIT and challenger bank Civilised Investments. Trading in Forbes shares remains suspended ahead of the raising of further cash.
Ace Liberty & Stone (ALSP) has purchased Princes House, Barnstaple, which generates annual rent of £190,000, for £2.325m and College Square Margate, generating annual rent of £630,000, for £8.3m. Disposals of residential properties have raised £3.25m. Ace has raised £500,000 at 71.25p a share.
BWA Group (BWAP) had two investments and £17,000 in the bank at the end of April 2017. Pre-paid cards provider Prego Investments has taken longer to build up its business than expected. Mineralfields Group is in the process of obtaining mining licences in Cameroon.
Trading has commenced in Doriemus (DOR) shares on the ASX. A$3.5m was raised at A$0.26 per share equivalent. The cash will be used to complete drilling on the Lidsey and Brockham oil fields in the UK
Healthcare IT provider DXS International (DXSP) says that growth has been held back by changes in the NHS and the benefits of recent development spending are not likely to show through until 2018-19. In the year to April 2017, revenues were 5% higher at £3.43m but pre-tax profit fell from £46,000 to £39,000. There was £166,000 in the bank at the end of April 2017.
IMC Exploration Group (IMCP) has commenced its drilling programme on the zinc licence in south west Ireland. The licence in County Clare is near to other licences where mining companies have achieved encouraging results.
Angelfish Investments (ANGP) is providing a £150,000 loan facility to healthcare company Rapid Nutrition. The interest rate is 10% a year until the end of February 2018 when it rises to 15% a year. If Rapid Nutrition floats before the end of February 2018 the loan is convertible at 13.32p a share. The loan remains convertible after that but it also becomes repayable in instalments over 18 months. Angelfish is still seeking to recover transaction costs related the repaid investment in 4Navitas.
Crossword Cybersecurity (CCS) has licenced blockchain intellectual property to defence-focused ByzGen, which has just raised £500,000 from Regulatory Financial Services Ltd.
NQ Minerals (NQMI) has raised £782,000 at 8.5p a share and paid £400,000 of expenses via a share issue at 10p a share.
Via Developments (VIA1) has raised a further £215,000 from a debenture issue that takes the total value of debentures in issue to £5.11m.
Gunsynd (GUN) has invested £160,000 in a 3.01% stake in standard listed United Oil & Gas. The average cost was 2.7p a share. United has an onshore UK licence and an Italian onshore licence.
AIM
Premier African Minerals (PREM) is raising up to £3.5m at 0.3p a share with the help of PrimaryBid.com. The cash will go towards funding the underground development of the RHA tungsten mine and repaying and cancellation of the YA II loan agreement and D-Beta equity swap.
AP Systems Holdings says that it is considering a bid for RedstoneConnect (REDS). The underlying business of AP has been going since 1985 but AP Systems Holdings is a couple of years old and has only published accounts as a dormant company. The share capital was recently increased followed by a sub division of the shares. It appears that David Anderson still owns 100% of the group.
ITM Power (ITM) is raising £25m via a placing at 40p a share plus up to £4.4m from an open offer at the same price. ITM has £20m of projects under contract and £17m under negotiation. The cash will help to service these projects and finance the winning of additional contracts. The open offer closes on 17 October.
Recruitment software provider Dillistone (DSG) is launching its new software product and this has held back performance in the first half of 2017. The full benefits of the GatedTalent, which enables executives to share their personal information with recruitment consultants on a confidential basis, will not be seen for more than a year. House broker WH Ireland believes that full year profit could fall to £200,000 and it expects the 2018 profit to be flat. Profit is then expected to more than double I 2019 but the exact pace of take u of GatedTalent will be a significant factor in how quickly profit recovers.
Photonstar LED (PSL) significantly reduced its first half costs so even though revenues fell from £2.53m to £2.26m the interim loss decreased from £914,000 to £604,000. Research and development of the new LED systems range is almost complete and the second half sales should be better.
Full year figures from Real Good Food (RGD) show a slump into loss while net debt increased to £16.2m at the end of March 2017. There has been a subsequent refinancing and corporate governance is being improved.
MAIN MARKET
Curzon Energy (CZN) is joining the standard list following the acquisition of coalbed methane licences in Oregon. Curzon believes that gas could be produced before the end of the year. Curzon is raising £2.3m and this will be used to connect five existing wells to a pipeline and drill two more wells. The average cost is $350,000 per well.
Papillon Holdings (PPHP) had £9,000 left in the bank at the end of June 2017 following the costs of the abortive acquisition of Myclubbetting. Papillon has agreed heads of terms to acquire Phestor and Greenway Activated Carbon, which are involved in ultra-supercapacitor development for energy storage and supply of active carbon produced from biomass.
Associated British Engineering (ASBE) says that the level of enquiries for its products are increasing.
Andrew Hore