Home » Posts tagged 'BLU'
Tag Archives:
BLU
NEX EXCHANGE
Third quarter trading at Arbuthnot Banking (ARBB) shows a one-third increase in loans to £1.6bn, while deposits are 17% ahead at £2bn. Impairments are rising, though. The private bank is adding 40 new clients each month.
Although Vox Markets has called off merger discussions with PCG Entertainment (PCGE) the latter's shareholders will have preferential rights to participate in the flotation of Vox. Shareholders have to be on the register on 11 October to benefit. PCG has released any claims it may have against Vox, although Vox has the right to sue Align Research, the third party in the merger plans. PCG says nothing negative was found about Align in due diligence. First Sentinel has resigned as corporate adviser to PCG and trading in the shares has been suspended.
Good Energy (GOOD) has launched One Point to offer electric vehicle charging. The company has also been awarded he green classification and mark.
The Home Office has awarded Sativa Group (SATI) a controlled drug licence to grow medicinal cannabis. This covers cannabis with a THC content of greater than 0.2%. Sativa already has a low-THC industrial hemp licence.
AfriAg Global (AFRI) says that its investee company Apollon Formularies has received its third medical cannabis licence in Jamaica. This is for experimental research and development.
World Health Life (LIFE) has completed the acquisition of Love Hemp and a £2m convertible debenture fundraising. A second tranche of debentures should be issued in the next few weeks. Love Hemp has product distribution agreements with supermarkets and health food stores.
Triple Point Investment Management is providing a £20m loan facility for Rutherford Health (RUTH) and this will be drawn down in phases. The loan terms improve as patient numbers increase at the three proton beam therapy centres.
Tectonic Gold (TTAU) has received the first quarterly interest payment from Silverstream. The 12-month note matures in August 2020.
Primorus Investments (PRIM) will consolidate 20 shares into one new share and trading will commence on 22 October.
Secured Property Development (SPD) had £537,000 in the bank at the end of June 2019, but it is finding it difficult to find a suitable acquisition.
AIM
Immunodiagnostic Systems Holdings (IDH) is as consistent as ever. It has published a trading statement related to its interims at 4.35pm on Friday. The 2018-19 trading update was published at 4.35pm on Thursday 18 April – the last day before a long weekend. There was no particular reason to hide the latest statement. First half revenues were flat compared with a first quarter decline of 2%. Cash fell £300,000 to £28.1m over a three-month period.
Murgitroyd (MUR) is recommending a 675p a share bid from a company set up by Sovereign Capital Partners LLP. This values the patent and trademark attorney at £62.8m. Murgitroyd joined AIM 18 years ago at 121p a share and has been a consistent dividend payer.
Fully listed logistic services provider Wincanton (WIN) is considering a bid for Eddie Stobart Logistics (ESL) and DBAY Advisers is also still assessing whether to bid.
Disinfection products supplier Tristel (TSTL) plans to grow its revenues by up to 15% a year in each of the next three years. This follows an 18% increase to £26m in the year to June 2019, while pre-tax profit grew by one-fifth to £5.6m. The dividend was 21% higher at 5.54p a share. International markets account for 55% of revenues. Tristel is waiting for a response from the FDA, which should be forthcoming by the end of 2019.
Power projects developer Kibo Mining (KIBO) has raised £1.99m at 0.45p a share. This will be used to fund the development of power generation projects in Africa. The portfolio includes 1,055MW of power generation capacity with 355MW having heads of terms power purchase agreements. Each new share comes with a warrant exercisable at 0.8p a share.
Filtronic (FTC) has agreed to pay a warranty claim of $2m (£1.6m) and change a faulty component in antennas supplied in 2016-17. The fault relates to certain bandwidths in hot countries. The cash is payable in four instalments up until December 2020. On 23 October, Filtronic is set to report sales from continuing activities of £15.9m, down from £21.6m, and a small positive EBITDA. Filtronic has already received more than £10m of orders for its 5G backhaul transceivers due for delivery in 2019-20.
Woodford Investment Management has cut its stake in GYG (GYG) from 19.98% to less than 5%. That appears to have been a relief to the market because the share price of yacht painting services provider has recovered since the disposal. UBS has taken a 11.2% stake.
Kestrel Partners continues to build its stake in Pebble Beach Systems (PEB), taking its stake from 25% to 26.1%. Kestrel owns 23 million shares in Brady (BRY) and, even if it makes a loss, it will be having a cash inflow. Hanover Acquisitions is offering 10p a share for the risk management software company, which values it at £8.3m.
Construction consultancy services provider Driver (DRV) says it will report underlying pre-tax profit of £3m for the full year, after £400,000 of rationalisation costs. That represents a strong performance in the second half. Net cash was £5m at the year-end, after share buy backs.
Frontier IP (FIPP) has taken a 43% stake in Elute Intelligence Holdings, which is developing software to search complex documents and detect plagiarism. Frontier IP is providing some of its own IP to an existing business to form Elute with the rest of the stake coming from providing services to the company.
Blue Star Capital (BLU) is raising £900,000 at 0.1p a share and the cash will be equally split between six investments in esports companies.
Power transmission products manufacturer Renold (RNO) says that cost savings are offsetting a downturn in trading. It is still on track to report an underlying full year pre-tax profit improving from £10.1m to £10.4m. Order intake remains weak.
Rose Petroleum (ROSE) has announced a restructuring of the Paradox project. This will enable the oil and gas company to focus on the most prospective acreage.
MAIN MARKET
Quantum dots developer Nanoco (NANO) still has a cash buffer so that it can find a new manufacturing partner to replace the US one that has withdrawn from an agreement. There could still be net cash of £1.5m at the end of July 2020.
Zenith Energy (ZEN) is planning to raise cash at NOK0.35/share in Norway. That is equivalent to 2.95p/share, compared with a market price of 3.5p. The Azerbaijan-focused oil and gas company has a drilling rig that will be mobilised before the end of the month and well M-247 has been identified as a target. It was previously in production. Zenith has identified wells in the Muradkhani oilfield in which perforations of untapped intervals can generate additional production. This will happen in the next fortnight.
OTHER MARKETS
Former AIM company Getmapping has launched a strategic review and a formal sales process. Management of the believes that the geospatial services provider could grow faster with additional investment. A company taking a minority stake is another alternative. The process should be completed by the end of 2019. The shares are traded on the Britdaq matched bargains market.
Vienna-listed Fashion On Screen is moving into theatre by acquiring musicals producer Shaftesbury Avenue. The all-share purchase is valued at £2.5m. Fashion On Screen believes that some of the musicals could become film productions.
Andrew Hore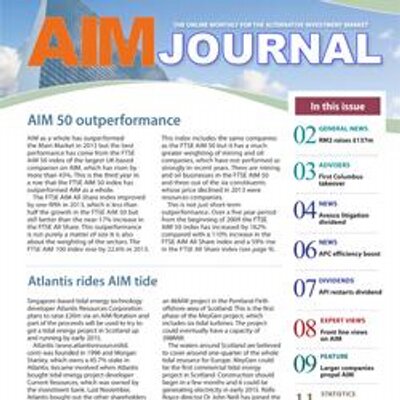 NEX EXCHANGE
Coinsilium Group Ltd (COIN) has sold its remaining stake in nanopayments software and blockchain company SatoshiPay to AIM-quoted Blue Star Capital (BLU) for €725,000 (£650,000), which has been raised through a placing at 0.2p a share. Blue Star Capital owns 31.1% of SatoshiPay. Blue Star Capital has granted Coinsilium 85 million warrants, of which 42.5 million are exercisable at 0.6p and 42.5 million at 0.8p. Coinsilium has made a gain of 362.6% on its initial SatoshiPay investment in less than two years, even before any longer-term upside from the warrants.
Via Developments (VIA1) has secured an exclusivity agreement to acquire land in Luton, Bedfordshire for £8.25m. The residential development site has planning permission for 200 apartments. A non-refundable deposit of £50,000 has been paid.
Capital for Colleagues (CFCP) has invested £400,000 in Employee Owners Group Ltd, whose main business is timber frame buildings supplier Carpenter Oak, in return for a 30% stake. The cash will be used to grow the business which currently supplies around 90 frames a year.
First Sentinel (FSEN) has raised £700,000 at 11p a share and made three investments, including £35,000 at 7p a share in fellow NEX-quoted company Milamber Ventures (MLVP). The two firms are already working on an investor event at the Century Club, Shaftesbury Avenue in London on 11 July. First Sentinel plans to sell the Milamber shares in the market. First Sentinel has also invested $300,000 in a 13%, one year loan note for Red Rock Resources (RRR) with two year warrants exercisable at 2.2p a share, compared with a market price of 0.75p. The third investment is in newly floated AIM copper mining company Phoenix Global Mining (PGM), where First Sentinel invested £81,000 at the placing price of 4p a share.
Blockchain investments company Kryptonite 1 (KR1) has raised £750,000 at 2p a share. Chinese medicines firm MiLOC Group Ltd (ML.P) has raised £99,000 at 28.5p a share.
AIM
Premier Technical Services Group (PTSG) is acquiring Brooke Edge Industrial Chimneys Ltd for an initial £14m, plus £1m in acquisition costs, and the building services provider has raised £15m in a placing at 120p a share. There is deferred consideration of £6m payable in three yearly instalments, which fits with the owners staying on with the business for at least three years. The acquisition made a profit of £2.1m on revenues of £10.6m last year. This consolidates Premier's position in lightning protection services, while specialist earthing and surge protection will be added to the group's range of services. Although the acquired business has similar margins to Premier, it has lower margins than the same businesses already owned by Premier. This means that continued growth in revenues could be complemented by improvements in margins providing even faster profit growth. According to Numis, he acquisition will enhance earnings per share by 5% to 8.7p in 2017 and 12% to 9.2p in 2018.
Blur Group (BLUR) has managed to raise £1.7m at 1.75p a share in an oversubscribed placing that more than trebles the number of shares in issue. There is one warrant for every four shares with an exercise price of 3.5p. Robert Keith has increased his stake to 25% following the placing. The need for the cash is reflected in the low issue price, which is more than 40% below the all time low market price.
Superyacht painting and maintenance services provider GYG (GYG) joined AIM on 5 July and the share price has already risen from 100p to 120p. GYG raised £6.9m before expenses.
Thor Mining (THR) will start a drill programme for the Pilot Mountain tungsten project in August. Thor expects the results in the near future from a 50 hole drilling programme on the Dundas gold project in Western Australia. Further opportunities are being assessed.
Portmeirion Group (PMP) says that its sales were 16% higher in the first half of 2017 but excluding home fragrance products manufacturer Wax Lyrical, which was acquired in May 2016, the sales are 3% higher due to a boost from sterling weakness. Churchill China (CHH) continues to grow it exports and this has been helped by weaker sterling comparatives in the first half of 2017.
Walker Greenbank (WGB) has received its final insurance payment of £2.4m relating to the flood of its fabric printing factory at the end of 2015. This takes the total payment to £19.3m.
Home improvement products supplier entu (UK) (ENTU) is undertaking a strategic review. There are already plans to cut costs and improve efficiency but entu needs to secure long-term financing to improve the balance sheet. There could also be disposals of businesses.
Sula Iron & Gold (SULA) has completed six holes of the phase 3 drilling at Sanama Hill at the Ferensola gold project in Sierra Leone. So far, 2,000 metres out of a total of 5,000 metres of drilling has been completed. Part of the drilling will include further exploration of the new southern target. The assay results will be available at the end of July.
Veltyco Group (VLTY) says that first half trading is significantly ahead of market expectations. This is not the first time that Veltyco has beaten expectations and even before this the full year pre-tax profit was expected to jump from €1.74m to €4.62m.
TechFinancials Inc (TECH) expects to make a first half loss. Senior management has taken a 20% pay cut. There is still $5.8m in the bank.
Safestay (SSTY) has acquired second hostel in Barcelona for €2m. Safestay has eleven hostels and acquisitions have gathered pace following a £12.6m sale and leaseback deal.
MAIN MARKET
Share trading will commence on 12 July in standard list shell Rockpool Acquisitions, which is seeking to acquire a Northern Ireland-based company. Rockpool is raising £1.085m at 10p a share, having previously issued 1.875 million shares at 8p each.
RockRose Energy (RRE) has raised £8m at 150p a share and it continues to progress the acquisition of oil and gas assets.
Gresham Technologies (GHT) says that revenues will be 26% higher in the first half of 2017. Eight new Clareti Transaction Control software clients have been signed up in the first half. Net cash is £7.7m.
Quarto Group Inc (QRT) has sold its New Zealand business, which was the last non-publishing business owned by the group. Quarto will receive $600,000 over two years plus 50% of debtor receipts for the next year. Quarto is also entitled to 15% of pre-interest profit for three years.
Andrew Hore
NEX / ISDX
Clinical decision support systems supplier DXS International (DXSP) increased its interim revenues by 17% to £1.78m and it has moved into profit. DXS has moved from a loss of £39,000 to a pre-tax profit of £64,000. DXS has won the tender for London Partnership Procurement, which has 100 members and is expected to spend £1.5bn over the four year contract period, and a new version of its software has been launched. There was £361,000 in the bank at the end of October 2016.
Based on the latest fundraising price, the value of the Coinsilium Group Ltd (COIN) stake in nano payments company SatoshiPay Ltd has grown in value from €200,000, mostly invested one year ago, to €725,220. Fellow NEX-quoted company Kryptonite 1 (KR1) has invested just over €59,000 as part of the €1m fundraising giving it 1% of SatoshiPay. AIM-quoted Blue Star Capital (BLU) is investing a further €640,000 at €340 a share and it is raising £700,000 from a share placing at 0.15p a share in order to finance the investment. AIM-quoted FastForward Innovations Ltd (FFWD) is another investor in SatoshiPay and the value of its investment has, since the original investment in September 2015, increased by 212.5% to €500,140.
Early Equity (EEQP) has increased its NAV from £209,000 to £706,000 at the end of August 2016 mainly thanks to the £607,500 raised at 0.45p a share last year. The full year loss was slightly lower at £110,000. Early Equity invested £450,000 in a 32.1% stake in Yicom Global, a healthcare products supplier primarily focused on China. This business started trading in February 2015 and is already profitable with revenues building up each month. Early Equity has received a dividend of nearly £26,000.
AIM
Eco (Atlantic) Oil & Gas plans to raise up to £3m ahead of its admission to AIM. Eco is already quoted on TSX-Venture market but it believes that the London market will take more account of the prospects for its exploration interests. Eco has offshore exploration interests in Guyana and Namibia. The Orinduik block in Guyana, where Eco has a working interest of 37.1%, is near to the Liza discovery by ExxonMobil and Eco's partner is Tullow Oil. Part of the cash raised will go towards funding seismic exploration of the block. This will help to identify where the exploration well should be drilled next year. There are applications for other blocks in Guyana. Eco has stakes in four blocks in Namibia but the initial focus is Cooper (32.5% working interest) where an economic impact assessment needs to be carried out before any drilling.
Strategic Minerals (SML) moved into profit in 2016 thanks to strong sales of magnetite from the Cobre mine in New Mexico and it has enough cash to push ahead with the development of its other interests. Strategic Minerals has the rights to sell the magnetite which is a by-product of the mining. The rights to sell the stockpile of magnetite are coming up for renewal. They could be renewed for a further 12 months or even possibly for a number of years, which would provide more certainty about future revenues. Last year, there was a 24% increase in sales, taking revenues to $1.55m. The company has also received a $400,000 compensation settlement from the rail provider to the mine. This cash will go towards exercising the option to take a 50% stake in the Redmoor tin/tungsten project in Cornwall. The cash will fund the 2017 drilling programme for the joint venture. Strategic Minerals is also interested in the CARE nickel project in Australia.
Vislink (VLK) is still selling its hardware division to xG Technology Inc (XGTI) but surprise, surprise Vislink is not getting the full disposal proceeds of $16m upfront. This means that Vislink shareholders have to shoulder the costs of another general meeting to agree to the revised disposal already having agreed to the original terms at a previous general meeting on 9 January. Vislink is still likely to receive $16m for the business but only $6.5m of this is payable initially. On completion, secured loan notes of $9.5m will be issued and should be redeemed within 45 days. Vislink also retains the right to cash received from an outstanding debt up to a maximum of $2m. It is not clear if there is any chance of the debt being paid. The xG share price has bounced back since Christmas and a ten-for-one consolidation means that the share price complies with regulatory requirements for the Nasdaq Capital Market. The loss-making company raised $10m gross at the end of 2016.
Global Energy Development Ltd (GED) proposes to acquire subsea surface vessel businesses and change its name to Nautilus Marine Services. The deal covers 11 offshore subsea service vessels and one barge vessel, which provide services in the Gulf of Mexico. A convertible loan note issue is planned to raise $10.5m – the coupon is 8% and the conversion price 50p a share. The current share price is 16.25p. The loan note cash, plus the issue of two other loan notes valued at $6.1m and $15m and convertible at 160p a share and 225p a share respectively, will finance one transaction and the other transaction will be financed by forgiving $8m out of $12m of existing loan notes. Issued by the seller
Premier Technical Services Group (PTSG) has bought lightning protection and earthing systems installer Nimbus for £1m. This business made a pre-tax profit of £300,000 in 2015. Premier says that last year's trading was in line with expectations.
First Property Group (FPO) has won a new investment mandate from three colleges in Oxford and Cambridge totalling £14.5m. A new fund has been set up called Fprop UK Special Opportunities LP and First Property is investing £725,000. Including debt, the fund can invest £30m. Fees will be dependent on the value of the properties under management. At the end of 2016, First Property had invested 95% of the funds it manages for the Shipbuilding Industries Pension Scheme.
Gold miner Orosur Mining Inc (OMI) reported a first half profit of $3.7m and generated cash of $7m from operations. The commencement of underground production from San Gregorio west in November will boosted the second half. Cash operating costs were $914/ounce but this figure should fall below $900/ounce for the full year. There was $5.4m in the bank at the end of November despite the heavy capital expenditure in the period. There will be more drilling at the Anza gold project in Colombia in order to define the potential mineralisation and provide a maiden resource figure.
Independent Oil & Gas (IOG) plans to acquire a gas pipeline in the southern North Sea. This unused pipeline, which has a capacity of 300,000mmcfd, could be used to transport gas from the Blythe hub and Vulcan satellite fields. There will be a lot of technical work required to get the pipeline up and running. Drilling at the Skipper field indicates that the oil is heavy making it difficult to produce.
SQS Software Quality Systems (SQS) continues to increase its higher margin managed services business and 2016 profit was in line with expectations despite the negative effect of currency movements (SQS reports in €). Net debt was €12m at the end of 2016. Significant new business continues to be won.
Arria NLG (NLG) has left AIM although it has not finalised its admission to ASX and the New Zealand Stock Exchange. Arria hopes to complete a $25m fundraise in the first quarter of 2017.
MAIN MARKET
Standard list cash shell Stranger Holdings (STHP) has raised a further £110,000 at 1p a share. Trading in the shares commenced on 13 January, following a £848,000 (£675,000 after costs) placing at 1p a share. The initial 50 million shares were issued at 0.1p each. The current share price is 1.25p (1p/1.5p). There is no guidance concerning a specific sector focus for any acquisition. The two directors are also directors of Plutus PowerGen and standard list shell Papillion Holdings. They were also directors of former AIM company BioProgress.
Hair and skin care products supplier InnovaDerma (IDP) says that its first half revenues are more than 80% ahead at £3m. The revenues have been boosted by UK sales of skin tan brand Skinny Tan, which tans and reduces the visibility of cellulite.
Andrew Hore